Round table: Preparing for private pumping station adoption
Just ten months before thousands of private pumping stations are set to transfer to water company hands, grey areas remain over the eligibility criteria of some of the stations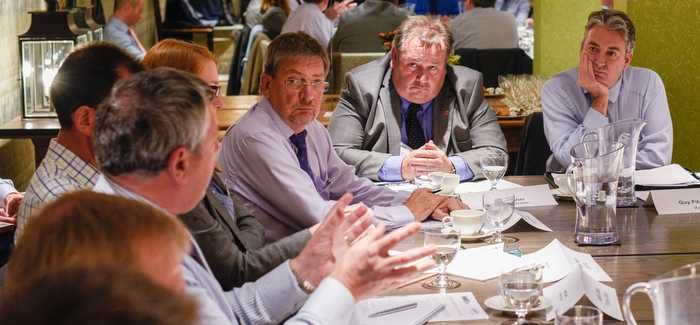 Participants in WWT's round table event, which was held in London on Nov 3
Round Table participants
John Usher (Anglian Water), Mike Hartwell (Dwr Cymru Welsh Water), Justin Camis (Thames Water), Guy Fitzpatrick (Xylem), Jason Doward (United Utilities), Sam Oliver (Severn Trent), India Perry (DEFRA), Kevin Ridout (Ofwat), Peter Ward, Gary Lee (Taylor Wimpey), Rob Nicholls (Barratt Homes)
by Mathew Beech
On a fittingly grey November afternoon, delegates arrived in London to discuss what should be the final chapter in the private pumping station adoption saga at WWT's roundtable 'Preparing for Private Pumping Station Adoption', held in association with Xylem.
All eligible private pumping stations are set to transfer to water companies on 1st October 2016. Yet four years into the five year programme, water companies and developers at the event concluded there are still grey areas around eligibility. Concerns remain over which assets will be transferred, and furthermore, water companies face the challenge of communicating with customers who may be convinced their pumping station is set to be passed to the water company, when in reality it isn't.
Alongside this, there has been no regulatory clarity on the 'supplementary transfer' of pumping stations built after July 2011; it is unclear when, or if, stations built after this cut-off date will be transferred.
From a nuts and bolts perspective, there is still the worry of the known unknowns – how many pumping stations are still out there that are hidden away and potentially a ticking sewage time bomb, and the issue of how – once found – water companies will monitor their newly adopted assets.
Top of the agenda, as it appears it often is, is the ongoing uncertainty about exactly what pumping stations will be eligible for adoption come 1 October 2016.
Welsh Water private pumping station transfer programme manager Mike Hartwell highlighted blocks of flats as a main area of concern. "The interpretation of single curtilage is a grey area, and one of the greyest areas is blocks of flats," he said.
Anglian Water pumping stations adoption manager John Usher agreed the lack of clarity over the issue of curtilage means there will be a lack of consistency across the industry over which pumping stations are adopted, and those that remain in private hands.
"Our guys in our asset planning department look at whether they pumping stations are eligible or not and they found grey areas which are open to interpretation.
"This inevitably means that different people will interpret things differently, and there will be a lack of consistency across the sector."
Even Ofwat's deputy head of environment and water quality Kevin Ridout said the regulator could suffer as a result of the lack of clarity after the October 2016 deadline, as a number of appeals could come in from customers believing their pumping station should have been adopted.
The delegates also voiced their concerns, from the viewpoint of developers, customers and water companies, over the ongoing uncertainty of post-2011 pumping stations – which are not lined up to be adopted.
Northumbrian Water infrastructure delivery engineer Paul Richardson warned this will result in hundreds if not thousands of new private pumping stations being "left in limbo land", while Sam Oliver, Severn Trent's programme manager said that without better planning, the industry risks facing a repeat of the current situation in a decade or more's time.
Defra's senior policy adviser India Perry attempted to reassure the companies and developers that their concerns are being listed to and acted upon in a bid to un-muddy the waters.
Away from the policy ambiguity, the water companies believe they have made significant progress and "broken the back" of finding the private pumping stations – utilising local authorities, regional media, and even internal staff incentives in an attempt to locate the assets that will soon be theirs.
Representatives of the housebuilding industry present at the event were less convinced everything had been done to locate the pumping stations, and said that while they are more than willing to help the water companies "take them off our hands" they have not been asked for their help.
"I would have thought companies would be banging my door down," said Rob Nicholls, engineer, Barratt Homes.
Finally, attention turned to those pumping stations that had been found, and that are being lined up for adoption, regardless of the condition they are in.
United Utilities' south area maintenance manager Jason Doward said that his company's approach is to make as many stations as possible "safe and serviceable". However, time and resource constraints mean that not all of the pumping stations will be brought up to the standard of their other assets.
This was exemplified by Thames Water specialist network manager Justin Camis, who said the company had intended to upgrade all the stations, before the scale of the operation was fully realised; Thames is pursuing a risk-based approach, in which it only upgrades those most at risk of failure.
Telemetry is key for the companies in understanding what their new assets will be doing, but once again the issue of a lack of time, and the resource challenge, means simpler solutions will be installed into the private pumping stations, rather than the more complex systems they usually operate.
Summarising, Guy Fitzpatrick from Xylem stated everyone connected to the industry is working hard to ensure the whole adoption process will go ahead as smoothly as possibly, with as few incidents as possible. But he warned: "the risk clearly lies at the feet of the water companies".
It is that risk the industry is trying to mitigate by doing what it can to find all of the pumping stations they will have to adopt, and making sure they continue to function – even if that is below the ideal standards the water companies would like.