Round Table: Phosphorus Removal and Wastewater Innovation
In the latest WWT round table, participants discussed the progress of innovative technologies for phosphorus removal, the prospects for catchment and regulatory approaches to the issue, and what the issue tells us about innovation in wastewater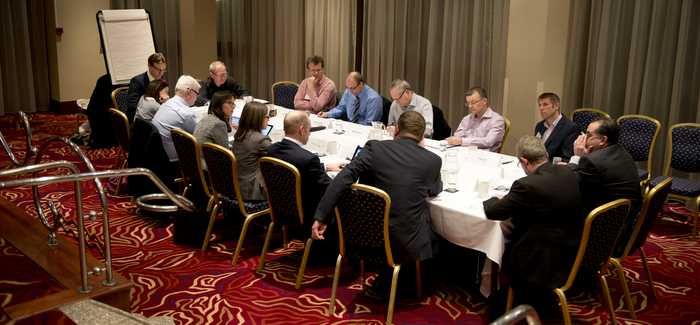 Round table participants at the discussion in Birmingham
Round Table Participants
Professor Tom Curtis, Professor of Environmental Engineering, Newcastle Uni (Chair)
Alison Fergusson, Principal Engineer, Water 2020 Programme, Ofwat
Eve Germain-Cripps, Wastewater Process Innovation Manager, Thames Water
Mat Davis, Technical Adviser, Soil Protection, Environment Agency
Thomas Gardiner, Head of Asset Strategy, Northern Ireland Water
Nizar Ghazireh, Research and Development, (Aggregates and Asphalt), Tarmac
Richard Givens, Lime Technical Consultant, Tarmac
Dr Ana Lanham, Lecturer on Water Science and Engineering, Bath University
Nevil Muncaster, Director of Asset Management, Yorkshire Water
Gordon Reid, Wastewater Service Strategy Manager, Scottish Water
Peter Vale, Technical Lead, Innovation, Severn Trent
Luke de Vial, Head of Environment and Water Markets, Wessex Water
Steve Wilson, Managing Director of Wastewater Services, Dwr Cymru Welsh Water
Mark Worsfold, Director of Asset Management, South West Water
by James Brockett
As one of the key wastewater treatment challenges that utilities currently face, phosphorus removal has been a genuine focus for innovation in the sector in AMP6.
A host of tertiary treatment technologies are currently being trialled with the goal of hitting ambitiously low P consents and helping to bring receiving watercourses to 'good' ecological status under the Water Framework Directive. Meanwhile, innovative catchment management and regulatory approaches are also being pursued which might help achieve similar outcomes in a cost-effective and sustainable way. So what do these challenges reveal about the level and progress of innovation in wastewater – and will market reforms and regulatory change help push industry thinking towards further resource recovery?
These were the topics under discussion at WWT's latest round table, Phosphorus Removal and Wastewater Innovation, held in Birmingham on January 30 in association with Tarmac.
Severn Trent already has a number of biological P removal plants as well as using chemical dosing for P removal, but the low levels it is now trying to reach means it is now carrying out extensive trials of other technology, according to Peter Vale, Technical Lead for Innovation at Severn Trent.
"The technical challenge we face is that we're moving away from the Urban Wastewater Treatment Directive that sets standards of 1mg/l or 2, down to much tighter limits, as low as 0.2mg/l in this AMP," says Vale.
"It's much harder to hit those low levels, and it's certainly much more difficult to do it sustainably. So we've been doing a lot of research into more novel technologies that are perhaps capable of hitting the lower standards. These include COMAG, a ballasted coagulation technology, pile cloth media filters, and membrane processes, and we've also taken the opportunity to look at some innovative solutions like algae and ion exchange, that offer a more sustainable way of tackling the problem."
One reason that multiple solutions are being considered is that the sort of solution that might be appropriate for a large, urban works will be out of the question at smaller sites with a lower population equivalent, which might be found in rural areas. Dwr Cymru Welsh Water's trials include two innovative types of filters that might be appropriate for these works (Blue Pro and Fuzzy Filter) as well as COMAG and Bio P. Steve Wilson, Managing Director of Wastewater Services at Welsh Water, says it is important to bear in the mind the context of these smaller sites.
"Chemical dosing will take you so far, but when you've got a small treatment works under 1000 P/E you don't really want to be visiting it too often, and it's when you have chemical dosing that the visit frequency starts to go up," says Wilson. "We are also looking for technologies that can cope with the kind of diurnal variations that you get at a small rural treatment works. There are technologies that have achieved 0.1 mg/l or 0.2 mg/l in the USA, but when you go over and visit they have got 20 or 30 people looking after a small treatment works and they are not too worried about the way they do their flow regulation. So you've got to be careful about how you take some of these technologies and make them work in our environment."
As well as opex costs, sustainability is a concern for any solution put in at a small site. Thames Water has also been focusing on this challenge and while it is likely that chemical dosing will still play a big role in its plans for PR19, the utility has a trial underway using reed beds, says Eve-Germain-Cripps, Thames' Innovation Wastewater Process Manager.
"We are looking at reed beds for phosphorus removal; we are not going full scale yet, but it is very attractive because it's sustainable, low maintenance technology, it's quite good for capacity and has a high retention time," she says. "There are still some issues to address with the lifetime of the media used, and also potentially with pH increase after the P removal. But if we can get it work it could be very good, and sustainable."
While the Water Framework Directive calls for continuous improvement of water bodies with the aim of reaching good ecological status, this does not translate into a 'magic number' for P removal at any one treatment site. This opens the door for water companies to work with regulators on creative approaches to getting phosphorus down in a catchment.
Wessex Water has trialled two such approaches with the Environment Agency. The first is in its Bristol Avon catchment, where phosphorus permits from a number of Wessex treatment works were combined into one overall P permit, which could then be brought down by a small number of more significant improvements.
The second is at Poole Harbour, where the water company has incentivised farmers to reduce their discharges of nitrogen into the watercourse instead of water company treatment upgrades that would have been more expensive. Although the latter approach has only thus far been used for nitrogen, it could be just as applicable to phosphorus.
There is no question that catchment management could be effective in reducing the level of phosphorus in a watercourse but the obstacles to be overcome here concern how such schemes are administered, says Mark Worsfold, Director of Asset Management at South West Water.
"We're at a very interesting crossroads in terms of catchment management. On the drinking water side, it's proven and the benefits of it are well understood; but we've then got river basin planning, and the whole flood agenda. All three of those have to come together now, so catchment management is moving beyond looking at a single parameter or a multitude of parameters… it's no good trying to solve wastewater problems only to find that you have increased flood risk downstream, for example. So all these things have to be looked at in the round.
"The biggest problem we've got is a political one. It's 'Whose catchment is it anyway?' and who's in charge. Who should take the lead, who should pay and who should be paid - and where does that money come from? And what is the role of the farmer and the various landowners, because ultimately, they own the land and we've got to incentivise good practice and good behaviour across those catchments."
Britain's exit from the European Union and the move away from Common Agricultural Policy payments could provide the impetus for change in this area, agreed participants. While it is extremely unlikely that environmental standards on P and other nutrients will be relaxed, there may be more flexibility in post-Brexit UK to look at different and more creative ways of meeting these standards.
Gordon Reid, Wastewater Strategy Asset Strategy at Scottish Water, added that Brexit could even mean that the industry adopts a 'watch and wait' approach, reviewing the effect of previous improvements and the evidence base before spending large amounts of money achieving very low levels of P. The Water Framework Directive is all about achieving good ecological status, and since chemical improvements in a river might take 6-12 years to affect its ecology, it is possible in time that the current level of P removal may prove sufficient, he suggested.
However, with phosphorus being a finite resource due to be exhausted in the space of decades, he called for more of a focus on phosphorus recovery and not just removal.
"In the context of Scotland, where our population centres discharge into the sea or estuaries, I've got no regulatory driver to talk about wastewater P," said Reid. "But that's where the bulk of this limited resource is going - straight into the sea, and it's gone. I don't think there's enough activity going on across the sector, academic as well as industrial, to look at how on a large works discharging to the sea could you feasibly and economically recover that P. It's maybe not a challenge that we need to address now, but I can see it coming in a couple of AMP periods time."
Summing up the discussion, Nizar Ghazireh, Head of Research & Development at Tarmac, says: "P removal is a huge, national problem, which every single water company has got to address one way or the other. We've heard today about some of the technologies that are being trialled. But we've also talked about how the development of new innovations in the water industry typically takes 20 years, which is a very long time to wait. Other sectors are able to achieve this quicker, and so I think there's a real question around how we accelerate innovations so we are making a real difference in five or ten years, and not passing the problem on to the next generation."
-The WWT Round Table 'Phosphorus Removal and Wastewater Innovation' was held on January 30th 2017 in Birmingham in association with Tarmac.