Round Table: Embedding Effective Asset Management
Asset management in AMP6 and beyond will require water companies in England and Wales to take a longer-term perspective and adopt a customer focus with their asset decisions. Participants at WWT's latest round table discussed these trends and the changing nature of the industry.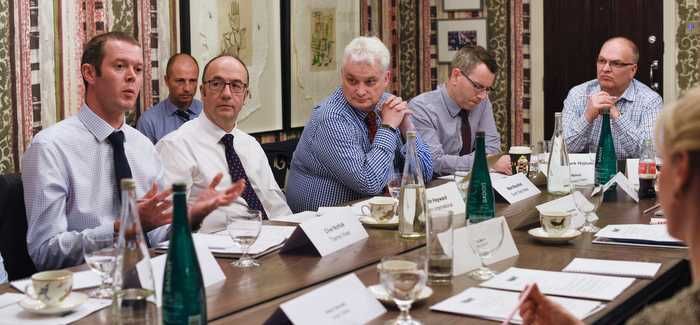 Participants at the round table in London got to grips with the issues
The Speakers
"The dynamic within the water industry is that every single treatment works is different, so having a consistent approach to how you manage them is a real challenge." Helen Samuels, Engineering director, United Utilities
"The challenge for asset managers is to understand where you're spending money that you don't need to, and where you're not spending money that you do need to." Clive Norfolk, Strategy and business planning manager, Thames Water
"It is the criticality of the asset that will decide whether we move towards a proactive or a reactive space." Mark Worsfold, Head of wholesale strategic performance and development, South West Water
"I think the bottom line is that the industry is changing, but it is too early to say it has changed." Graham Fulton, Head of asset planning, Anglian Water
"Just because the book says you need to do four services a year doesn't mean you need to do them once a quarter." Keith Hayward, UK sales and marketing manager, Hydro International
"Many of us have let the pendulum swing too far and said 'our framework consultants can do that, we don't need to." David Widdowson, Head of asset programme management, Yorkshire Water
By Lois Vallely
For water companies in England and Wales, outcome-based regulation and the new emphasis on Totex has made asset management in AMP6 a very different proposition from what has gone before.
Delegates at WWT's round table 'Embedding Effective Asset Management', held in association with Hydro International, Siemens and Black & Veatch, gathered in London to discuss the impact of these trends on water companies' asset management practices, and how the asset management function within utilities will have to evolve. The consensus was that while some change is happening, the industry still has a long way to go.
There was an agreement among participants that uncertainty still lurks over regulation in the future and organisations are slow to believe that 'whole-life' really means 'beyond five years'. An element of cynicism has therefore contributed to companies failing to reach the desired point. Against this background, "making a decision for 20, 25 or even 40 years and beyond is tough", said Graham Fulton, Head of Asset Planning at Anglian Water. Participants agreed that they wanted to see more clarity from Ofwat about how the extra Opex incurred by Totex-friendly solutions was going to be treated at the end of the AMP, as this would improve confidence in long term decision-making.
Whole-life cost is still not fully embedded in the ethos of water companies and many are still making decisions with no more than a three-year or five-year payback in mind. "Too often we don't actually think about the whole-life costs," Mark Worsfold, South West Water's head of wholesale strategic performance and development, said.
But as well as the ability to calculate whole-life costs, a Totex approach requires a collaborative outlook to cut through silo thinking and encourage everyone in the organisation to work together towards a desirable end result. Worsfold emphasised that companies must adjust their ability and innovate across the whole life of their assets, rather than taking the short-term view.
This collaboration also needs to extend to the supply chain, which means that incentives must be set out correctly in contracts so supply chain partners are also thinking for the long term.
Although AMP6 has opened a door to a focus on proactive, planned operational maintenance, getting the whole organisation to move to this way of working has proved challenging. "Everybody knows this is the right thing to do, but it is a leap of faith," said Helen Samuels, engineering director at United Utilities. "It's been pretty difficult because it really is a different way of working."
How do companies view the balance between structural changes and cultural changes?
Although it's still early days, companies need to get more senior management involved in operations, participants said. Previously, the operational team would simply liaise with senior management, but now they must become more actively involved in the decision-making and understand the balance of risk.
Whatever the structure in place, it was conceded that cross-functional teamwork is the key. Once you start challenging standards, and once you start challenging how the plan operates before you put the new solution in, then that will create tension, but, Wessex Water's head of risk and investment Neil Wilson argued, that is the "right kind of tension".
In essence, it is less about structural change and more about working together and breaking down the silos that exist within many organisations.
As the conversation shifted to Ofwat's outcome delivery incentives (ODIs) for water companies, a question was asked about whether the incentives are leading to companies becoming too focussed on operational matters, causing them to take their eye off the medium and long-term picture.
"There is a risk that we take our eyes off the asset management piece and the underlying aspects fall away a little because we're actually, as a result of the ODIs, all very focussed in our operations and tactical asset management strategies," said Worsfold. To combat this, companies must ensure they have the correct balance between the short-term operations and the medium- to long-term asset maintenance.
And they must also be willing to innovate.
Together with culture change, innovation was a key theme that ran through the afternoon. In order to have a gamechanger, one has to be prepared to change the game, said Keith Hayward, UK sales and marketing manager at Hydro International.
Although innovation is important and, in many cases, "the grey hair should be removed for the decision-making" the pendulum must not be allowed to swing too far the other way.
Creativity and innovativeness should be finely balanced by knowledge and experience in the workforce.
It was agreed that data quality is essential to effective asset management, but that a higher level of data quality could only be achieved through the employment of qualified engineers with the right incentives in place to encourage them to collect good, accurate data.
With so much data out there, the need for good data governance has never been stronger. It is becoming increasingly important to decide "who keeps it and who controls it".
The delegates concluded that although companies have made good progress in moving to a totex approach, there is still much work to be done to improve asset management practices across the industry.
'Embedding Effective Asset Management' was a WWT round table produced in association with Siemens, Black & Veatch and Hydro International. Participants: Helen Samuels (United Utilities), David Widdowson (Yorkshire Water), Keith Hayward (Hydro International), Mark Higham, Steve Hanslow (Siemens), Graham Fulton (Anglian Water), Peter Martin (Black & Veatch), Mark Worsfold (South West Water), Andrew Ball (South East Water), Clive Norfolk (Thames Water), Neil Wilson (Wessex Water).