Round Table: Digital Transformation and Operational Efficiency
A digital transformation is taking place in the UK water sector, but the process is more about incremental steps than the revolutionary change many expect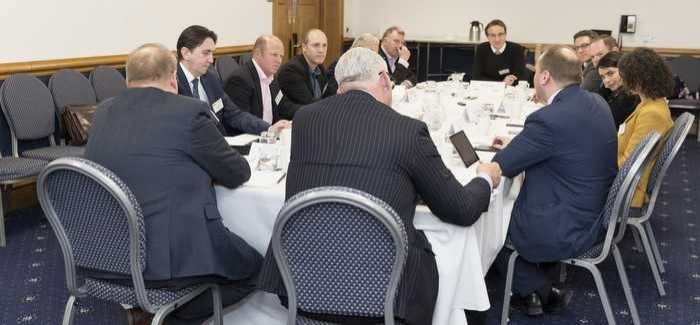 Round Table Participants
Arnaud David, Affinity Water
Steve Hanslow, Siemens
Jeremy Heath, SES Water
Paul Hingley, Siemens
Steve Kaye, Anglian Water
Simon Kirkham, United Utilities
Ivan Miskin, South Staffs Water
Stuart Mitchell, Yorkshire Water
Mark O'Callaghan, Irish Water
Catalina Pedraza, Thames Water
Bob Trivett, South West Water
by James Brockett
How are digital technologies and the use of real-time data transforming water industry operations – and what are the barriers and risks to be overcome before the 'smart water' vision can be realised to its full extent?
These and other questions were the subject of the WWT round table debate 'Digital Transformation and Operational Efficiency' held on November 29th in association with Siemens.
The participants were unanimous about the benefits and importance of carrying out a digital transformation: in an age of instant digital communication, customers expect their water companies to know what is going on with their assets and to keep them informed in real-time, just like other companies they receive service from in their daily lives. Furthermore, there was a consensus that for any area of potential improvement – whether it is leakage or energy use – accurate measurement is the first step to understanding the problem, and that digital technologies allow a step change in the way that the data from that measurement can be transmitted, analysed and harnessed to increase performance.
However, there was an acceptance that building a business case for specific investments in digital technology is not always easy, because it is difficult to predict what the real-time data will reveal or what you will be able to do with it. A parallel was drawn with the development of the internet: it would have been difficult to write a business case for investing in the web at the outset because its full possibilities only became clear once the capability was in place.
Perhaps for this reason, and because of natural caution, utilities are preferring to take small, limited steps into the digital world rather than a 'big bang' IT rollout. These can take the form of intensive use of digital technologies in a specific geographical area – such as Anglian Water's 'Shop Window' initiative in Newmarket – or a concentration on a particular type of asset, such as sewage pumping stations. Other utilities which are less advanced on the digital journey are focusing on putting in more sensing technology in their networks, and improving the quality of their data, with the intention of building in more advanced analytics later.
These limited initiatives provide organisations and individual teams with confidence in the technology, overcome cultural resistance and allow rollouts of approaches that work to the wider organisation.
However, it was noted that this piecemeal method of turning digital was often at odds with the wishes of some senior managers in the sector – and the supply chain - who instinctively prefer a large capital project which takes place within a defined timescale. Just as the industry is attempting to shift its thinking from a Capex to a Totex mindset, some experienced water professionals struggle to get their heads around the fact that digitalisation is about gradually building up operational capability, rather than a single project that will see the company put in a new IT system which will improve everything at a stroke.
Indeed, there was a suggestion that digital transformation may be an ongoing situation from now on rather than something which will ever be completed. One participant complained that the speed with which new versions of technology are released makes IT work a bit like painting the Forth Bridge – no sooner have you rolled out one solution, than it is out-dated and you need to start again.
Other workforce challenges were highlighted. Some participants felt that the ageing workforce was a barrier to the use of digital technologies at front line level; however, others disagreed, pointing out that smartphone use was almost universal amongst older workers. One participant felt that the biggest problem was with middle managers, who are most comfortable with e-mail and Excel spreadsheets, and fail to bridge the gap with the younger generation who have been brought up using Snapchat and WhatsApp.
It was observed that some digital technologies may be relatively inexpensive but require companies to spend more on training to accompany their roll-out to bring about true behavioural change. Building capability for the long-term requires overcoming short-termism among staff, who only want to deal with the here and now; it will also involve paying higher salaries to recruit and retain data experts who are seriously in demand in other sectors, participants said.
There is a trend towards openness when it comes to data, typified by 'hackathon' events where data is opened up to third parties to see what insights and new threads of investigation might emerge. Participants felt that there was a growing awareness of both the power of data, and the importance of data protection, in their organisations; the coming implementation of GDPR (the General Data Protection Regulation) had focused minds on the latter. Water companies will need to keep a tight watch on who has access to customer usage data given that it can reveal whether a home is occupied and have security implications for that property, it was observed.
By contrast, participants were relatively sanguine about other issues surrounding cyber security. It was commented that there was sufficient separation between IT and OT that hackers would not find the water industry an easy target; moreover, cyber security was one element of digitalisation that senior leaders tend to be directly concerned with.
Participants said that the supply chain could help utilities in their digital journey by offering platforms which can be updated easily with the latest versions of technology, and which allow different suppliers to feed into the same architecture. A collaborative approach on cyber security, and on retrofitting new technology into old assets, were also high up the wish list.
IN QUOTES
"Our customers don't compare us to other water companies – they have no concept of what other water companies are doing. They would say that they expect us to work like Amazon, and know if something has gone wrong before the customer has to call." Jeremy Heath, Innovation Manager, SES Water
"People have this tendency to look for a project rather than a capability – they say 'how can we group all this into a project? But the market has taught us something here, in that the project is never going to end." Simon Kirkham, CPO, United Utilities
"We've always had the view that if we let data out, somebody will misuse it or make money from it. But the reality is that if enough data goes out, from a broad enough base, and it is analysed, then there will be savings and everybody will benefit." Mark O'Callaghan, Sustainability & Innovation Lead, Asset Strategy, Irish Water
"The key is to start small, see what works and then roll out the bits that are obviously beneficial. If you can get those small victories, people in the business get more enthused about the whole thing." Steve Kaye, Head of Innovation, Anglian Water
KEY POINTS
1. Water companies are taking steps towards digital transformation but progress is typically evolutionary rather than revolutionary, with initiatives that are initially limited in scope
2. Cultural change is required in the industry to recognise that digitalisation is about ongoing operational improvement rather than a one-off change project
3. While it may be difficult to build a business case for individual digital initiatives, in many cases real-time data unlocks as-yet unforeseen benefits