Rise of the 'wipe wash' clogs UK's drains and sewers
A trend for using wet wipes to clean the body could be partly responsible for the repeated blockages which are the scourge of UK sewers and drains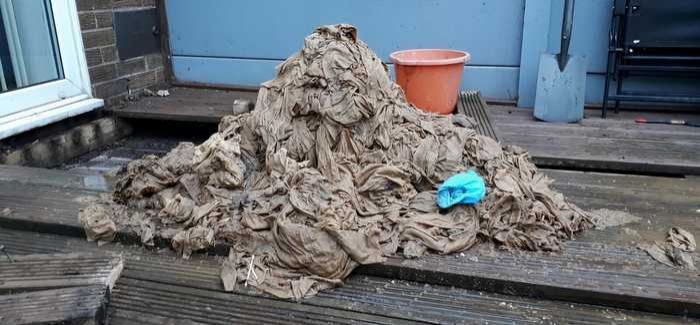 A pile of wet wipes extracted from a blocked drain
by Richard Leigh, Development Director, Lanes Group
A growing social phenomenon – the replacement of the morning shower with having a 'wipe wash' – may be contributing to hugely costly blockages of drains and sewers across the UK.
There is evidence that people are increasingly using wipes, not water, to wash in the morning and at night, then flushing the wipes down the loo.
The trend could help explain why research carried out by Water UK has revealed that almost all the identifiable material in sewer blockages was made up of non-flushable wipes.
Water UK analysed blockage material taken from 54 sewer blockages across the UK. They included some in London, where samples were taken with help from Lanes Group wastewater engineers.
It found 93 per cent of all identifiable blockage material was non-flushable wipes. Of that, 75 per cent, by weight, was baby wipes, while 20 per cent was cosmetic wipes, surface cleaning wipes, and feminine hygiene products. Just 1.9 per cent of material had been designed to be flushed.
Water UK says its research shows that most of the 300,000 sewer blockages in the UK each year – and the £100M cost of clearing them – could be avoided if people binned wipes instead of flushing them.
The research is revealing and worrying in equal amounts. Our own evidence of widespread wipe washing is anecdotal, but it may help to explain why this is happening.
In some hot-spot areas, especially in inner city areas, we regularly find pipes completely stuffed with wipes. When investigating the cause of these sewer and drain blockages, we are increasingly being told by people that they are having wipe washes, instead of using soap and water.
The wipe washing phenomenon results in twice-daily avalanches of wipes entering inner city sewer systems. Drains cannot cope with the deluge and become blocked, increasing the risk of sewage spills, flooding, and environmental pollution.
Wipes are also a key component of fatbergs. The Marine Conservation Society also warns that wipes contain plastic which breaks down into fragments and ends up in natural watercourses and oceans, causing pollution, and threatening wildlife.
As with all social trends, reasons for the growth wipe washing could be many, varied, and complex. One factor is the low cost of wipes: economy packs can contain hundreds of wipes, each costing as little as 0.6p each.
Many properties associated with our evidence of wipe washing are used for rented multiple occupation, where a property designed for five people may have three times that many occupants, so access to washing facilities can be limited. Some of the wipe washers appear to be young time-poor professionals. Some may even have grown used to using them to wash at music festivals, and have brought the habit home with them.
Sadly, in some extreme examples, there may not be a water supply, so the only way to stay clean is by using wipes. In other cases, people may think it's a way to reduce metered water bills.
Water UK's Wipes in Sewer Blockage Study was jointly funded with the Department for Environment, Food and Rural Affairs, and EDANA, the trade association for the non-wovens industry, which includes the wipes sector.
Its recommendations include improving 'do not flush' messaging on non-flushable wipe products, more awareness campaigns to warn the public of the problems, and restrictions on materials used in products labelled as flushable.
Water UK's timely research shows irresponsible disposal of non-flushable wipes is a major problem. There is now a case for additional research into the nature and scale of wipe washing.
Encouraging the public to wipe wash responsibly, by putting their used wipes in a bin and not down the toilet, looks like being a key part of the solution.