Reservoir renewal: Severn Trent's Ambergate project
Laing O'Rourke and nmcn (formerly NMCNomenca) this year completed work on Severn Trent's £43 million project to replace the service reservoir at Ambergate, delivering increased capacity and operational flexibility on a tight budget and a tight timeframe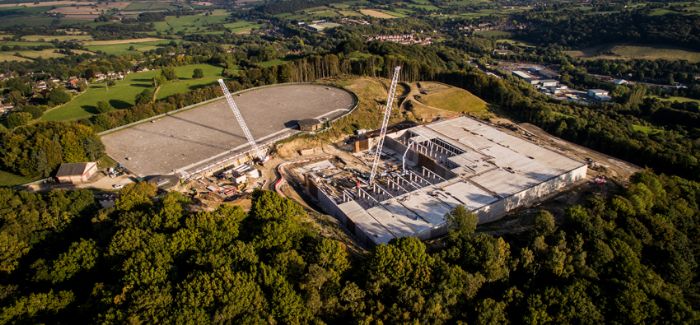 VALUE ENGINEERING
• The reservoir needed to accommodate a throughput at 2,000l/s, and the pipework was originally intended to be 1,400mm diameter, but the team found that could be reduced to 1,200mm and still deliver at 2,000l/s if the reservoir cells were less than 95 per cent full. When the reservoir does reach maximum capacity, a bypass is available to make up the shortfall
• While the original design called for full-bore magnetic flow meters, a wetted ultrasonic flow meter was used, which allows for high accuracy flow measurement but can be maintained or replaced without the need to isolate that section of main, negating the need to add extra bypasses
• Butterfly valves were used instead of the more costly gate valves for flow control onsite. While butterfly valves can cause major problems under certain conditions, as a safeguard, KGAL Consulting Engineers was brought in to appraise the use of 16 valves and determined that they were fit for purpose
Commissioned in 1907 and completed in 1910, the original Ambergate Reservoir had helped supply water for people in parts of the East Midlands' biggest cities for more than 100 years, but by 2008 it was nearing the end of its natural life.
A high-level horizontal crack around the perimeter walls, dating from the early years of the reservoir's operation, had limited the reservoir's capacity appreciably. Furthermore, deterioration in the condition of the roof slab had rendered it unsafe to work on, and ancillary structures were in poor condition.
Operated as a single cell with a reduced 120Ml capacity, Ambergate was posing problems in terms of operation, cleaning, inspection and maintenance, and due to its critical importance to the water supply system, it could only be taken off-line for a few days at a time.
Severn Trent, taking into account years of studies, determined that the best solution was to construct two new reservoirs on the existing site in Derbyshire.
The first phase of the project would see the construction of a reservoir consisting of two 43.5Ml cells, representing the maximum capacity possible for the available land adjacent to the existing reservoir; the second phase involved demolishing the original reservoir and constructing a 50Ml single-cell reservoir in its place, bringing the total capacity up to 137Ml.
The project, led by nmcn and Laing O'Rourke under the One Severn Trent banner, was completed this spring after four years at a total cost of £43 million.
"Ambergate Reservoir sits on the Derwent Valley Aqueduct and supplies water to customers in the East Midlands," Ian Hope, Severn Trent's dams and reservoirs manager, says. "The infrastructure was over 100 years old and, while it had served us well, it had served its time.
"It was a mass concrete service reservoir with a part-height division wall, which meant you lost three-quarters of your capacity on draining down, and it had a shallow barrel-vaulted roof of very limited load-bearing capacity. In addition, the outer walls had cracked at a higher level, which meant we were only able to partly use the capacity of the reservoir so, while on paper it was a 128Ml reservoir, effectively we'd only got use of 120Ml."
The plan to replace it with two reservoirs was not only deemed the most cost-effective but also means far greater ease of operation into the future.
"With all service reservoirs, you need to be able to drain them down to inspect them and clean them routinely – generally between a seven-year and 10-year programme of cleaning," Hope adds. "You need more operational flexibility than we had on the old reservoir. It was a major inhibitor to operations during that time of inspection and cleaning, and we needed more cells that we could play tunes with basically."
Severn Trent opted to competitively tender the project to drive value, and the result was a fully integrated joint venture between nmcn and Laing O'Rourke, with Atkins carrying out the design work.
"We were both contracted on the Severn Trent AMP5 framework but we had different roles within that process," Tony Heaney, nmcn project manager for phase one, says. "We'd done a lot of major projects for Severn Trent on larger non-infrastructure concrete structures, which is a skill that Laing O'Rourke have as well, but they were taken on really for their work on infrastructure and pipe-laying."
Having missed out on the initial tender, nmcn was brought in after coming up with a proposal that would cut overall costs, but that did result in a timescale challenge.
There was also a significant challenge with the site itself. The original Ambergate Reservoir was built on a steep slope in ancient woodland, surrounded by Sites of Special Scientific Interest (SSSIs), and space was limited.
Some of the woodland needed to be cleared, which involved rehoming bats and badgers. Shire horses also had to be brought in to move the felled trees due to concerns that using heavy plant might cause damage.
The team then opted to build bridges to protect the ageing mains underneath.
"There is a single inlet main and three outlet mains, all of which needed to be bridged early in the project to be able to move our plant over the top of the main without putting them at risk of damage," Heaney says.
Planning conditions were also restrictive, with a relatively short window during the day when heavy vehicles could enter the site, and the local road network was poor.
With 80,000m³ of material to be excavated, One Severn Trent was understandably eager to reduce the amount taken offsite. Contending with limited space and a sloping site, the team engineered a reinforced earth system involving a series of plastic membranes that allowed material to be stacked and then used for landscaping.
"It was an essential measure to comply with the planning conditions," Heaney says. "We also put a concrete batching plant onsite."
While the base and walls on the phase one reservoir were constructed using in-situ concrete, Laing O'Rourke operates a large precasting facility at Worksop that provided precast concrete structural elements for the columns, beams and roof planks.
For the second reservoir, Design for Manufacture and Assembly (DfMA) was fully embraced with the use of Laing O'Rourke's 'Twinwall' solution for precast structural walls. Using two precast skins of reinforced concrete, the process effectively involves lowering the skins onto the reservoir's base and filling the void between the two with in-situ concrete.
"It's slightly more expensive in terms of the construction, but there's a great saving on time," Hope says. "If you can save time, you're saving money on overheads, cranage and the like, and the more you can construct in a factory environment, the higher the confidence you've got in terms of quality control. One other element of it is safety, because you're not swinging large shutter panels around."
Hope said the system is "still in its infancy in terms of trialling" but a comprehensive workshop was held ahead of construction of the second reservoir to establish best practice and review lessons learned from projects that had used similar DfMA approaches.
"From my perspective, they took a very responsible approach in using DfMA on some large distribution chambers ahead of embarking on construction of the second reservoir," he adds.
"There's more joints with DfMA and it's imperative that you have highly skilled operatives used to working with the shuttering and in particular concrete placing, but they trialled their system on several chambers on site first of all and so their skills were honed in readiness for the DfMA construction. That was extremely successful. It was a very smart end product."
The team was also able to part-backfill the reservoir walls with 2,400m³ of polystyrene that had been recovered from the roof of the demolished reservoir, which helped to reduce soil pressure on the walls as well as removing the need to dispose of the material or cause unnecessary disruption to the public.
Managing the impact on the public was an important aspect of the project, with the reservoirs serving the people of Derby, Nottingham and Leicester rather than the local residents.
"There was a severe lack of trust at the start," Heaney says. "I always remember the first meeting I went to because it was very uncomfortable.
"We had to embark on a PR exercise with the locals. We had a liaison group – there were three or four key villages and we were able to invite councillors and school representatives. They became bi-monthly meetings, and we were able to overcome that mistrust. They found we were far less of an issue than they'd feared."
The most significant achievement, though, was delivering a challenging project on a tight timeframe and at a low cost.
"It performs extremely well and will serve future generations to come," Hope says. "It's a real success story."
This article originally appeared in the December issue of WET News