Repair or replace? Make informed decisions
There are a range of considerations for water industry engineers when choosing to repair or replace electrical and mechanical equipment. Darren Harris, pump services manager at Deritend Industries, offers his perspective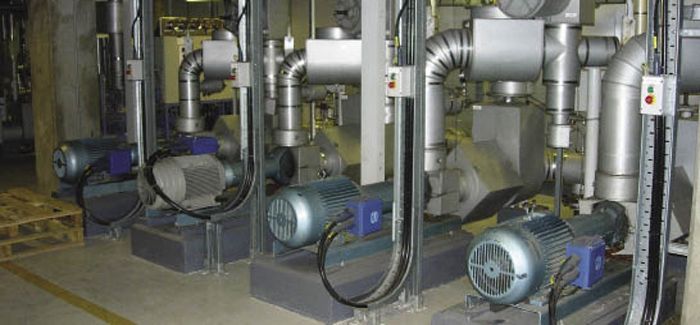 Horizontal-mounted end-suction pumps used in process applications
Reliable performance of equipment, cost and sustainability all remain high on the water industry's agenda. In May, in her speech to parliament, the Queen outlined a new water bill, which aims to put resilience of supply at the heart of the water industry.
The decision of whether to repair or replace pump equipment has an important part to play and each repair-or-replace decision requires certain considerations. For example, asset availability, lead time of new asset against repair lead-time as well as operational requirements.
Maintenance managers and engineers also need to consider whether existing pipework will require modification to accept the new pump, any bedplate modifications and drive and control compatibility.
Informed decision-making
An invaluable part of any asset management programme is having a system in place to monitor and evaluate the on-going performance of an asset. By measuring the efficiency of pumps and associated processes, engineers can understand the behaviour of a piece of equipment and gauge when it is reaching the end of its lifetime or is at risk of failure.
They can then make an informed decision in terms of repair or replacement and at the same time, include suitability of the asset and improve asset and system efficiency.
As the cost of electricity continues to rise, monitoring assets becomes increasingly important, both in financial terms but also in relation to environmental concerns.
Working with maintenance experts, utility companies can gain a better understanding of their equipment's behaviour.
For example, real-time live data can be collected by installing a fixed asset monitoring system. This allows equipment efficiency to be monitored 24/7 and potential efficiencies found.
Evaluation
The best decision on whether to repair or replace can only be reached by evaluating the equipment in the broadest possible terms. For example, when considering whether to refurbish or replace a piece of pumping equipment, looking at the performance of associated motors and drives – their function, lifespan and cost of replacement – can help engineers to understand how the pump is performing in relation to the wider system.
Once a duty point (the intersection between pump performance and system characteristics) is established, a whole life cost (WLC) analysis can be completed to help determine whether the pump should be refurbished or replaced, taking into account specific energy and pump efficiency.
For example, the average life span of a piece of equipment in the water industry is 20 years, and while there are pumps in place in the UK's water infrastructure that have been there much longer, this figure gives an idea of likely performance.
If a pump is reaching 20 years in service, the likelihood of needing further repairs at more frequent intervals increases and replacement becomes a more attractive option. While replacement generally requires a greater financial outlay, it can still prove the better option in terms of WLC.
As a general rule, if the cost of refurbishing equipment is likely to exceed 70% of the cost of replacement, then replacement should be considered. However, it is not just about cost and efficiency. 
Sustainability has become an increasingly high priority across all utilities, with the sector required to help meet a number of Government-set targets and the wider EU climate and energy 20-20-20 targets – comprising a 20% reduction in EU greenhouse gas emissions from 1990 levels, raising the share of EU energy consumption produced from renewables to 20% and a 20% improvement in the EU's energy efficiency.
With energy prices rising year on year, the bottom line implications of energy efficiency are not to be ignored.
Energy efficiency
In order to fully incorporate sustainability into the decision-making process, maintenance teams should evaluate the on-going energy efficiency performance of an asset as well as the immediate environmental impact of repairing or replacing it. The the environmental impact of repair versus replacement can be measured by carrying out a calculation on the energy usage and the direct link between this, and the asset's carbon footprint, by focussing on reducing specific power.
By dividing electrical energy used (kWh) by volume pumped (Ml), engineers can gain an understanding of the efficiency of the asset to help them decide between repair and replacement. As all water and waste water companies pump different volumes of water, this calculation is specific to each individual asset / system.
It may ultimately prove impossible to repair or refurbish a piece of equipment to its previous optimum overall equipment effectiveness (OEE), meaning that replacement is the best option in terms of energy efficiency.
However, maintenance teams must give consideration to the effect that this will have on the embodied carbon of the asset as a whole – in other words, the need for a replacement part to be manufactured, transported to site and fitted, and for the old part to be removed and disposed of.
The decision to repair or replace is not always a straightforward one. However, by working alongside an asset management and maintenance expert, it is possible for maintenance teams to make a fully informed decision.
By taking a long term view, not only of the cost and performance benefits, but also the environmental effects of each approach, engineers are well placed to make the best decision in terms of cost, performance and sustainability