Real-time data enables spot-on coagulant dosing
The recent Water Industry Awards saw Severn Trent and Malvern Panalytical recognised for the development of the Online Zetasizer, a system that uses real-time data to ensure the correct dose of coagulant is used at water treatment works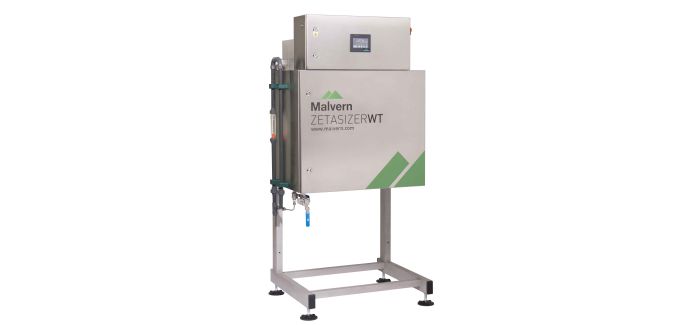 By James Brockett
An online, automated system that allowed Severn Trent to optimise its use of coagulant in real time was named the Most Innovative Use of an Existing Technology at the Water Industry Awards 2018.
The Online Zetasizer WT measures the surface charge – or zeta potential – of raw water every 15 minutes using a fully automated sampling system. This information is relayed in real time to the supervisory control and data acquisition (SCADA) system at the treatment works, where it is used to automatically determine the most appropriate dose of coagulant chemicals to use in the treatment process.
The system is the result of a collaboration between Severn Trent and Malvern Panalytical, which began in 2010 and culminated in the installation of the Online Zetasizer at four surface water treatment works within the Severn Trent region.
"We have a duty to our customers to make sure we optimise our use of chemicals, and have in place robust processes at our water treatment works," Emma Sharp, operational business lead at Severn Trent, says.
"The use of the Online Zetasizer is all about moving our water treatment works operations to a new level, with increased monitoring in real-time, so we can continue to ensure our treatment processes are optimised to produce wholesome water to the best standard at the lowest cost for our customers."
The measurement of zeta potential as a parameter used to inform coagulation and clarification processes is not new, and has been an integral part of Severn Trent's water treatment strategy since the introduction of bench-top units at a number of specific sites for this purpose in 2008.
However, laboratory-based sampling and measurement for zeta potential can only provide a daily snapshot of water quality, or a retrospective view once conditions have changed. When dealing with source water that is subject to rapid changes in quality, this can mean that chemical doses are increased proactively in order to ensure no additional operational risk.
Installing the Online Zetasizer provided Severn Trent with the capability to optimise coagulant use with an increased level of precision, but without any corresponding increase in risk. While the use of an online analyser alone is still reliant on the plant operator to execute a recommended action, the further development of a fully automated control system to optimise the dose will remove this reliance.
The ability to trend data and to configure alarms and notifications means that operational staff can concentrate on troubleshooting and preventing problems before they occur, while the ability to access the system remotely means that guidance can be sought from colleagues who are not on site at the time.
"The Online Zetasizer really brings clarity to our coagulation and clarification processes: it means we are applying theory, and using data, to determine how we treat the water," Sharp says. "Where maybe in the past you might have relied on operator knowledge and experience, and on understanding all the different scenarios, now we are improving on that with the online zetasizer by bringing in clear rules, guidelines and logic."
As operational staff gained confidence in the online Zetasizer, it was clear that they were able to make significant savings in the use of coagulants. For example, at Tittesworth WTW there was a 20 per cent reduction in coagulant use over a three-month period.
The potential savings available at any one plant will depend on the raw water quality and how operators make use of the system; however, the project showed the value of the system both in optimising chemical use and reducing water quality risks, according to Sharp.
"It allows us to operate within a really tight operational window, and make really small changes on a frequent basis, which we wouldn't be able to do if we were relying on more discrete sampling," she says.
Following the successful collaboration, the Online Zetasizer WT is now a commercially available product from Malvern Panalytical with installations in place worldwide.
"Developing new solutions in close collaboration with end-users and industry experts from Severn Trent has been highly beneficial for both parties," Alon Vaisman, head of sensors & automation solutions at Malvern Panalytical, says. "It has enabled our teams to explore and better understand the application challenges in order to develop and validate appropriate methodologies.
"This valuable insight has resulted in a product that delivers proven value and has real potential to change the way the water treatment industry controls coagulation. Zetasizer WT is an automated platform that provides the accuracy and precision of our laboratory zeta potential analyzers in an on-line setting. This gives the water plant operator more confidence to make dosing decisions and paves the path to a fully automated dosing process."
Severn Trent is hosting an event for the water industry in Coventry on 4 October to share its learning from the Online Zetasizer project with professionals from other water companies. To register, visit https://tinyurl.com/y9d5vsuv or contact emma.sharp@severntrent.co.uk
This article originally appeared in the August issue of WWT