Ready for anything: Resilience in the Round
Resilience is one of the four priorities that Ofwat wants to see water companies adopt in their plans for PR19. But what exactly constitutes 'resilience in the round' and how are utilities interpreting the challenge?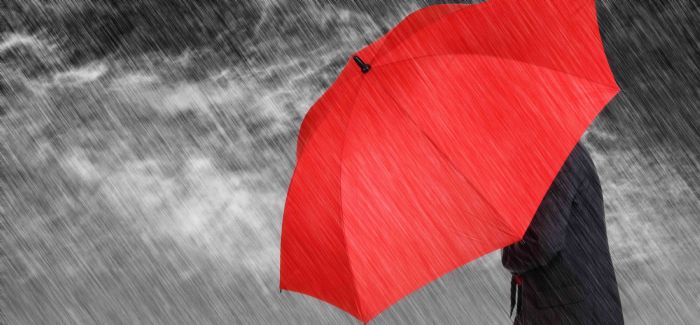 RESILIENCE DEFINITIONS
Ofwat's definition of resilience in the round incorporates:
• Corporate resilience: The ability of an organisation's governance, accountability and assurance processes to help avoid, cope with and recover from disruption of all types; and to anticipate trends and variability in its business operations
• Financial resilience: An organisation's ability to avoid, cope with and recover from disruption to its finances
• Operational resilience: The ability of an organisation's infrastructure, and the skills to run that infrastructure, to avoid, cope with and recover from disruption in its performance
The 4Rs of resilience as defined by the Cabinet Office:
• Resistance: Concerns direct physical protection, e.g. the erection of flood defences
• Reliability: The capability of infrastructure to maintain operations under a range of conditions, e.g. electrical cabling is able to operate in extremes of heat and cold
• Redundancy: The adaptability of an asset or network, e.g. the installation of back–up data centres
• Response and Recovery: An organisation's ability to respond to and recover from disruption
By Robin Hackett
As part of PR19, Ofwat has tasked companies with finding a holistic approach that covers operational, financial and corporate resilience – so-called 'Resilience in the Round'.
The concept was explained in the regulator's guidance report on 'Resilience in the Round' in September 2017, which advised companies that "the nature, awareness of and tolerance to future threats is changing" and that, by consequence, "resilience has moved up the political and social agenda".
By the time companies had submitted their business plans for PR19 a year later, it had moved up to new heights, with a freeze-thaw having brought widespread supply interruptions and the joint hottest summer on record then having raised the prospect of hosepipe bans.
The regulator's response to the issues caused by the Beast from the East shows there must be greater readiness for weather extremes, but resilience in the round is about far more than contending with climate change. Ofwat has told companies they must consider the bigger picture if they are to provide resilient, reliable and sustainable water and wastewater services in the face of a rapidly changing world, and that it will not only involve implementing new ideas and innovative technologies but finding ways to link together corporate, financial and operational resilience, placing customers at the heart of their new approach.
So, how do water companies go about ensuring they meet the regulator's expectations and set themselves on course for true resilience?
A ROUNDED CONCEPT
Ofwat wants companies to be prepared for all potential threats to service delivery – which could mean anything from drought and flooding to Brexit and skills challenges to cyber-attacks – and to understand how they link together.
"Resilience is all about planning in combination, understanding the interdependability between different systems and making sure they're taken into account in an appropriate way," says Trevor Bishop, who has worked as Ofwat's director for strategy and planning on secondment from the Environment Agency for the last two years.
However, the regulator stressed that its guidance report was "not a 'rule book' for companies to follow" but merely "food for thought as they develop their own innovative ideas and solutions for resilience". As Ofwat director John Russell wrote in his foreword: "There are, so far, few solid examples of a truly joined-up approach to resilience."
Yet while not every company will have developed a fully rounded approach at this stage, Ofwat clearly expects that they should have positioned themselves to do so.
"We've set the bar high for all companies in PR19," Bishop says. "However, we recognise this will continue to evolve and develop, so PR19 is definitely not the end of a journey."
Ofwat has offered indications of some of the aspects that should make up resilience in the round, including a heavy focus on customers and the environment, forward-looking metrics and smart systems.
One major element is 'systems thinking'. Ofwat cited the 100 Resilient Cities (100RC) global network as an example of the approach it wants to see, where 'shocks' such as superstorms, blackouts and heatwaves are considered alongside the more everyday 'stresses' that weaken cities' resilience, like ageing infrastructure, public transportation, unemployment and inequality.
Arup worked alongside the Rockefeller Foundation on both 100RC and the City Resilience Index (CRI), and they are currently working together on a City Water Resilience Framework (CWRF). The global consultancy firm has also helped a wide range of UK water companies to understand how they can implement those lessons in AMP7 and beyond.
"One of the key facets that we identified with the CRI was the qualities of a resilient system – a system that is resilient will be reflective, resourceful, inclusive, integrated, robust, redundant and flexible," Arup associate Ann Cousins says. "That underpinned our approach in moving from the city perspective to the utility perspective.
"One of the really important things to think about is we're not just talking about mitigating a single shock or stress. In becoming more resilient, a water company is not just resilient to a flood event or climate change but should be resilient when facing the kind of future uncertainty that's increasingly important in the world we live in today."
There is much the water sector can learn from the cities. Companies need to adopt a forward-looking approach that considers the future scenarios that could impact on their operations, while there is a need for greater levels of collaboration, both within the industry and beyond. For example, wastewater resilience – one of the many areas Ofwat expects to see developed further in AMP7 – can only be effectively approached by considering the big picture.
"In the work of the 21st Century Drainage Board, it is great to see the proactive approach to partnership working and the recognition that wastewater and drainage are intrinsically linked to other systems," Bishop says. "There's very strong links between the roles of water companies and those of other organisations such as highway agencies, drainage boards related to surface water flooding and the Environment Agency on fluvial flooding, and the activities of water companies on ingress into their systems and the way that all interacts. There's a real mix of responsibilities and accountabilities."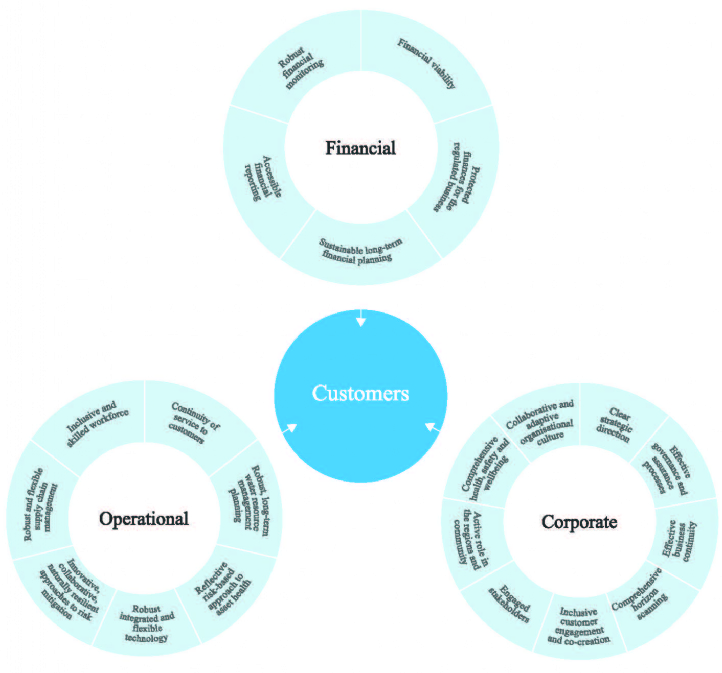 The framework Arup used to assess companies' maturity in the run-up to AMP7
Arup's water advisory lead, Ian Gray, says multi-stakeholder engagement was a major lesson from the work on the CRI and 100RC, which has led to Arup working with others to develop the WaterShare tool to promote collaborative, resilient water governance.
"Working together to solve the challenge or take an opportunity was much more effective than individuals sorting a problem out from their own perspective," Gray says. "That integrated thinking was key."
While linking operational, financial and corporate resilience may not be second nature for most companies, Arup believes it is already achievable. Using the methodology developed for PR19, Arup worked with numerous companies to provide an understanding of the maturity of their resilience plans, and Gray says the process itself helped many to adopt a more rounded approach.
"Ofwat is asking for long-term financial planning, for example, but there was a bit of pushback from some of the finance people at companies who felt short-term planning was the most robust approach because the future's so uncertain," he says.
Arup emphasised the benefits of reviewing financial plans on a regular basis and making changes where shocks and stresses may occur.
"We got some really good change in thinking and connectivity," he adds.
GETTING A MEASURE OF RESILIENCE
With the new direction on resilience still at a formative stage, Ofwat outlined a "clear expectation" that companies implement their own forward-looking metrics on the issue as part of their PR19 business plans, with a brief that they should "focus on what matters to customers".
In June 2017, United Utilities and global design and consultancy firm Arcadis published a report detailing a new metric that could assess resilience levels in a consistent manner, identifying areas of weakness and targets for improvement, and ultimately quantify the state of a company's system by 'households at risk'.
The metric in the initial report focused on the resilience of water supply from treatment works, but it was designed to be adaptable to other single points of failure, such as aqueducts, trunk mains, service reservoirs and pumping stations.
It encourages proactive interventions on the '4Rs of resilience' – resistance, reliability, redundancy, and response and recovery – which are lined up against four resilience risk assessments: the likelihood of hazards, vulnerability to those hazards, scale of impact and duration of impact.
"The nature of resilience risks has changed and it's no longer about using traditional risk management tools to understand resilience," Olu EriOlu, UK risk and resilience lead at Arcadis, says. "We've developed a consequence-led methodology focusing on the impacts of resilience risks. It recognises that shocks can happen at any time because of our very complex and much more connected world, and that means that, when small events happen, the impacts will be greater."
United Utilities had initially sought to develop the metric after determining that the performance commitments put forward by Ofwat were unable to fully assess certain aspects of resilience, in particular system resilience and single points of failure.
"It came off the back of some of the incidents that we have had and the feeling that the metrics that were being put forward didn't really adequately cover those issues," Simon Boyland, head of asset systems and planning at United Utilities, says. "The failure of a single treatment works, or a number of treatment works, during an event like Storm Desmond for example – that's when our customers really notice an impact on their service."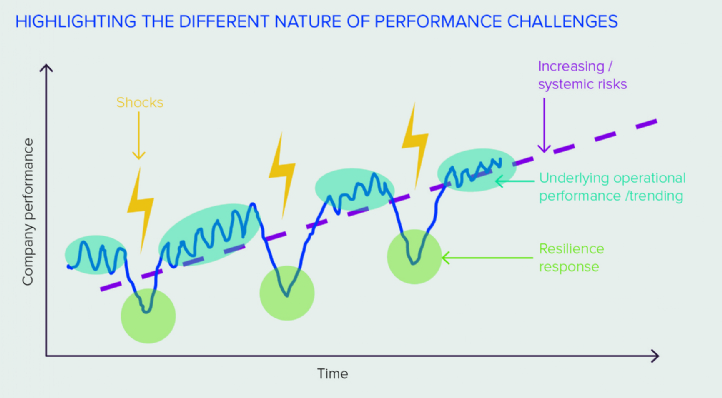 Arcadis' visualisation of resilience
To make it applicable for wider use, it was designed to make risk assessments consistent between companies through a series of questions that would minimise individual interpretations of risk probabilities.
"In theory it could be used to compare companies' levels of system resilience and ultimately potentially lead to targets being set across the industry to a minimum standard, or for Ofwat to put pressure on those companies that aren't delivering that level of resilience to customers," Boyland says.
"It came a bit late in the day to be included as a mandatory measure for PR19, but we've developed it further and used it as a water service resilience metric in our plan to look at improving the resilience of the North West for PR19. There's a number of treatment works where we are building additional resilience in AMP7."
The metric has since been utilised by other water companies and adapted to cover further single points of failure, while Southern Water has worked with Arcadis to adapt it to build in an understanding of wastewater.
Using the resilience assessment methodology as the basis, Southern and Arcadis also worked in collaboration with infrastructure planning software provider Optimatics to develop a pilot for a platform that could improve resilience through better informed strategic investment decisions.
Optimatics' Optimizer software is being used to assess the optimal mix of asset options for Southern Water's supply network, evaluating a series of inputs – business risks, cost of assets and network hydraulic performance – and then presenting an array of choices for the company to select from.
"We were aiming to determine what the ideal balance between cost, performance and resilience looked like," Dr Bojana Jankovic-Nisic, Arcadis' digital lead for water engineering, says. "Planning and investment processes are generally manual, iterative exercises, so a plan is normally derived from a limited number of options and then the final one chosen based on what appears to be the best.
"The Optimizer uses genetic algorithms to simulate hundreds of thousands of future water asset investment scenarios and then provides the most efficient set of options for you to look at further."
The aim is that Southern will ultimately emerge with a financially optimised resilient plan that fits with its preferred approach.
IDEAS IN PRACTICE
Many aspects of resilience in the round are already being put into practice with impressive effect.
In May, United Utilities CEO Steve Mogford said he believed the company's systems thinking approach was setting "a new performance frontier" in the industry, suggesting it could be "five years ahead of the rest of the sector".
The approach was central to United Utilities having sufficient water to meet demand across the whole of the region throughout the Beast from the East.
"We try to use the data we have to predict what's going to happen," Boyland says. "Rather than waiting for problems to occur and reacting, you're taking things like weather forecasts and modelling what impact that would have on the systems, then getting your response-and-recovery mode up and running ahead of the event occurring.
"You could predict there was going to be a freeze-thaw – exactly when it was going to be might be uncertain, but you get yourself ready and prepared, get your service reservoirs topped up, get your tankers ready to go so that, once it did hit, the impact on customers was minimised."
In August, United Utilities was also able to call off a planned hosepipe ban, which it put down to a combination of recent rainfall and reduction in demand but also measures the company had taken, including fixing leaks, managing water in the network and making operational interventions such as the installation of new pumping stations, pumping between reservoirs and bringing ground water sources into use.
"Water resource management is probably the area that was most advanced in terms of that systems thinking approach because we already had quite effective resource modelling," Boyland says. "What's developed even further is the more localised planning – peak demands are similar in a drought situation to in a freeze-thaw situation – and making sure we have local supplies that can sustain us through that period."
Elsewhere, Welsh Water has implemented some of the other key elements of resilience through its RainScape approach as well as the Greener Grangetown project, which have blazed trails in delivering effective sustainable urban drainage (SuDS) work in Britain. Arup served as consultant on the RainScape project, and Gray says that type of SuDS work is a prime example of a longer-term, multi-stakeholder approach that addresses shocks and stresses in a way that has multiple benefits.
NEXT STEPS
Delivering resilient services in AMP7 and beyond will require efforts on a range of issues, not least clean water, where the Government's recent draft National Policy Statement talks up the potential need for new reservoirs, more water transfers, desalination and water reuse, offering guidance on planning decisions for water resources infrastructure of national significance.
Bishop, who leaves Ofwat for a new role as organisational development director at Water Resources in the South East (WRSE) in January, feels the industry is not in a bad place with regard to drought resilience but that there is room for improvement on the "coordination between companies and at a national and super-regional scale". Climate change will demand more of wastewater resilience too, which also impels the companies to liaise with wider stakeholders.
Ofwat has challenged companies to ingrain that sort of big-picture thinking into every aspect of their resilience approach and, while many are still trying to find their way, there are signs that others are already en route to success.
"I think there's a mixed level of maturity, but there's some really, really good thinking across the industry, and companies are trying to make resilience in the round business as usual," Arup's Gray says. "There's some phenomenal innovation that's gone on already in some of the companies in terms of building a resilient future if you think about the catchment thinking, working with stakeholders, the innovation work Anglian Water has done, for example.
"It's a mixed maturity level, but all the companies we've spoken to are moving in the right direction and keen to embrace this going forward."
WATER COMPANY VIEW: Matt Rimmer, head of waste networks, Thames Water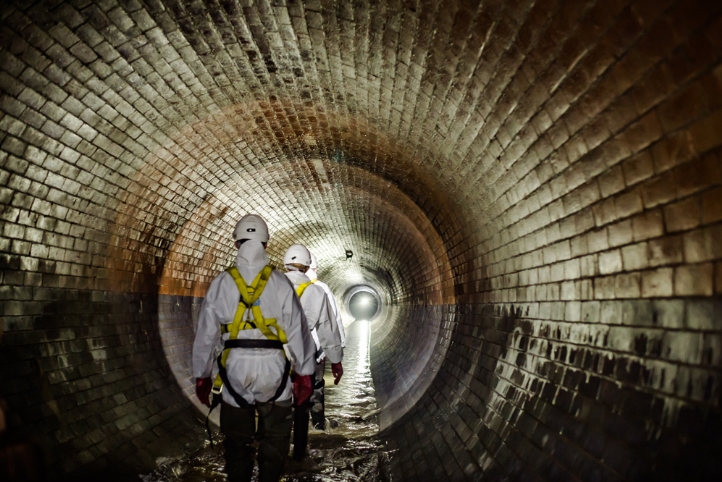 "Greater resilience is a key part of being a successful water company – sounds obvious, doesn't it? But however often this word is thrown about, what does it actually mean for our customers and our employees? I view it simply as the ability to prevent and withstand a shock, and recover quickly. It's the bedrock of great customer service – we call it the 'silent running' part of our business.
"There are a number of challenges placing pressure on our systems and testing our resilience, which will only intensify with changing seasonal weather trends and climate volatility. Ageing Victorian assets, population growth – we forecast 2.1 million more people in our area by 2045 – and the welcome increase in environmental standards all add to this challenge. But building resilience to deliver for customers is essential. With the views of around one million people shaping our business plan for 2020-25, it's clear that our customers and stakeholders want us to be better at withstanding these shocks.
"Our customer plan is the first stage of a long-term programme to deliver the step change in resilience required. Traditionally we have taken an asset-based view of this problem – build bigger, faster and better to out-muscle the problem. But a systems-based approach to the same problem – a key pillar of our customer plan – looks at this issue from all angles, exploiting real-time data, intelligence-led decision-making and an all-source view of the root cause to identify ways to improve our system.
"So, to reduce the risk of sewers overflowing, we will take a multi-angle approach that flattens out the peaks of demand through managing surface water at source with sustainable drainage, then exploits the real-time or predicted data from a digitised network to optimise flow management, and finally enhances treatment capacity through process enhancement or (old-school) bigger sites. Just take a look at the Thames Tideway Tunnel project for an example of this systems approach.
"On water, our changing climate, growing population and the need to leave more water in the environment to protect wildlife are projected to create a shortfall of 652Ml/d by 2100. Our draft Water Resources Management Plan sets out how we will bridge this gap, including a more ambitious programme to manage demand – with a 15 per cent cut in leakage by 2025, the development of a new source of groundwater, and an innovative scheme to replenish an aquifer under south London.
"Beyond 2025, we will develop new sources of water, including a transfer scheme that will bring supplies from the Midlands through the Oxford Canal, and an innovative water recycling plant at Deephams sewage works in north London. But this is not just a Thames Water challenge, so we have worked with companies in the Water Resources in the South East group to identify opportunities for shared solutions. The best value option is a new reservoir filled from the River Thames near Abingdon in Oxfordshire, shared with Affinity Water and in use by 2037.
"This year showed us all the extremes we are facing, with the Beast from the East leading into the summer heatwave. But our customers see us as experts in this field and quite rightly they expect us to be equipped to handle these kinds of things; that doesn't seem to me to be an unreasonable demand. They don't see a wet weekend in May as an extreme shock, so it is our job to raise our operational performance to meet these expectations of a modern resilient water company."
This article originally appeared in the January issue of WWT