Rainwater spin-out companies offer innovative path
Researchers from the University of Exeter's Centre for Water Systems are putting the latest rainwater harvesting and SuDS thinking into practice via two innovative spin-out enterprises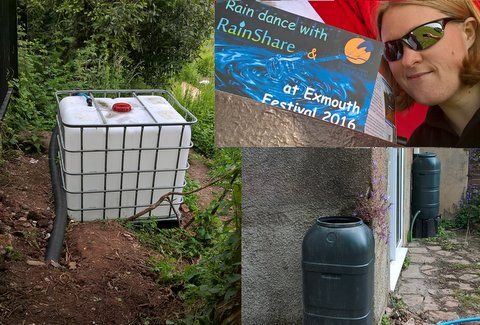 Dr Sarah Ward, founder of RainShare, and some of its rainwater installations in Exeter
by Dr Sarah Ward, Pete Melville-Shreeve and Professor David Butler, University of Exeter
Translating research into usable outputs yielding benefits for society is never easy, but researchers from the University of Exeter's Centre for Water Systems are taking the rainwater management scene by storm – founding two innovative spin-out enterprises supported by a range of organisations and catalysing change in the offer to market by developing and testing a range of new products and tools.
Research into alternative water supplies such as rainwater harvesting (RWH) systems has been ongoing in the Centre for over a decade, since Professor David Butler joined in 2006 from Imperial College London.
In recent years, Dr Sarah Ward and Pete Melville-Shreeve have in turn added to the rainwater research base through their doctoral studies, which Ward completed in 2010 and Melville-Shreeve will complete in the coming months. Both returned to academia after stints in the water industry (at a water company and consultancy, respectively) and were keen to produce practical applications from their research. Hence in 2015, both established spin-out companies to embed their research in practice to generate impact.
Dr Ward's enterprise, RainShare (www.rainshare.co.uk), is run using a social enterprise philosophy and explores service innovation to generate multiple gain through sharing roof runoff across a portfolio of RWH services representing fresh new business models. Since 2014, RainShare has received funding and support from social enterprise specialists UnLtd to install a pilot scheme in Exeter, business mentoring from start-up specialists Canopy and most recently, a comprehensive package from InnovateUK's Women in Innovation scheme.
Challenging conventional ways of sharing and trading runoff, RainShare also aims to reconnect communities with water through the highlighting of everyday practices that don't need potable (mains) tap water – like irrigating gardens and allotments, flushing toilets and washing cars. Ahead of the curve in terms of where rainwater management in the UK currently is, RainShare is currently collecting data from the pilot installation, which will help prove the business case for further schemes – essential for getting to the early-adopting 1% who will immediately benefit from RainShare's services. The pilot installation diverts runoff from the roof of a house to adjacent allotments to enable plants to be watered without the use of mains water and keeping rainwater out of sewers. Working with Transition Town initiatives in the local area, the aim is for the next installation to be larger in scale – such as sharing runoff between terraced housing and a community centre or between a warehouse and an office block.
Meanwhile, Melville-Shreeve's enterprise, Over the Air Analytics (OTA), was established to provide turn-key retrofit sustainable drainage (SuDS) installations. The OTA team deliver rainwater management installations on a bespoke basis using in-house design software which builds on R&D completed at the Centre for Water Systems. Furthermore, OTA has developed a real-time monitoring system to enable its SuDS systems to be connected and monitored via its cloud-based hosting platform. OTA has just completed installation of retrofit systems in London through collaboration with the Future Cities Catapult. The OTA strategy is to maximise rainwater reuse whilst enabling stormwater control to be achieved.
"At OTA our goal is to provide SuDS with multiple benefits," says Melville-Shreeve. "Put another way, we see rainwater as a resource, but design our systems to manage the threats of pluvial flooding. To date, we've incorporated rainwater reuse at every scheme we've installed. It's a complex process and so we have built a team of design engineers, community engagement officers and installation specialists to meet our customers' needs. Maximising rainwater reuse is a top priority within the UK's SuDS guidance, and as our climate and urban environments change, it's only going to become more important in the years ahead."
Delivering impactful research that highlights best practice in smart and participatory approaches to rainwater management, based on real-world data from monitoring and engagement, is key to the Centre's work. This work has been co-produced through collaboration with a range of industrial partners such as Severn Trent Water, South West Water and a range of small to medium enterprises and approaches regarding potential collaborative projects are always welcome.
Rainwater Research
In addition to the RainShare and OTA spin-outs, the University of Exeter's Centre for Water Systems rainwater research has also underpinned:
• The testing, development and launch of the RainSafe device – a novel miniaturised treatment train to bring harvested rainwater to potable standard at the household scale (www.h2ozone.ie)
• The testing, development and launch of the FlushRain device – a novel downpipe-located RWH system with loft-located storage (www.flushrain.co.uk)
• The development of new tools for financial assessment that incorporate end-user perspectives on the design of RWH systems and prioritisation of costs and benefits
• The development of a decision support tool for the optimal design of RWH systems
• Evaluation of integrated water management interventions at Severn Trent's Urban Demonstrator under the TWENTY65 Project
• Re-evaluating existing design standards on the sizing of rainwater tanks to cater for both water supply demand and flood storage
• Investigating the potential impact of RWH on urban flood resilience through rainfall runoff modelling.