Q + A: Mohammed Saddiq, Managing Director, GENeco
WWT meets Mohammed Saddiq of GENeco, the Wessex Water subsidiary which is generating power and valuable biomethane from sewage, organic and food waste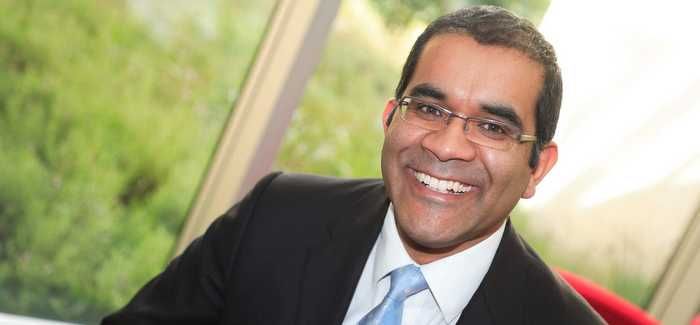 Mohammed Saddiq leads GENeco, which operates from Bristol Sewage Treatment Works
WWT: What are the aims of GENeco as an organisation?
MS: It was just over six years ago that I was tasked by our board with delivering a step change in sustainability for Wessex Water, and the key strategic themes that came out at that time were around being carbon neutral and at the same time being a zero waste company. Those were the two visionary goals that we set ourselves to achieve by 2020. I argued at the time that it would be far more effective to have a separate organisation, with a very different culture, to help deliver on that vision; ultimately the board signed off on this and GENeco was formed.
What are the different waste streams from which you generate energy?
We are responsible for running the Bristol Sewage Treatment Works, which treats the sewage flow from Bristol and the local conurbations, a population equivalent of around a million people. We also have what we class as an organic waste business, which takes over 600,000 metres cubed of organic waste from industry, which we process in a sustainable way; we also take the sewage, or biosolids, from all Wessex Water's sites and we recycle that to agriculture, this amounts to around 250,000 tonnes that we recycle every year. Then in response to what our stakeholders, and particularly the council and government, were saying about how they were looking for alternative technologies to enable them to see their segregated food waste treated in a sustainable way, we built a 35-40,000 tonne facility to process inedible food waste.
Why did you decide to implement gas-to-grid technology at your Bristol site?
The rationale was that when you take a metre cubed of biogas and convert it in a CHP engine, the engine converts roughly around a third into electricity, a third into heat and a third is wasted in inefficiencies. So CHP engines can potentially be seen to be quite inefficient, particularly during the summer when you may not need all the heat that you are producing. So that was one reason, but also the sustainability credentials of injecting gas into the grid are far better than CHP because the gas, the biomethane, is actually being utilised as heat at source. It's not quite 100% utilisation, but it's not far off that, so there's very little wastage, and our carbon footprint overall has reduced as a result of using the gas in a much more sustainable way.
How did you overcome the regulatory barriers of processing food waste and sewage on the same site?
The regulatory complexities are around waste management legislation: if you take food waste and you co-digest it with sewage sludge then the material that you are producing is deemed to be a waste. But if you treat the sewage separately to the food waste in dedicated digesters, then the food waste and the sewage waste can each be turned into a product, a fertiliser that can be recycled to agricultural land. We were adamant that there should not be a barrier to us doing what we felt was the right thing, so we decided to ensure that the food waste and the sewage sludge was dealt with in separate digestion facilities. We saw the regulatory issue as an opportunity, as using dedicated digesters meant our operations staff would be able to optimise the process much more effectively than if we had the two mixed together. I think we've been proven right on that, as the level of gas production that we've achieved compared to the business plan that we originally presented shows a 30% increase in gas yield.
Do your different waste streams give you a business opportunity to expand beyond the goals you originally set out?
Absolutely. We review our business plan continually, to reflect the market conditions. When we started on the gas-to-grid project, we were very keen to ensure that all the gas was injected into the grid. But the team then started exploring other things we could do with the biogas, having produced it to such a high quality. They did some research that highlighted that many of the cities in the UK are in breach of their air quality levels that have been set by the EU, and the primary reason that's been cited for this is our insatiable appetite for using diesel-fuelled vehicles. As we had this biomethane, we felt that we were creative enough to try and work with other partners, and that there was an opportunity to provide leadership around this really important issue. So we managed to speak to a bus operator and to set up a filling station on this site to see whether a biomethane powered bus was feasible.
The Bio-Bus has now been running for just under a year, and the publicity it's generated has just been absolutely amazing: we've had enquiries from around the world, from China, Jamaica, Canada, Costa Rica, Malaysia, and it's opened up a huge opportunity for us. We are currently working in partnership with a major bus company that has its depot local to us, who have been very forward thinking in wanting to work with us for them to run a fleet of buses on biomethane. If this happens it would be incredible.
How does the biomethane you produce compare to conventional fuels?
The argument for taking the biomethane and injecting it into vehicles becomes compelling when you look at the displacement of the fossil fuel, in this case diesel, and the costs associated with that. If you are the operator of a bus, you could potentially see a reduction in your fuel cost on a like-to-like basis of around 20-30%. And at the same time, because it's such a clean fuel, you are likely to see a reduction as a bus operator in your maintenance costs. When you factor in well-to-wheel emissions reductions of over 90%, particulate emissions reductions of over 97%, and over a 90% reduction in NOX (the latter two being the key parameters for air quality) then you start to ask, why haven't we done this before?
I'm really pleased to see that the Department of Transport are keen on tackling this issue and there are a number of grants that are being offered to try and incentivise bus operators to look at innovative ways of reducing their emissions. I think you will see over the next 2-3 years that there will be hundreds of buses running on biomethane in the UK; and I think we might have had a small part to play in bringing this whole issue to the attention of stakeholders with the Bio-Bus.
- Interview by James Brockett