Project Focus: Water Supply Grid takes shape for Wessex
Wessex Water's £225M Water Supply Grid project, due for completion in 2017, is set to ensure future security of supply for customers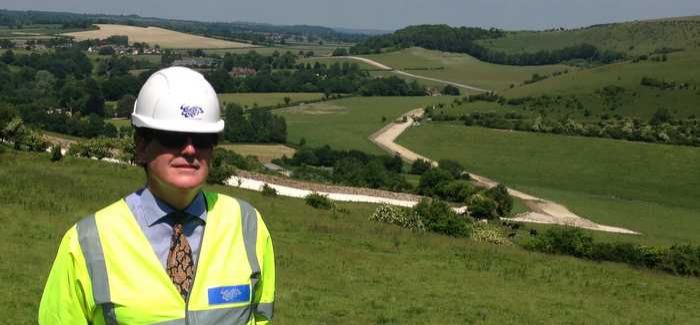 Wessex Water's Programme Manager Drummond Modley surveying the pipeline route
Drivers
- To ensure secure future supply for customers, Wessex Water need to link up the south of its area, where water is plentiful, with the north where it is less so
- It also wants to link up communities currently relying on a single source, such as a borehole, into an area-wide grid to mitigate possible water quality issues in future
- A reduction in abstraction licences from April 2018 at several water sources, including the River Avon, will heighten the need for water transfers
by James Brockett
Wessex Water is progressing well with its Water Supply Grid project, its major £225M scheme aimed at ensuring security of supply for customers by linking up multiple water sources and enabling smooth transfers around its area.
The eight-year programme of works, which has spanned two AMP periods, was started in 2010 and is on course to be fully commissioned by 2018.
It comprises more than 50 individual projects, including more than 200km of new pipelines, 24 new or refurbished pumping stations and 12 new storage tanks, ranging in capacity from 2 to 8 million litres.
The centrepiece is a 74km transfer main leading from a new major pumping station at Sturminster Marshall in Dorset to a new storage tank at Camp Hill just west of Salisbury. This transfer provides the key link between Wessex Water's infrastructure in the south – where water is relatively plentiful – to the north, where it is less so.
The aim is to ensure continued security of supply for customers, wherever they live in Wessex's region; the utility has not needed to have a hosepipe ban since privatisation, and wants to keep it this way. Wessex Water also wants to link up communities currently relying on a single source, such as a borehole, into an area-wide grid to tackle the risks of localised water quality problems in future. (Wessex gets 70% of its water from aquifers). There were 14 such 'standalone' sources before the start of the project, as well as four sources where low flow was a concern and 12 sources where nitrate levels were identified as a possible future risk. The completion of the grid will alleviate all of these concerns at once, while also preparing the ground for a number of abstraction licence reductions – in particular around the Salisbury area - due to take place in 2018.
"What it means for our customers is that whether you are a customer in Dorset, Wiltshire or Somerset, come 2017, you have security of supply if water is scarce," says Drummond Modley, Wessex Water's programme manager. "Whether there is a drought or a technical problem with your local water source, you will always be able to get water."
The grid will also open the door to water trading with neighbouring companies in the region on a scale that has not been possible before.
Modley says that the programme of work is around 60% complete; there is 8km remaining to be completed on the main transfer pipeline route. £1M is set to be spent every week for the next 30 months as the projects near completion.
The pipeline underwent a full environmental impact assessment prior to being granted planning permission in April 2013, and with 50% of the route passing through areas of outstanding natural beauty (AONB), impacts on local ecology have been carefully managed. Meanwhile, there have also been some archaeological surprises: the discovery of the skeletons of a Roman soldier, dating from 200AD, and a bronze age woman dated 500BC, being the most dramatic find. County archaelogists have been keeping a watching brief over the construction.
The pipeline material varies between polyethylene, ductile iron and steel, and in diameters ranging from 200mm to 600mm. A corridor of 20-25m is required for the pipeline, with a typical trench being 1.2m wide and 1.5-2m deep. There are more than 120 crossings required in the total programme of work, including major trunk roads, rivers and railway lines.
Great care is being taken with the appearance of the new assets. The new storage tanks are typically underground and grassed over, while pumping stations have been designed to be as unobtrusive as possible. For example, in response to feedback from residents, the newly completed station at Monkton Deverill, Wiltshire, has been built with a wooden cladding exterior to give it a rural feel, while it will be largely shielded from view by newly planted trees.
As might be expected, a co-ordinated, collaborative approach has been necessary for the delivery of such a large project; a substantial core of expertise has been provided in-house by Wessex Engineering and Constructive Services (WECS). WECS established an external project workstream in 2010, dedicated to the delivery of the programme; the team set up a co-located office in the centre of the Wessex Water region at Yeovil, where staff of all disciplines could work alongside each other for part of a typical week.
Atkins was engaged to carry out optioneering studies, outline designs and construction support services, while AECOM and Grontmij have been recently commissioned to complete outline and detailed design for water treatment plant refurbishment. The detailed design of more than 100km of new pipelines has been undertaken by WECS' own in-house pipeline design team.
Key external contractor partners on the projects have included Trant Engineering Ltd, Lewis Civil Engineering and Clancy Docwra.
One of the most innovative aspects of the project is the Optimiser control system which will manage and optimise the transfer of water along the new transfer main. Centrally controlled from Bath, the system will schedule transfers at the most efficient time to ensure security of supply while minimising energy costs.
"The Optimiser software that Wessex Water has developed with Tynemarch is an automated, online, closed-loop optimal network control system," says Modley. "It will control the flows along the line of the trunk main that we have built. It will ensure water quality, security of supply and manage the transfer of water along the line of the main cost-efficiently."
Another innovation involves the water sources at risk of high nitrate levels, and the way existing infrastructure around them is to be used. The supply grid has been designed to allow the existing nitrate removal water treatment works and low nitrate water supply sources to be fully utilised, by the targeted blending of the available low nitrate water with sources at risk of exceeding the nitrate standard. This has been done by careful segregation or twinning of pipework to allow for blending at critical points.
"The grid allows us to make the most of the assets and resources we have got," says Modley. "It's about maximising our resources rather than having to build new boreholes or treatment plants."
Construction is expected to be completed in late 2016, allowing the system to be tested comprehensively in 2017 and commissioned by the start of 2018.