Project Focus: Upstream Thinking on the River Ouse
South East Water's five-year-strategy for the Ouse catchment in Sussex, which has included in-depth work with local farmers, has focused on reducing metaldehyde and sediment in the watercourse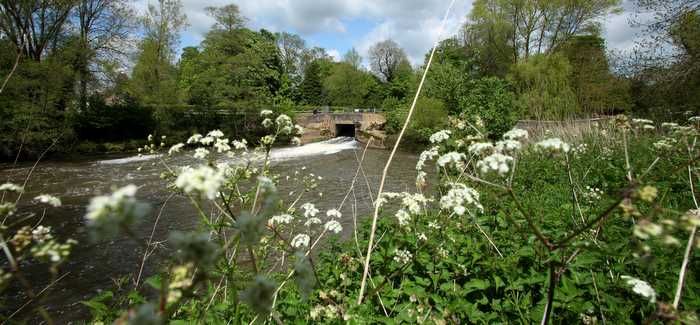 The water intake at Barcombe WTW on the River Ouse
Drivers
- Metaldehyde and suspended sediment was entering River Ouse from agricultural activity
- Catchment approach could reduce treatment costs
- Need to meet good ecological status under EU Water Framework Directive
by Charles Chantler, Catchment Officer, South East Water
In response to the challenge to reduce drinking water treatment costs, South East Water is pioneering a programme to work directly with farmers to tackle pollution at source. The Ouse Upstream Thinking Project is part of an innovative five year catchment management strategy delivered in partnership with Natural England Catchment Sensitive Farming.
Catchment refers to an area of land which drains to a river or stream. While agriculture is not the only source of pollution within these areas, it is recognised that it does have a role to play in maintaining water quality. This is particularly important when it comes to preventing soil, nutrients and agro-chemicals from reaching watercourses. With land use and water quality so closely linked, there is good reason to work directly with farmers to achieve cleaner water. This can help to meet drinking water standards and can contribute to attaining 'good ecological status' in rivers and streams, as required by European Union Water Framework Directive legislation.
Work started in the River Ouse catchment in 2012, with initial research undertaken by South East Water in conjunction with the Environment Agency and the University of Brighton. This led to the identification of priority sub-catchments which directly affected the treatment works at Barcombe, which supplies drinking water to 300,000 customers in East Sussex.
The study found parts of the upper Ouse catchment contributed significant levels of suspended sediment, with the lower section of the catchment having a notable influence on the levels of metaldehyde, the active ingredient of slug pellets. While metaldehyde is relatively safe to human health, it needs to be removed to meet drinking water standards. The particular challenge of metaldehyde and other agricultural pesticides is that the activated carbon used at treatment works to remove pesticides has to be replaced periodically, at significant cost to the industry and its customers. Increased loading of pesticides into drinking water catchments places a strain on existing water treatment processes.
Visits and recommendations
As a result of the study, a pilot project was initiated to work with 10 farms (five in the upper reaches of the catchment and five in the lower) to offer advice and grants to help improve water quality in their local areas. This began with a 'whole farm appraisal' of each farm which highlighted potential risks to water, taking into account factors such as farming operation, soil type, pesticide usage and yard buildings/ tracks.
A five-year partnership was formed with Natural England Catchment Sensitive Farming in December 2014. The partnership took these reports and followed up with farm visits and recommendations from a dedicated catchment officer who identified priorities for work on each holding. These were translated into a capital grants scheme which offered up to £10,000 per farm for investments which would have a positive impact on water quality. These included items such as 'bio-beds' which contain and treat pesticide residues from sprayer filling areas, replacement gutters and downpipes to help minimise the creation of contaminated water from livestock yards, and farm track improvements to help minimise soil erosion.
In one example, work has been commissioned on a dairy farm where a problem with soil erosion had been identified on a track which led directly to a tributary of the River Ouse. This track was used regularly to access the surrounding pastures and it was apparent that suspended soil particles could enter the stream via the track, causing siltation and affecting the ecology of the watercourse. After a visit from the catchment officer a specification of works was agreed in order to improve the stability of the track and prevent run-off to the stream. This included track resurfacing, the installation of cross drains and the creation of a 'blind ditch' to intercept water before it entered the stream, thereby allowing any soil particles to 'settle-out'.
Catchment management roll-out
Following the success of the Ouse Upstream Thinking project, South East Water has rolled out a Catchment Management Programme to four drinking water catchments in its service area. This will be funded by South East Water and delivered by Catchment Sensitive Farming in an innovative partnership which brings the expertise of two experienced catchment officers to meet the water company's needs. This has enabled a catchment programme to be devised quickly, with delivery on the ground starting in April 2015. This initiative is further supported by three 'in-house' catchment scientists who, through continuous water quality sampling and analysis will work alongside the catchment officers to provide data and evidence that is required in order to test the effectiveness of the programme.
In the early stages of the new five year programme, work has focused on reducing metaldehyde levels in the Rivers Ouse, Cuckmere and Waller's Haven, with four discussion groups held with local farmers to discuss effective management of the chemical. As a result of these meetings, agreements are already in place to improve the efficiency of application through machinery calibration and training of farm staff. Importantly also, local trials have been set up to test the effectiveness of the only approved alternative to metaldehyde, ferric phosphate. This will be reinforced with a fund to supplement the additional costs to farms for the use of ferric phosphate products.
Longer-term, the programme will deliver a comprehensive range of support to help minimise the risk of water pollution from farms. This will include advice on soil husbandry, pesticide use, nutrient management and the handling of manures and slurries and will be supported by a capital grant scheme. The benefits will not be confined to the water industry alone: minimising agricultural inputs entering rivers and streams has an impact on farming efficiency and will help ensure clean water for all users. This is in line with the need to secure food production while reducing the impact on the environment. As the project strap-line states: 'protecting water and efficient farming go hand in hand'.