Project Focus: RainScape - an integrated SuDS solution for Llanelli
Dwr Cymru Welsh Water's RainScape initiative has seen an integrated, large scale sustainable drainage solution retrofitted in Llanelli's densely populated urban area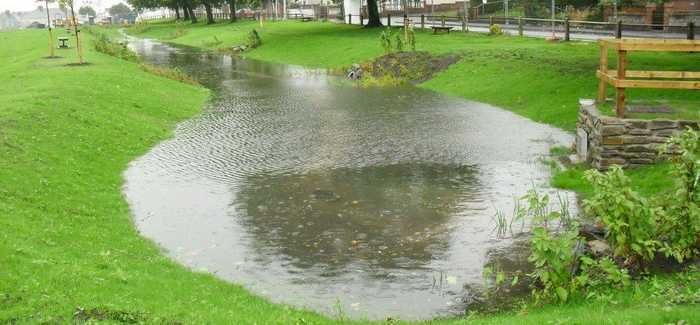 Queen Mary's Walk Swale (seen here being tested) would fill to the brim in a 1-in-100 year storm
Drivers and Innovations
Drivers
— A large amount of storm water in the Llanelli combined sewer network was leading to CSO discharges in shellfish waters in the Loughor Estuary. Some low-lying properties were also at risk of sewer flooding
— An engineering solution involving storm tanks would have been impractical and expensive, requiring massive infrastructure, and may not have been effective
— A sustainable solution was required to protect Welsh Water customers against flood risk in the longer term given the threat of climate change
Innovations
— Sustainable urban Drainage systems (SuDS) were retrofitted on a large scale across a densely populated urban area
— Advanced modelling enabled Dwr Cymru Welsh Water to identify where to concentrate its work, and regular monitoring was put in place to measure its effectiveness
— A high degree of collaborative working with Carmarthenshire County Council and other stakeholders, culminating in a Memorandum of Understanding (MOU) over new developments
by James Brockett
Sustainable urban drainage (SuDS) is rising up the agenda for water companies in this AMP cycle, as a cost-effective, environmentally friendly way of reducing pressure on combined sewer networks. But SuDS solutions on a significant scale – especially when retrofitted in existing urban centres - require effective co-operation between a host of stakeholders, including local authorities, developers and regulators, as well as the water utilities. Can this be achieved?
One example that suggests that it can is Dwr Cymru Welsh Water's RainScape initiative, which has made £15M of improvements in Llanelli and Gowerton during AMP5, and will be expanded to the tune of another £25M in AMP6. The Llanelli schemes are the centrepiece of a sustainable drainage programme which will see around £60M spent on SuDS across Wales in the 2015-20 period.
As a sloped, coastal town with traditional terraced houses and few gardens and green spaces, Llanelli is a particular hotspot for surface run-off: its combined sewer network, which serves 53,000 people, has nearly as much storm water in its network as Swansea, which has three times the population. With nearly 40 low-lying houses vulnerable to sewage flooding, and shellfish waters in the Loughor Estuary at risk from CSO discharges and diffuse pollution, Welsh Water decided to focus on an integrated SuDS solution for the area back in 2010/11.
"The standard approach to the problem would have been to build big storage tanks, combined with increased pump capacity," explains Fergus O'Brien, RainScape Strategy Manager at Dwr Cymru Welsh Water. "But when we looked at that we realised the amount of storage we would have needed in this area was enormous - over 200,000 cubic metres of storm tanks in Llanelli WWTW alone - and even then, the tanks would never drain before the next storm came along and filled them up again. So technically it was never feasible to take that approach.
"We were already adopting a sustainable drainage approach for some small, localised schemes at the time to protect customers from flooding. So we decide to extend our analysis and modelling across the whole of Llanelli and Gowerton, and ask - what would you have to do in order to deliver a fully sustainable approach?"
After studying international examples – such as Malmo in Sweden and Portland, USA – O'Brien knew that retrofitting SuDS was possible despite the constraints of the landscape. While it only had limited SuDS spending approved by Ofwat for AMP5 - £3M for three specific schemes - Welsh Water's conviction about the concept, combined with its ethos as a not-for-profit organisation, meant its board was willing to back an enlarged programme and provided £15M for the purpose.
A thorough analysis of the sewer network and catchment using advanced modelling techniques allowed O'Brien and his colleagues to identify where to concentrate their efforts. Designers Arup and contractors Morgan Sindall are key partners in RainScape, and were involved throughout in developing and implementing solutions.
An early success was at Stebonheath Primary School in the town, where permeable paving, strategically placed plant boxes and a redesigned playground featuring green elements were combined to achieve a dramatic reduction in surface run-off. Where previously run-off from the site would have been 53 litres per second in a one-in-five-year storm, it is now just 2 litres per second, and a total of 3 million litres a year have been removed from the sewer network. Completed in summer 2013 and costing £500,000, the scheme achieved a high level of community engagement, with children asked to play a part in the design process.
"The headmaster, Julian Littler, was fantastic and is a very enthusiastic champion; the school governors got engaged in this very quickly as well, and the children too," says O'Brien. "We were able to go in there and hold a session explaining what it was all about. We gave the children sheets of paper and asked them to draw a picture of what they'd like to see. We worried they'd come back with slides and swings and things, but they understood what we were doing immediately. The woodland walk, the pond, all these were things that they actually identified and were beneficial to what we were proposing to do. They have now become advocates for the idea of the programme and that engagement that we got there, that ownership, means that those assets should continue to operate well and look great for years to come."
The programme's biggest piece of infrastructure so far is the £850,000 swale in Queen Mary's Walk. Completed in Autumn 2013 and with a capacity of 220 cubic metres, the gravel and grass swale takes water from five nearby road drains and slows its entry to the network with the help of plants and shrubs. It was designed to remove 4400 cubic metres of surface water a year via the natural process of evapotranspiration, but has been performing even better than expected, O'Brien explains.
"We expected that figure to be met only once the planting that we put in there had matured, but in fact, it happened immediately," he says. "Last winter, when we had terrible storms, we found that in the first 6/8 weeks of monitoring alone we took out nearly 4000 cubic metres of water. We were reducing the run-off from the area not by 75 litres a second, but by 95 litres per second.
"We also found we could make further improvements to the design: the 100 ml pipe leading off the site was actually too big and was allowing water to drain out too quickly. So we put a flow restrictor in, and now we're getting an even better performance from the swale, the equivalent of 125 litres per second run-off reduction in a 1-in-5-year storm. Overall, it's taken 10,000 cubic metres of water out of the network through evapotranspiration in the first year, and that will improve further over the next 3 or 4 years as the planting matures."
Retrofitting success
Since then, RainScape has steadily progressed with street-by-street improvements. Basins, planters and grass channels have introduced more vegetation to the area and new pipework and channels have been put in just under the surface of roads to direct surface water to these new green spots. O'Brien says it is a myth that sustainable drainage requires big areas of green space to deal with the water: many of the new green additions are only a square metre or two in size. In some cases, existing trees that were entirely surrounded by tarmac had their bases opened up so that flows could be directed towards them.
Throughout the programme customer engagement was crucial, particularly since many of the customers most impacted by the work were those with houses higher up in the catchment which are not directly affected by any flood risk. As well as holding six public exhibitions and five drop-in sessions about the plans, the project team has knocked on 1,000 doors and sent 8,500 letters to local people.
"Because it's such a densely populated area and people don't have gardens or driveways, car parking was critical – that together with disruption, was probably the single biggest issue," O'Brien continues. "We did lots of letter drops, open days and drop-in sessions, but we still had people when the work was starting saying 'we had no idea this was going to happen'. So more recently we concluded we needed to take a knocking-on-doors approach, and that's really helped."
Two-way dialogue has also been necessary with local businesses. A recent scheme, completed in December, saw planters installed in an Asda car park, which meant extensive consultation with the supermarket about the plans.
Most crucially, co-operation with the local authority, Carmarthenshire County Council, has been essential at every stage of the process. Dwr Cymru's design team met with council officers every two months to update each other on progress and co-ordinate actions related to the ongoing work and road closures.
Furthermore, for the programme to work long-term, understanding also had to be reached about planning and development, as new concrete-heavy developments and paving could not be allowed to come in unchecked and undermine the progress that had been made.
Fortunately, local, regional and national authorities have united behind RainScape, culminating in a Memorandum of Understanding (MOU) between Dwr Cymru Welsh Water, Carmarthenshire County Council, Swansea County Council and Natural Resources Wales.
The MOU sets out that every time foul flow is added to the network by a development, compensatory surface water removal work should be undertaken to prevent deterioration in the estuary.
At a time when SuDS legislation for new developments is about to be enforced in England through the planning system, and there is a rising interest in retrofitting SuDS across the UK, O'Brien feels that RainScape, and the co-operation of stakeholders in the Llanelli area in particular, serves a positive example of what can be achieved.
"The individual schemes that we've done here aren't anything that unusual, but what's really ground breaking is the area-wide scale we've done this on: the modelling and the investigation we did to advance our understanding of where best to do the work," he says. "There's no-one that we can see in the UK that's done anything like the scale of work that we're doing and are still proposing to do in this area."
Ofwat has been sufficiently impressed by RainScape, and the data DwÌ'r Cymru has provided on its performance, to approve its plans for £25M worth of more work in AMP6. The utility believes that once this work is completed it will be able to reduce the volume of CSO discharges in the area by 60% by 2020.
"Although we are using this to deal with flooding issues and water quality issues now, we also see the need to insulate our customers from the worst effects of climate change in the long run," concludes O'Brien. "That's why we have set ourselves the target of taking the equivalent of 25,000 houses worth of surface water out of the network in this coming five-year AMP6 period. Our vision is to have a network that meets the needs of our customers for the long term."