Project Focus: NI Water invests £14m in Belfast supply system
A new 29km pipeline under construction in Belfast includes six major crossings which requires the use of trenchless technology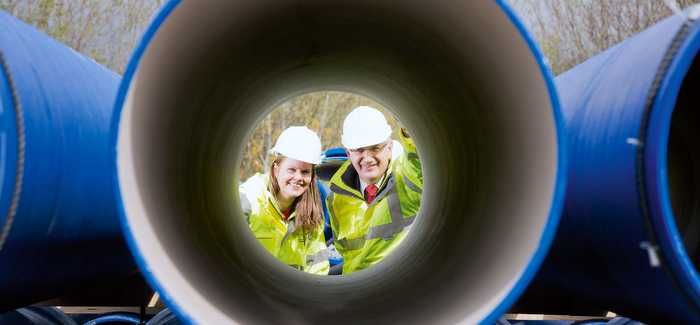 NI Water Chief Executive Sara Venning inspects the pipes with Regional Development Minister Danny Kennedy
Drivers and Innovations
Belfast has a current population of approximately 300,000 with substantial expansion potential over the next few years. The city's growth is constantly placing new service and supply demands on NI Water.
The company is also exposed to regular water quality reviews carried out by Northern Ireland's Drinking Water Inspectorate.
The new pipeline project, which will link the important supply source of Castor Bay to south Lisburn, feeding into Belfast's trunk main, is therefore seen as a step which will provide a vital new source of water for the city, increasing NI Water's ability to meet peak period demands and equipping the network to cope with any emergency situations which may arise.
Trenchless crossing techniques are being used take the pipeline under Northern Ireland's M1 motorway and the A1 road at Spucefield, the mainline rain link between Belfast and Dublin, the rivers Ravarnet and Lagan and the Lagan canal.  A combination of auger boring, pipe jacking and micro tunneling, ranging in length from 50m – 150m, is being used in these crossings to keep disruption to a minimum. The overall construction is considered to be a relatively standard and well-understood project development by NI Water whose total pipeline network already extends to 26,700km.
To address the carbon footprint demands of the necessary work to be carried out during the project period, a pipe storage location was agreed with the Maze Long Kesh Development Corporation. This provides the contractors with easy access to the pipes from a convenient point, close to Lisburn and Craigavon, a factor which project leaders say will keep truck movements to a minimum.
NI Water provides over 99% of the drinking water requirements of Northern Ireland's 1.8 million consumers, achieving an overall standards compliance rating of 99.81% in the latest water quality report by the country's Drinking Water Inspectorate (DWI).
Undertaking the task of supplying Northern Ireland's drinking water is clearly a massive operation which involves maintaining more than 340 service reservoirs and 24 water treatment plants.
There is also a national water pipeline network of some 26,700km to maintain, service and upgrade, a challenge which requires NI Water to constantly assess the need to replace and refurbish sections of their infrastructure in a drive to further improve supplies and quality. 
While, for example, the company's 99.81% compliance score earned a "this is overall good news" comment in July this year in the Foreward to the DWI report, mention also followed concerning the other 0.19%.
The European Union Drinking Water Directive sets minimum standards that must be achieved, it is stated.  This means that for the 0.19% where compliance was not achieved, it is mandatory that action is taken.
While noting that such action varied according to whether the remedy was able to be dealt with immediately or not, the report stated there were situations in which "more substantive remedial action was needed that required funding and delivery through NI Water's business plans."
Against this requirement for constant improvement, NI Water's current development focus includes the upgrading of water treatment works and pipelines across Northern Ireland, as well as a £14m investment in the laying of a new 29km pipeline which will link the company's Castor Bay Water Treatment Works in Craigavon to south Lisburn. From there, a connection will be made into the existing trunk main which transports water into Belfast, by far Northern Ireland's largest city with a population of close to 300,000.
NI Water duly describes the Castor Bay to Lisburn scheme as an "essential" development which is needed to improve the security of the water supply infrastructure for its customers.
"The new pipeline will provide a vital new source of water coming into Belfast," says project manager, Martin Gillen. "It will be particularly important over the winter months and for dealing with emergency situations to supplement increased demand whenever the infrastructure is particularly vulnerable."
Launched in early spring this year, the project is due for completion next summer. While pipeline construction and maintenance is a relatively standard and well-understood part of NI Water's project remit, the challenge of taking this particular pipeline under both Northern Ireland's M1 motorway and the main Belfast to Dublin railway adds to the complexity of the work.
"We will be undertaking six major crossings during the project," Gillen explains. "In addition to the motorway and railway crossings we will be taking the pipeline across the Lagan canal, the Ravarnet River in south Lisburn, the A1 road at Sprucefield and the River Lagan."
Trenchless crossing techniques such as auger boring, pipe jacking and micro tunnelling (ranging from 50m – 150m in length) are being used to reduce the project's environmental impact. Scheduling of the physical work involved, meanwhile, is timed to minimise disruption to both commuters and local residents. This will require night-time working wherever that is feasible.
"As the majority of the pipelaying is through public roads, potential impact on the public is of concern," says Gillen.  "This part of the development is therefore being managed through our dedicated lands liaison/customer care team. Their job will be to deal with any land issues which arise, maintaining effective communication with all stakeholders and householders who are affected by the project.
"The need for good public relations and ongoing liaison with roads service, public representatives and local residents is essential to the success of a project like this."
Just over half the length of the new pipeline, approximately 15km, will be laid with 700mm epoxy-coated, cement-lined, ductile iron, spigot socket pipe. While most of the remaining 14km will be fitted with 600mm pipe, a small amount of 500mm pipe will also be used.
The £14m budget also covers several infrastructure upgrades, all of which are linked to the new pipeline route.
These include a major upgrade to the Castor Bay Water Pumping Station at Craigavon to accommodate a new pumping capacity ranging from approximately 30 to 48.5 megalitres a day. The station pumps into the Forked Bridge, Ballydougan and Magheraliskmisk areas.
The construction of two completely new water pumping stations is also planned. The first is at Sprucefield, where a pumping capacity of 31 megalitres a day will be created while the second is at St. Andrews Service Reservoir, Temple, which will have a pumping capacity of approximately 24 megalitres a day.
There will also be a re-commissioning of two local service reservoirs that are currently out of operation. These are located at Danescroft, Lisburn, and at St Andrews, Temple, close to where the new St Andrews unit is being built. When complete, the re-commissioned Danescroft SR will have the capacity to pump approximately 9 megalitres a day, while the re-commissioned unit at St Andrews will have a 1 megalitre capacity.
Additional refurbishment work is also planned at four other service reservoirs (SR) as part of the total development. These are the SRs at Poleglass, Carricknareagh, Duneight and Magheraliskmisk.
"All of this work will greatly improve the water infrastructure and security of the water supply for customers in the area," says Gillen. 
"Our design horizon for the project is to be equipped to accommodate potential water flow levels through to 2035, including coverage for peak week demands. 
"While the new pipeline will support and safeguard the existing water infrastructure for the area, which supplies water into Belfast through Drumaroad, Dunore Point and Dorisland Water Treatment Works, it will also play a vital role in enabling us to meet any future increased demand on the water supply.  This will be particularly important during emergency situations, such as a winter freeze / thaw event. It will also undoubtedly increase the overall capacity and robustness of NI Water's supply infrastructure."