Project Focus: Nereda treatment process comes to Ireland
An innovative treatment process using granular biomass is helping to provide a step change for wastewater treatment in Ireland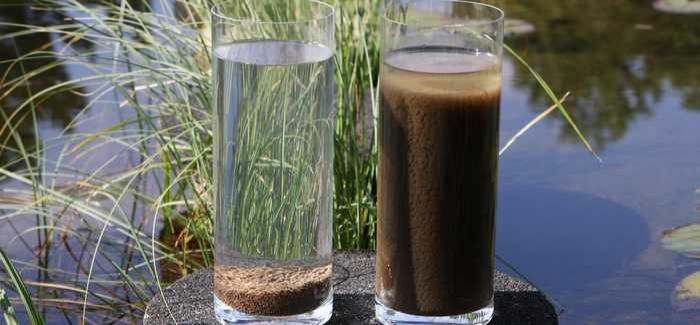 Nereda aerobic granules (left) compared to traditional activated sludge (right).
Drivers
- WWTPs are facing reduced space constraints, stricter environmental regulation and discharge limits
- The Nereda treatment process can allow a reduced footprint as well as reduced carbon and whole lifecycle (Totex) costs
- It also requires less energy and has a lower requirement for chemical dosing
by Jim Palmer, Technical Director, EPS Group
Ireland's first wastewater treatment plant using revolutionary Nereda technology is now in operation at Clonakilty WWTP in County Cork. A treatment process which uses granular biomass to clean wastewater using much less energy, the technology is being introduced into Ireland through a partnership between international engineering and project management consultancy Royal HaskoningDHV and EPS Group.
EPS Group has operated as a specialist Wet Infrastructure support services group for over 46 years. Predominantly active in Ireland, UK, Middle East and West Africa, we are one of the leading privately owned Design-Build- Operate (DBO) partners for the delivery and operation of water and wastewater assets for the water sector. Traditionally, EPS would have held contracts and partnered with all 34 water authorities in Ireland before the transition to one single water authority. During this period, the company has been at the forefront of driving standards in the sector, including ISO9001, ISO14001, ISO18001, ISO50001 and CEMARS – all firsts within our sector but helping to raise the bar in terms of collective standards for the industry.
With respect to technology, EPS over the past decade has led the way in the application, innovation and roll-out of Sequencing Batch Reactor (SBR) technology throughout Ireland. The demographic and geographical spread of wastewater treatment facilities, coupled with the very often variable loads and stricter environmental compliance requirements suited the utilisation of SBR technology.
Despite the success of the SBR offering, we recognised stricter environmental requirements from Europe coupled with customer targets for carbon reduction would require a different approach. Following a comprehensive review of new and emerging technologies we identified Nereda as the technology of choice for treatment of municipal wastewater.
Our discussions and due diligence with Royal Haskoning DHV proceeded very well and within a relatively short period we became delivery partners for Ireland working on a common platform to deploy Nereda within the Irish water sector. Introducing the technology to Ireland was easy as Irish Water were receptive to the introduction of the technology, and immediately recognised the benefits that it would bring to their investment programme and associated targets. EPS introduced the technology on a value engineering proposal for the upgrade to Clonakilty WWTP DBO project. This plant at Clonakilty represents the first Nereda plant in the UK or Ireland and the first globally to be built underground.
The introduction of the Nereda process represents a significant and evolutionary step in wastewater treatment technology. Nereda combines the treatment characteristics of granular biomass in highly automated Sequencing Batch Reactors, resulting in reductions in footprint, costs, electricity, sludge production, chemical consumption and improved environmental compliance and robustness compared with established wastewater treatment technologies.
Initially developed in the Netherlands by the Delft University of Technology, Royal Haskoning DHV, the Dutch Water Boards, and STOWA (R&D foundation of the Dutch Water Boards), the Nereda Process was proposed by EPS for the Clonakilty WWTP Upgrade Contract. Located on Ireland's southern seaboard, Clonakilty presented a new and challenging environment for the use of the recently established technology. Particular challenges included high industrial loads from local dairy and poultry processing industries, the saline environment and environmental designation of Clonakilty Bay, the strategic importance of tourism and water quality for the local economy, footprint size limitations, and the planning restrictions on the site.
In the new process the biomass responsible for biological removal of biodegradable organic compounds and nutrients from the wastewater consists of large dense granules, approximately 4mm in diameter. These granules settle up to ten times faster than conventional activated sludge, thereby reducing the reactor volume required for biological treatment. The granules contain an outer aerobic zone and an inner anaerobic core, allowing biological removal of biodegradable organic compounds and nutrients to take place within a single reactor. Biological phosphorus removal reduces chemical dosing requirements and sludge volumes. The larger denser granules are inherently more stable than activated sludge and make for a more robust treatment process.
Irish Water's Clonakilty plant, completed in August 2015, has been completely overhauled and the Nereda technology has quadrupled its capacity to 20,000 population equivalent (PE). It treats the effluent to a far higher standard than the original plant using significantly less energy and produces less sludge. The lower nitrogen and phosphorus content in the effluent brings to an end the problem of unpleasant odours in Clonakilty Bay.
EPS has subsequently utilised the Nereda technology in two further applications for WWTPs at Carrigtwohill (30,000 PE) and at Lower Harbour (65,000 PE) for Irish Water. Both projects were evaluated on a whole life cost basis, with the Nereda process found to be the most economically viable for Irish Water.
Royal Haskoning DHV's Global Director for Water Products and Innovation, Mr René Noppeney is proud that EPS has joined the global network of Nereda partners. "Together we are providing a sustainable solution to towns and cities facing challenges associated with urbanisation and the demand for good sanitation," he said.