Project Focus: Hall claims UK first in Water Treatment
The first UK water treatment plant specifically designed to remove metaldehyde, Lincolnshire's Hall Water Treatment Works uses a virtually chemical-free process.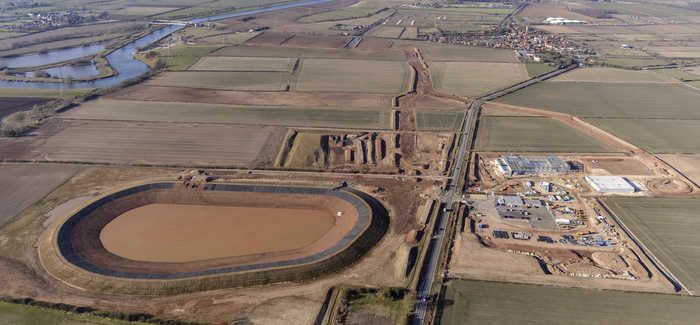 Innovations
"Our multi barrier treatment solution deviates significantly from more conventional surface water treatment flow sheets. We believe this combination of processes and technologies is a UK - if not world – first," says Imtech's Dr Stewart Bell.
Processes include: submerged membranes; ultraviolet peroxide oxidation and granular activated carbon (GAC) polishing filters. Ultraviolet disinfection is replacing the more usual super chlorination process.
GAC roughing filters are being used, unusually, to remove sludge from the water in the early phase of treatment. The water is then allowed to settle in two large clay lagoons behind the plant.
Bell explains that, because this front-end phase of the process is virtually chemical free, 98 per cent of the water can be recycled back to the raw water reservoir, fitting in with Anglian Water's 'Love Every Drop' campaign to save as much water as possible. More conventionally, GAC adsorbers are also used to polish the water later in the treatment process.
Most of the treatment processes at Hall are low energy, with the exception of advanced oxidation which employs hydrogen peroxide dosing in conjunction with UV irradiation. This has been introduced because it is capable of removing metaldehyde.
"The fact that advanced oxidation avoids the formation of bromate was also an important factor in its selection," says Bell.
Unprecedented levels of rainfall during the construction of Hall WTW saw metaldehyde levels in the water spike from a concretration of 0.35 ug/l to a peak in winter of 2012 of over 2 ug/l.
"Our studies highlighted potential problems of metaldehyde entering the water supply in adverse weather conditions," says Bell.
As a result, treatment capacity was increased with the addition of a fourth UV/peroxide reactor stream to the design. Space has been left inside the plant to increase capacity for other parts of the process, such as an extra submerged membrane, should it be needed.
"This multi barrier process has produced some very encouraging results," Bell says.
Hall Water Treatment Works (WTW) in Lincolnshire may only just be coming out of its testing phase, but it is already attracting international attention.
Completed ahead of programme, exceeding tough carbon reduction targets and using an innovative treatment process, the £44 million project's achievements are all the more impressive given the location: by the time the River Trent reaches this point it has passed through several Midland cities and some intensively farmed land, and is beginning to turn tidal.
"[The water] is dirty, turbid and difficult to treat, but we've come up with a green solution," says Chris Hastings, operations manager of main contractor GTM JV, a joint venture between Galliford Try and Imtech.
Hall is particularly high profile because it is the first water treatment plant in the UK specifically designed to remove metaldehyde, the chemical used in agricultural pesticides.
"Metaldehyde is difficult to remove using conventional treatment technologies. We had to go back to the drawing board and find a different solution. The design evolved over the course of the project," comments Imtech's technical manager Dr Stewart Bell.
The fact that much of the treatment is being carried out using low-tech methods, removing the need for chemicals and reducing the power required to run the plant, can be attributed to the joint venture's close working relationship with Anglian Water. 
Anglian set tough targets of reducing embodied carbon within the facility by 50% and operational carbon by 20% against a benchmark measure. By the latest project calculations, embodied carbon has been reduced by 63% and GTM JV believes that the facility is on track to meet its operational carbon targets. Other goals included sending zero toxic waste to landfill.
Hastings says that the targets required "a huge mindset change" and had a strong influence on the design and the location of many of the features of the new facility.
Hall WTW consists of three main sites linked by several kilometres of pipes: a pumping station by the Trent, a raw water reservoir and treatment plant.
The fastest and cheapest option would have been to place the treatment plant next to the existing plant in Newton-on-Trent. But because the surrounding land is vulnerable to flooding, Anglian Water has taken the more resilient option of locating the new facility almost at the top of a hill, where the flooding risk is around one in 1,000 years.
The pumping station by the Trent is similarly protected, set back on a steep embankment roughly 60m from the river. Water flows through an intake tunnel into a 12m wet well shaft, from where it is pumped through 800mm diameter pipes up into the reservoir. Unusually in this age of concrete, the reservoir is a clay-lined earthwork structure. Its location has been carefully selected.
"We did a lot of investigation work to enable us to pick the site which had the right geological features," says Hastings. The site, separated from the treatment works by a road, consisted of ground that did not need to be extensively treated, avoiding the need to import or export material.
"It wasn't the easiest ground to work with, but it was the most suitable in the area," says Hastings. "Being able to cut and fill using on-site material saved a lot of vehicle movements."
Excavators were linked to GPS systems to ensure that the profile was cut with precision. This was important because the reservoir, which has up to ten days of storage, is considered to be an integral part of the water treatment process.
"The depth and the profile of the reservoir was optimised using computer fluid dynamics to reduce the risk of algal blooms developing. [The profile] is designed to ensure that the water mixes well, maximising dilution of contaminants," Bell explains.
Focus on energy efficiency is apparent in every part of Hall. For example, water from the reservoir flows under gravity to the treatment plant, removing the need for pumps. And the filter screens at the intake from the River Trent are passive rather than mechanical.
"[the screens] require minimal maintenance and very little energy to run them, apart from periodic air blasting," says Bell.
Instead of specifying ductile pipes throughout the project, as would traditionally be expected, the contractor has installed medium duty polyethylene (MDPE) pipes in areas of low water pressure.
"As MDPE has a smoother surface, it is more efficient for pumping," says Hastings.
Even the most mundane elements, such as the foundations, have been rethought and reinvented to meet Anglian Water's stringent carbon targets. Instead of being supported on piles, the 19m x 30m structure rests on a base formed from locally-sourced secondary aggregates.
"This was less than half the cost of piling and has zero embodied carbon, so it was a big win all round," says Hastings.
He adds that the slab's design varies according to the weight it must bear. Under heavy tanks the slab is 600mm thick. Elsewhere, a depth of only 200m is required.
Modular construction techniques have also been used to construct the 40m x 40m reservoir tank which holds the treated water before it is piped to consumers. Here, a series of 3m x 5m prefabricated reinforced panels, manufactured in Ireland by Carlow Precast, before being shipped to site, were jacked into place and stitched together with concrete pours.
"It's a system not widely used in water retaining structures. I was sceptical about it to start with, but I'm now a convert," says Hastings.
He adds that taking this modular approach saved a significant amount of time. Construction was completed in less than four months, in one of the wettest winters in living memory. The method also helps to ensure quality and efficient use of materials. Produced under factory conditions, the panels have been carefully engineered to use less rebar and concrete than would be normal on a structure of this size.
"This is the largest structure that we've done using this method. But we're discussing using it on a much bigger scale on another project for Anglian Water," says Hastings.
The treatment works is expected to start supplying water to the local population in September, easily beating Ofwat's regulatory opening target of March 2015.
"Ofwat have been to visit us several times. They are particularly interested in the process that has been developed here," says Hastings. "We've also had a lot of interest from other water companies, both in the UK and further afield. Helsinki Water is visiting us next week."