Project Focus: Community solar power deal for South West Water
A community-owned solar array and the use of a private wire connection has boosted renewables generation at South West Water's Nanstallon Sewage Treatment Works near Bodmin.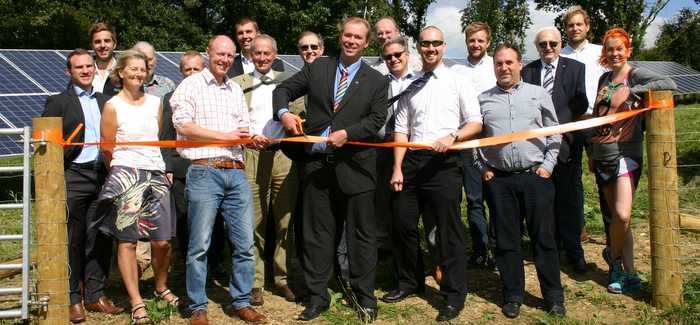 Cornwall Councillor Julian German cuts the ribbon at the completion of the project
Perspectives
Merlin Hyman, chief executive, Regen SW: "This is an excellent example of how community energy groups and local companies can work together to generate renewable power, cut energy costs and ensure the income generated is retained and invested locally. Regen SW is dedicated to enabling many more community and business partnerships to harness the potential of renewable energy."
Ray Arrell, Renewable Energy Engineer, South West Water: "A key element of our renewable energy strategy is to work with community groups such as WREN on sustainable energy projects, which will reduce our electricity costs and our carbon footprint. Delivery of this project is a first for South West Water, and we are now engaging with groups in other localities to replicate it."
by James Brockett
South West Water has boosted its renewable energy generation and saved money thanks to a deal with a local community group to supply solar-generated power through a private wire connection at a treatment works near Bodmin in Cornwall.
Nanstallon Sewage Treatment Works is now being supplied with power from a 100kW solar array following the project, which was completed in September with the Wadebridge Renewable Energy Network (WREN). The photovoltaic (PV) solar array, which was financed and built by WREN, is situated on a field adjacent to the works, on land that the organisation has leased from a local farmer. South West Water will purchase the energy under a 20-year Power Purchase Agreement (PPA) at a price that is cheaper than it would otherwise pay for its delivered electricity.
South West Water currently meets 10% of its energy needs from renewable sources, and is pursuing a target of 20% by 2020. Solar installations play a significant role in this effort, as Ray Arrell, Renewable Energy Engineer at South West Water, explains.
"Our philosophy with renewables at South West Water is to have on-site generation for on-site use, scaled appropriately for our energy needs," said Arrell. "We already have 35 solar installations, with most of those being 50kW arrays, ranging up to 220kW at our head office.
"Private wire PPAs have great potential within that strategy. It's a low capital, low carbon route to adding renewables volume which makes sense for sites with limited space. In this case, it has enabled us to work with a community group in a really collaborative approach."
South West Water made clear its interest in partnering with community groups on sites where there was no space to develop its own generating capability; the company was introduced to WREN by Regen SW, an advice centre on sustainable energy for organisations in the region.
A not-for-profit co-operative run by volunteers, WREN has 1,100 members and promotes micro-generation and energy efficiency initiatives locally. It was set up to "turn energy from an individual cost into a collective asset," according to WREN operations manager Dominic Comonte.
"In our area we spend around £13M a year on energy and all of that benefit leaves our local community, so we were set up to try and ensure that as much as possible of the value of that stays locally," says Comonte. "We've been involved in various projects, from improving local housing stock through free insulation offers, to encouraging people to generate as much energy as they can. BBC business reported just a few months ago that Wadebridge has the highest proportion of roof-mounted PV in the country, so we feel that we've been relatively successful in achieving some of those things."
Nanstallon, which lies between Bodmin and Wadebridge, was identified as the most suitable site for the collaboration since it had sufficient energy needs to make the project viable, and had limited space available on site but a local landowner who was interested in leasing his half-acre field nearby. A 100kW array, with 392 solar panels was judged the most appropriate since it was enough to meet the average energy demand for the works. The Nanstallon site also has its own CHP system and will continue to import energy from the grid where required.
The ground-mounted installation at Nanstallon was made by a contractor from Wadebridge, CleanEarth Energy Ltd.
The capital for the project came from a loan from the Low Carbon Society, which was administered as a revolving loan via Cornwall Council. A new company - Wadebridge Energy Company – was formed by WREN for the venture; it will also hold generating assets from one other similar scheme. The intention is that the company will soon launch a share offer, which people will be able to participate in for as little as £250, so that ownership of the assets is held by local people.
Private wire arrangements can be financially beneficial for both the generator and the user of electricity, because they cut out the costs that the power company incurs in distribution, which can be considerable. As an illustration, a private individual selling solar-generated power to the grid with the benefit of the Feed-in-Tariff (FiT) typically receives 4.5p per kWh, but the same individual buying energy back from the grid might pay 13 or 14p per kWh. There is therefore ample scope for PPAs to be agreed between these points which satisfy both parties.
"This was a really good project to be involved in, showing that a collaborative approach can make energy that's community-owned and operated a reality for the benefit of all parties," says Arrell. "It's a personal milestone for me as an engineer, and as a company, this is definitely the way we want to go."
South West Water is in discussions with other community groups about similar schemes; it also has another existing private wire PPA with a solar developer at Restormel Water Treatment Works. The company is "technology agnostic" in its outlook to renewables and would consider 3rd party wind or hydro deals, says Arrell.
However, one threat to similar projects in future, and for renewable generation in general, is the prospective removal of the Feed-in-Tariff: the government has consulted about closing the FiT scheme in January 2016. If this happens then renewables will become less economic both for large companies such as water utilities and for the individuals or community groups who might supply them via PPAs.
"Projects such as these can certainly play a role in helping us reach our renewable targets, although how much of a role they are able to play may be dependent on the outcome of the Feed-in-Tariff review," says Arrell. "The concern is that without subsidies there may be fewer landowners and groups coming forward."
Comonte agrees. "At Nanstallon we have a Feed-in-Tariff that has been agreed, and we know that will continue through the period of 20 years that we have the power purchase agreement in place with SWW. But recent announcements have really put in jeopardy the ability for that model to be replicated elsewhere: if the Feed-in-Tariff drops away from January then certainly it makes it very difficult. It's a shame as a scheme like this has so many benefits at so many different levels."