Project Focus: Biological engineering centre set to boost microbe innovation
Newcastle University's new £1.7M biological engineering research centre based at Northumbrian Water's sewage treatment plant at Birtley, near Gateshead is the largest facility of its type. Northumbrian's Chris Jones explains the potential benefits it could bring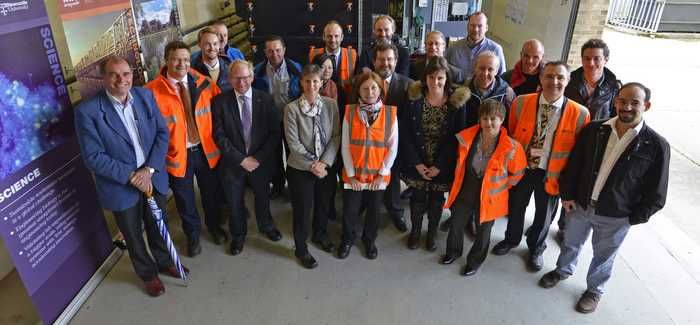 Northumbrian Water CEO Heidi Mottram (front row, centre left) at the opening of the facility
by Chris Jones, Research and Development Manager, Northumbrian Water
Newcastle University's new Biological Engineering: Wastewater Innovation at Scale (BE:WISE) research facility is a European first in large-scale wastewater treatment research using bacteria.
The new facility - based at Northumbrian Water's sewage treatment plant at Birtley, near Gateshead, will play a key role in improving how sewage is treated, by speeding up the transition from existing energy-intensive treatment processes to low carbon alternatives that have lower running costs.
Operating as a 'mini' sewage treatment works, the BE:WISE facility will allow experiments to be run using 10,000 times more microbes than can be used in the laboratory, providing researchers with a realistic, large-scale setting to better understand how complex biological interactions work at different scales. It will allow them to test and replicate different elements of the wastewater treatment process, so that new ways to treat wastewater can be developed with greater confidence.
Planning a sustainable future
Northumbrian Water Group and the water industry have a duty of care to customers and to the environment to treat wastewater in a sustainable way. This means minimising the energy and chemicals used in our treatment processes, reducing (ultimately to zero) harmful emissions and recovering energy, nutrients and other valuable by-products from wastewater as we treat it. To put this in context, Northumbrian Water has 413 sewage treatment works and treats around 800 million litres of wastewater every day from 1.2 million properties. We are already harnessing energy that is naturally present in wastewater by converting it into gas and electricity and we are also looking at how we can make useful products such as hydrogen.
The challenges are significant though. Sewage treatment accounts for up to 1.5% of UK electricity usage, much of it for aeration. The UK water industry generates four million tonnes of CO2 per annum - 0.7% of UK greenhouse gas emissions. Even as we seek to reduce this impact, we are striving to deliver ever higher levels of environmental protection. We are becoming increasingly aware of the need to deal with compounds that are present in sewage that come from homes, businesses and communities that we serve.
These compounds can be found in cleaning products, personal care products, pharmaceuticals and commercial waste. With conventional treatment processes it is, at best, difficult and energy intensive to remove these compounds during the wastewater treatment process; often it is impossible. Interestingly, many of the compounds that we are seeking to remove are actually valuable, things like nutrients (fertiliser), metals (including platinum, gold and silver) and other rare elements, so removing and recovering them could be a win-win. Globally the challenges are even greater. More than two billion people on the planet do not currently have access to effective sanitation. Population growth and climate change, especially when combined with growing demand for water and food means that delivering sustainable wastewater treatment, including recovering energy and nutrients, is an urgent global imperative.
The biological treatment processes we use have been refined and optimised over decades and wastewater process innovation is often a variation on a well-established theme. Wastewater treatment processes are expensive to build and have long design lives (typically 25-50 years). They are therefore infrequently replaced or upgraded. True novelty is rare and becomes even more so as scale increases. However, innovation in biological wastewater treatment is desperately needed to address the challenges we face.
While we have decades of experience in designing and operating biological treatment processes, it is only in the last few years that we have started to really understand them, at the individual microbe and particle scale. Limited to what our experience tells us is likely to work, and given the implications of treatment processes not working, we have been understandably cautious and incremental development has prevailed.
We need a model, a simulation, a virtual sand-pit (call it what you will) that we can use to explore and test options that are far beyond our experience and much too speculative to risk building at full scale. To build such a model, we need more than experience, we need knowledge. Knowledge based on sound science and robust experimentation using real wastewater at a large enough scale to reflect the complex interactions between the trillions of microbes that break down and treat wastewater in our treatment works.
BE:WISE and the research it supports will create this knowledge and enable the development of tools that will help to reduce the costs and timescales of designing novel biological treatment processes. This will enable us to test many options and variations, to optimise processes before we build and commission them and to manage (nurture, curate, ultimately engineer) the microbiology in our existing processes with no risk to the environment and with few of the costs associated with site trials.
This is why we are proud that this facility – the largest of its type in Europe – is based at one of our sites and that Northumbrian Water, alongside Newcastle University, is playing a key part in pioneering research which will hopefully have a significantly positive impact on how we treat wastewater in the future.