Preview: Utility Week Live Show Features
Beyond the bustling exhibition hall and fascinating seminar sessions, there's plenty more going on at Utility Week Live this year to engage your brain, kick off your networking and give you ideas that could boost your business operations.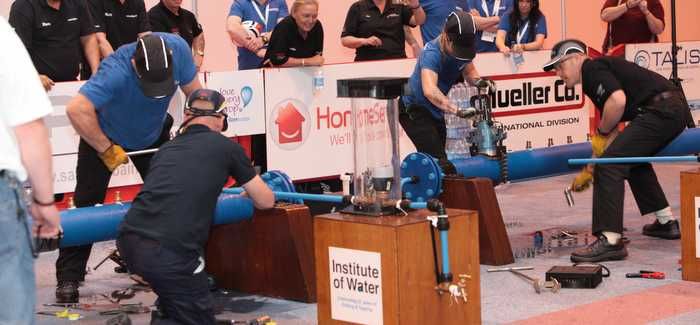 The Drilling and Tapping competition in progress
Here are some of the main features you'll find at the show:
Drilling and Tapping: A routine task for many in the water industry working with clean water networks, making a new service connection to a water main requires great skill and dexterity. Throw in the requirement to complete the task against the clock and in competition with other teams, and you have yourselves a contest – and a spectacle. That's what's in store at Drilling and Tapping championships, organised by the Institute of Water (Stand B43).
Streetworks Village: This year at Utility Week Live will see streetworks brought into the exhibition hall. With more than a dozen specialist exhibitors and product demonstrations set alongside topic-led panel sessions, no expense will be spared to bring the hustle and bustle of utility streetworks to life.
Outdoor Demo Zone: With some products and services best demonstrated in the open air, this year you can step outside and experience some exhibits as nature intended. Come along, rain or shine, for a few surprises throughout both days.
The Innovation Zone: Back by popular demand, the Energy Innovation Centre (Stand C44) will again be hosting a dedicated Innovation Zone at Utility Week Live where they will be showcasing the latest game-changing innovations and solutions for the gas and electricity industries from the up and coming innovator community. The Innovation Zone is the place to discover game-changing technologies, and will feature technical pitches, product demos, and activities coordinated with the exhibitors located in this popular area of the show.
The Pumping Station: Organised in association with the British Pump Manufacturers Association, Utility Week Live 2016 will be showcasing best practice and innovation in pumps, with practical knowhow, live demonstrations and interactive seminars. There will be a dedicated display area and workshop, with practical sessions running through the day.
Water Dragons: Hosted within The Pumping Station, at 10.30am on Tuesday 17th, will be a Heat of Water Dragons, the Dragon's Den-themed innovation competition organised by the Future Water Association (Stand B34). Come along to see a panel of water industry experts assess the pitches of four shortlisted companies presenting their innovations for consideration.
The Network: Planned and delivered by the team behind Network magazine – the new monthly title for gas, power and heat networks – this area of the exhibition floor features essential technical talks, insightful seminars, demos, product launches and live pitches engineered to meet the procurement and specifying needs of today's time pressed utilities industries professional. Highlights will include Westbase's Technology's launch of a white paper on the Internet of Things (Stand C48, 10.30am, Tues 17th) and an introduction to IP camera technology from SeSys (Stand C2, 11.30am, Tues 17th). The launch of Network magazine will be celebrated at the show with a panel discussion on cybercrime and risk (2pm, Wednesday 18th) followed by a VIP drinks reception at 3pm.
-Book your free tickets for Utility Week Live today at: www.utilityweeklive.co.uk