Prefabricated pump works for Chinese project
A prefabricated pumping station and submersible pump set has been installed by Grundfos in a densely populated part of the city of Chongqing. Grundfos' senior system engineer, Angela Ping, explains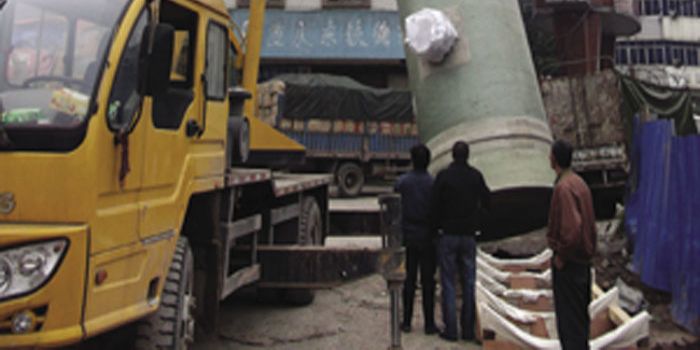 The prefabricated pumping station is lifted into position
Danish pump manufacturer, Grundfos, has provided a prefabricated pumping station (PPS) for a sewerage project in Chongqing, China. The Fengzhong Road sewerage system reconstruction project had to meet the demands of 4,320m3/d in-flow in a tank of 2m-diameter and 8.3m-depth that had to be put into a concrete well.
The reconstruction of sewerage in an old city with a high population density and complicated site conditions was a challenge. Chongqing is one of the largest cities in China and also the political, economic and cultural centre of the South-west of the country.
Fengzhong Road in the west of the city is 10km long and is host to many offices, schools, residential areas and logistic centres. Due to lack of maintenance, the facilities on this road were in serious disrepair, which was causing disruption to local residents.
In order to improve people's living conditions, the reconstruction of Fengzhong Road was regarded as one of the city's key projects of 2011. And the sewage network was the most important and difficult part. A total investment of £3M, included 1,593m of pipelines, 48 check wells and one pumping station, to be finished by Grundfos within 90 days of signing the contract.
Footprint
The local government had strict requirements for the project, which included:
Reduced footprint
Smaller construction site
Minimal disruption to local residents and transportation
Visual unobtrusiveness
A new solution was therefore needed to make the project successful. In Europe, prefabricated pumping stations (PPS) have a history of over 50 years. However, it was only in 2009 that the concept was imported from Europe to China, where the Grundfos PPS quickly became popular.
Right from the first presentation of the Grundfos PPS, the project designers understood the possibilities of the solution. To meet the project requirements, Grundfos installed a PPS comprising a 2m-diameter GRP tank, 8.3m-high and a submersible pump.
Installation
The installation, which can manage flow of 180m3/h, occupies a space of just 10m2. It was produced in the Grundfos factory and sent to the site as a complete package.
It took only three days for installation and 45 days for the whole project. To meet local site conditions, a concrete well surrounding the PPS was built with reverse construction method, which saved time and cost compared with the traditional open caisson method.
The station is hidden underground and visually unobtrusive. The PPS is easy to control from anywhere in the world with the advanced Grundfos Remote Management System.
The PPS solution has solved typical problems in an old city reconstruction project. The project was completed on time and within budget. The owner and designer are all satisfied with this integrated, intelligent pumping station with stable operation and high efficiency.
Zhu Shengwei, sales engineer, Grundfos Sales Company in China said: "The integrated and intelligent PPS from Grundfos is a new concept and provides easy pumping station design, selection and application. It is technologically advanced and complete, making it easy for the customer to accept."
Chen Xue, chief designer of Chongqing Design & Research Institute, said: "Grundfos helped us find effective solutions to problems with site limitations condition and urban population centres in an old city area short of land. We are extremely satisfied with the solution Grundfos has supplied."