Precast concrete panels get flexible for sludge storage
Ofwat's reforms to create a new market for bioresources will mean a greater focus on the way sludge cake is stored. Precast concrete recently proved the answer in a project for Anglian Water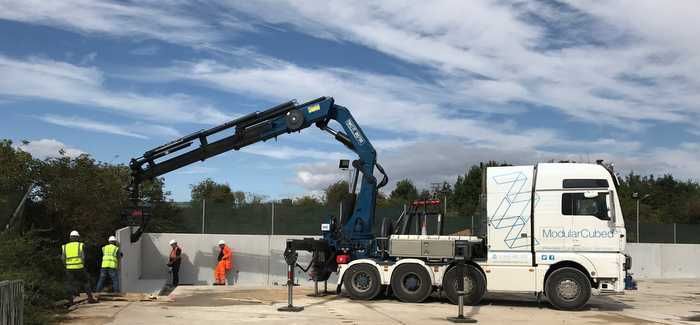 One of the new cake pads being installed by Modular Cubed
For municipal wastewater treatment plant operators, the management of sludge cake presents numerous challenges, especially because its properties and volumes can be inconsistent. On one level, biosolids can be seen as a potential threat to the environment, yet they are also now increasingly viewed as a resource with value – so much so that the government and regulators have backed the use of biosolids as a resource, rather than as a waste.
Comprising phosphate, nitrogen, sulphur, potash and magnesium, around 3.6 million tonnes per annum of biosolids (mainly cake at 20-25 per cent dry solids) is recycled to agricultural land. However, it has often been the case that insufficient attention has been given to the storage of this material. The use of straw bales was not uncommon in some places, nor the sight of highly corroded steel posts and rotted wood that was somehow still standing upright. Little wonder that the environmental authorities were concerned about its escape into watercourses; more stringent fines and penalties for pollution have gone some way to focusing minds on the issue.
However, innovations in precast concrete mean that storing this resource – which has an annual nutrient value to UK agriculture of approximately £25 million – has become more secure, flexible and cost-efficient than ever before.
End-to-end service
While no supplier can build in guarantees against the impact made by large loading machines, a tailor-made, one-stop package can now provide a water company and its contractors with a 50-year life span solution. In addition to the precast concrete elements, the end-to-end service of design, concept, structural calculations, CAD, groundworks, civils and drainage provides a very cost-effective and fast-track package, which for one leading water company has proved far more effective than other methods of construction.
Anglian Water, the first company to achieve 100 per cent compliance under the Biosolids Assurance Scheme, recently worked with JP Concrete on six new robust cake pads for the short-term storage of treated sludge.
Totalling 580m in length of highly resilient CL Agri 214 (2,140mm high) pre-cast concrete wall panels, the new cake pads prevent liquids from escaping into local watercourses. They have replaced walls that had reached the end of their life due to the accumulative effects of weather conditions and vehicle impact.
Working for Integrated Operational Solutions Alliance, an alliance of four key partners – Anglian Water, Morrison Utility Services, Barhale and Kier Utility Services – installation by JP Concrete's sister company Modular Cubed took just two and a half days at the largest of the six sites (Whitlingham, Norfolk), compared with what would have taken six to eight weeks by traditional in-situ work. Supplying the walls in 2-6m lengths meant fewer crane lifts for a faster install, while simple foundations also resulted in significant cost savings across all six sites.
Accelerated installation
JP Concrete's design input, manufacture and installation also saw it complete new cake pads at Thetford in Norfolk, Harwich in Essex and Canwick in Lincolnshire – each of which were installed in a day – while Newton Marsh in Lincolnshire, with 87m of panels, was completed in a day and a half. Even at Rayleigh in Essex, working in two separate zones and in restricted spaces, with a requirement for very tight tolerances at a challenging site, the work was still completed in just two days.
Determined to keep on schedule
Kirk Denim, Colchester project engineer, says: "JP Concrete proved that they were up to the challenge, especially at Rayleigh, which wasn't straightforward at all, but they were determined to keep on schedule without any compromise to their work."
Modular Cubed used its specialist in-house 73-tonne truck-mounted crane, which is equipped with a 5-tonne block grab. The crane's 12-tonne pincer picks up large loads quickly and efficiently, greatly reducing loading time.
Averaging 60m of 5m length panels per day, JP Concrete also designed, manufactured and installed freestanding dividing walls and king post walls for the new cake pad structures, sealing all joints with high-quality products from Sika.
Phil Sayers, director at JP Concrete, says: "Standard precast concrete panels are readily available, but the market has moved on significantly, with all sorts of profiles now on offer to the end-user. For example, some larger L-shaped panels (such as CL Agri 214/500, which are 2,140mm high by 5,000mm long) appear a bigger investment at first, but then they require less sealing, fewer actual panels in number, and at twice the life span, are ultimately a much better investment. Again, to maximise space requirements, special panel sizes can be cast to fit different length walls, create 900 returns, or varying angles, so there is much more flexibility than perhaps people realise."
He adds: "'Lego' blocks and freestanding retaining walls give customers the flexibility to pick them up and change the layout of storage as and when required. We can also provide more sophistication, for example in reversing the toes of new precast panels, so that the loading is on the back. This prevents machines from damaging the toes when loading and unloading. This design layout also protects the fixing in the units from corrosion."
Sayers concludes: "The success of the cake pad installation with Anglian Water was in no small part thanks to excellent communication – working together so that we could time our delivery and installation to fit in with its needs and leave a highly robust and long-lasting storage solution for sludge cake. Water companies now have more options than ever before to cost-effectively secure their sludge storage for the long term."
-This article appears in the April 2018 issue of WWT magazine.