Powering the pumps: electric or diesel?
The question of which power source to use for portable pump sets can be a difficult one, with both electric and diesel powered equipment having their strengths and weaknesses. Here, Wim Moors of Atlas Copco runs a rule over the available options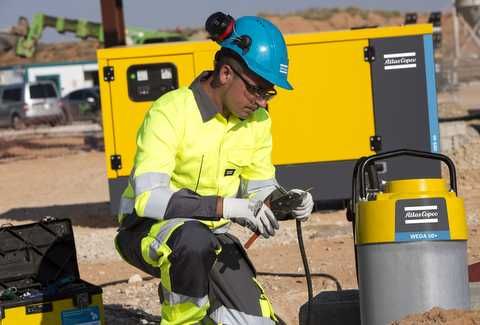 Smaller and lighter pumps that are easier to transport are now being developed
Diesel v electric benefits
Benefits of diesel powered centrifugal pumps
- Versatile applications
- Self-priming capability and high hydraulic efficiency
- Large discharge and high flow rates
- Ability to handle large solids in suspension
- Remote site operation
- Robust construction
- Easy maintenance
- Sophisticated control and data monitoring
Benefits of electric submersible pumps:
- Continuous operation in all types of weather – with water temperature at up to 40°C
- Compact dimensions, low weight and portability
- Ability to handle abrasive materials and solids up to 12mm
- High head capability
- Environmental compatibility – quiet running in populated areas and night operations
- Wide range of output power and low to high head specification options
- Cost effective solution
By Wim Moors, VP, Pumps, Atlas Copco Portable Energy
Electric or diesel? When it comes to the choice of power sources, whether for road vehicles or industrial equipment, it is a debate that is becoming increasingly prevalent. Equally, it is a decision that applies to the choice of dewatering pump technologies for operations within utilities and municipal arenas.
Both electric and diesel de-watering pumps are recognised for their versatile performance and, particularly, their mobility. However, inside water treatment plants there are more likely to be permanently sited installations that utilise industrial pumps capable of handling large solids and, because of the ready availability of on-site power, they are normally electrically driven. These pumps will be employed primarily in duties such as water, liquid sludge or cleaned sewage transfer between tanks during planned maintenance operations or between point A to point B in instances of sudden unavailability of a process or holding tank.
Equally important are external water industry de-watering applications which are more likely to involve diesel units. These would be employed for duties such as cleaning up after flooding or for protecting rivers from environmental impact by removing water treatment overflow.
However, unlike the automotive debate, it is not a contest of technical supremacy to establish an outright winner. It is a common-sense selection process taking into account factors such as required volume, flow/head specifications and the constitution of materials to be pumped; and the variables of operational conditions, site access, project duration, environmental issues and much more.
Diesel-Powered Centrifugal Pumps
Sturdily built for endurance and reliability, centrifugal pumps are designed for handling high volumes of water discharge. The operating flow range is typically between 50 to 830 m3h with a head of up to 51 metres.
Capable of coping with a wide range of applications, fully automatic self-priming centrifugal pumps are considered the ideal solution for transporting or raising water with abrasive solids in suspension; such as in construction and mine site dewatering, floodwater, stream diversions and municipal applications. They can work with water that is clean or dirty as well as handle trash and fibrous materials. Their solids handling capacity can reach up to 76 mm in size thanks to features such as semi open impellers and abrasion-resistant pump casings. Discharge connection diameters typically range from 75 – 200 mm.
They are the de facto choice for delivering fast dewatering solutions to sites where an alternative power source, such as a mains feed or generator output, is not available. In addition, these pumps are able to operate in a high variable speed range, which enables them to cover different applications and flow/head combinations.
Together with average fuel autonomy of up to 47 hours, continuous drainage is made possible even with significant volumes of air (snore conditions) thanks to an oil-free diaphragm vacuum pump's automatic priming. Cooler capacity enables continuous and safe operation even at high ambient conditions. With the exception of replacing wear parts and engine filters, maintenance is easy and simple. Part of this type of equipment's appeal to rental organisations is the inclusion of advanced controllers with data monitoring capacity.
Electric submersible pumps
Electric submersible dewatering pumps offer portability, easy handling and are generally available in a power rating and capacity range that make them well suited to mining, construction and ground water control applications including emergency duties. For instance, flooding, construction and mining sites or instances where a pump with a small footprint is needed, such as when draining a sediment tank. They are also useful for applications where diesel pumps cannot be used, for example underground mining or where emissions are not allowed.
Providing hours, and even days, of unattended dewatering pump operation, submersible pumps can meet the demanding requirements of raising water from great depths or lowering water tables even in the toughest environments; with some models capable of running for up to 2,000 hours without attendance. As they are sub-surface units they can continue working under ice in freezing conditions; as long as the pump is completely submerged. Where appropriate to the task, electric pumps offer environmental compatibility. For instance, quiet running is an essential feature of their performance when they are sited in populated areas or employed in night-time operations.
Extreme durability is also guaranteed as electric submersible pumps offer high-wear resistance. Meanwhile, the modular construction of these types of pump provides for simplified maintenance procedures. Some models can also be equipped with on-site servicing and parts replacement kits, including seals and impellers.
Current manufacturers' medium to large capacity ranges offer maximum power ratings in the region of 54 kW and can typically manage flows from 225 to 16,500 litres per minute with a maximum head of 85 metres. These are the typical range; however, some higher-head pumps are available on the market. In addition, electric submersible dewatering pumps used in the toughest applications should be equipped with hardened impellers and to handle suspended solids, current supplier design has a clog-free impeller for solids of 8-12 mm dimensions.
Conclusion
There is no one-size-fits all criteria for which type of pump works best in a given application – an electric pump might best suit a flood water removal situation but it may necessitate employing a diesel unit because of lack of access to mains power. Equally, diesel power may be ruled out because of emission problems in an enclosed environment. It all comes down to the nature of the application and questions such as where is the site, how deep is the access point, what is the nature of the water/material mix to be pumped, and how long will the equipment need to run to complete the operation?
In every case, making the correct pump selection will depend upon the physical parameters - the static head height, the required hose length and its diameter. It will need interpretation of equipment manufacturers published flow rate v head height performance curves to find the BEP (Best Efficiency Point), and thus the pump best rated to deliver this performance. What's more, there are also considerations to be made of friction losses and cavitation issues. So, overall, making the right choice is not a simple issue, but with expert guidance from equipment suppliers or renters it can be achieved satisfactorily. What is certain is that water industry plants cannot function without the efficient use of pumps to ensure continuity and safety within their operations.
Note: Figures quoted are average values; actual specifications of products may vary