Plastic pipes push the green agenda
The water and construction industries are being forced to seek more innovative solutions that play a part in reducing carbon footprints. Matthew Cowle assesses the environmental impacts of two of the most widely implemented products in the water management industry - large diameter concrete and HDPE pipes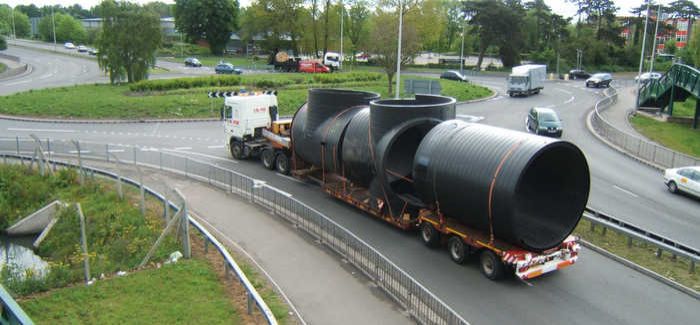 The transportation involved in importing and exporting concrete and HDPE pipes has to be considered
In recent years climate change, as a result of global warming, has become an increasingly prevalent topic within both political and corporate policies. This is primarily due to an increase in the levels of global greenhouse gases (GHGs), in particular carbon dioxide (CO2), found within the earth's atmosphere over the past 200 years, since the start of the industrial revolution. Recent figures suggest this increase could be as high as 40%.
The Intergovernmental Panel on Climate Change (IPCC) predicted recently that if GHG emissions are allowed to continue undeterred at current rates, it will lead to a deeply alarming and potentially disastrous increase in global temperature of between 2°C and 4°C by 2100. These figures have therefore placed climate change as one of the greatest challenges of the modern age and have prompted a political call for immediate action.
The UK government, through the 2008 Climate Change Act, is committed to reducing its GHG emissions by 34% and 80% on 1990 levels by 2020 and 2050 respectively. This undoubtedly has had an enormous impact upon all UK industries, especially the construction industry, which is one of the largest contributors to the country's overall GHG emissions, accounting for more than 50% of the UK's carbon emissions.
This has been addressed within the UK's water management industry with the appointment of carbon managers, whose task is to assess and minimise the GHG emissions of both current and proposed projects.
The contribution of GHGs towards global warming is conventionally quantified in terms of carbon footprint and most commonly expressed in terms of carbon dioxide equivalent (CO2e).
By assessing the potential carbon footprint, in terms of the CO2e of different design solutions, the most environmentally sustainable option (in terms of carbon efficiency) can be ascertained.
The new study relates to the UK pipe industry and examines the carbon footprint in terms of CO2e of reinforced concrete (RC) pipes and high density polyethylene (HDPE) pipes, the two mostly commonly used pipe materials in water management.
Although in recent years numerous studies have been conducted by UK water authorities and pipe manufacturing companies in relation to the carbon footprint of both products, the latest study considers the cradle-to-gate impact. For instance, in 2010 an independent report published by Anglian Water Services found that substantial savings in carbon emissions could be achieved through the use of HDPE pipe as opposed to traditional concrete, for a proposed contact tank project.
In terms of the carbon emissions associated exclusively with the manufacturing process, i.e. excluding the impact of transportation, it was found that the proposed HDPE solution created only one quarter of the carbon emission compared to the equivalent concrete solution.
Conversely, a report by the Concrete Pipeline Systems Association (CPSA) found that the embodied carbon, which includes all carbon until the product leaves the factory gate (EC) of a 2,100mm internal diameter concrete pipe was 35% lower than that of the equivalent sized HDPE pipe; such discrepancies have been evaluated within the new study and address the overall impact from manufacturing to site.
The study predominantly focused on large diameter pipes, with internal diameters of 600mm to 1,800mm.
The results encompass both cradle-to-gate (manufacturing) and cradle-to-site (manufacturing plus transport) in terms of carbon dioxide equivalent (CO2e).
The government has set a challenging target to reduce the UK's carbon footprint by up to 80% by 2050 and it is therefore essential that the construction and water industries synchronise their efforts to ensure a significant reduction in CO2 emissions.
Findings from the study show that HDPE pipe has the potential to actively aid the construction and water industries in their task of reducing GHG emissions in accordance with both European and UK government targets.
When looking at the cradle-to-gate comparative analysis of the EC of HDPE and concrete pipes, the study shows that concrete pipes have a 21% greater EC compared to the average HDPE pipe. On average concrete pipes have a 34% greater EC than 2kN/m2 HDPE pipe's EC, and 8% greater EC than 4kN/m2 HDPE pipes.
However, for a fair and comparative analysis, it is important to consider the transportation involved in importing and exporting concrete and HDPE pipes to provide carbon footprint calculations for a holistic process. When looking at the cradle-to-site figures, concrete pipes have a considerably higher carbon footprint in terms of kgCO2e than HDPE pipes, when either distance travelled or pipeline length was increased.
In both cases, the concrete pipe's carbon footprint tends to increase at roughly one order of magnitude greater than that of HDPE pipe's carbon footprint.
Furthermore, it was found that if either the distance travelled, or pipeline lengths were increased, there would be a negligible increase in carbon footprint for the HDPE pipes assessed.
The GHG emissions were assessed in terms of varying distances travelled and tonnage transported and the data is based on a consistent pipe length of one. Findings show that the carbon footprint in terms of kgCO2e for concrete (RC) pipes is over an order of magnitude, greater than that of HDPE pipes, as distance travelled increases.
Concrete pipes, on average, produce 95% more kgCO2e per unit length of pipe, per km travelled when compared to HDPE pipes.
The study, A Comparative Analysis of the Carbon Footprint of a Large Diameter Concrete and HDPE Pipes, has been backed by Carbon Clear, which concluded that the findings within the report fairly represented the comparisons between the two materials.
Considering the evidence identified, HDPE pipes have proven to be a more carbon efficient product when compared to the industry's traditional material, concrete. In order for the industry to take advantage of these findings it needs a shift in attitude towards adopting smarter and more carbon efficient ways of working if it is to meet the formidable task of reducing emission by 80% by 2050. 
Matthew Cowle, is a PHD student at the Hydro-environmental Research Centre of Cardiff University School of Engineering.
* The full report is available at www.weholite.co.uk/technical-and-downloads/