Planning for resilience in a small space
Water supply resilience and its methodology of pumping water has led Thames Water to build its first service reservoir in a century.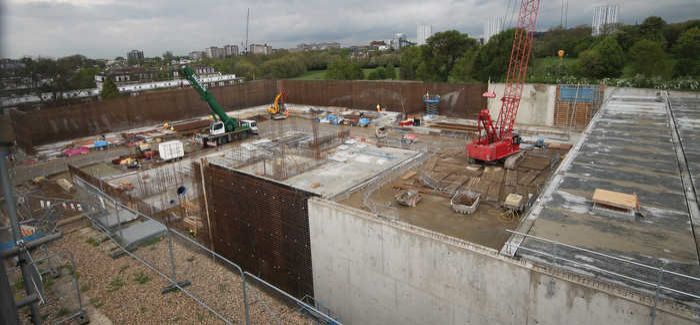 The Barrow Hill service reservoir will comprise two cells. It is being constructed with in-situ concrete pours over fixed steel
They say:
• The site has gone from virtually nothing to where it is now in seven months. "It's a good effort," says Neil Franks, senior contract manager, Thames Water
• "It's a nice civil engineering job but when you get something like the truss system that's proven itself that's the best thing I've learnt from here," Allan King, project manager, GMB
• Design-wise, the process has been the most efficient way of doing it in the centre of London
Picture the scene. At the front, a new block of flats is being built with a £16M penthouse at the top. More residential properties are to the right and the left. At the back is parkland and London's infamous Primrose Hill.
Slap bang in the middle is Thames Water's newest service reservoir, being built by Galliford Try, Mott MacDonald and MWH Treatment joint venture GMB.
It is the first new reservoir in London for more than a century, and is being built on the site of a former reservoir that was decommissioned in 2002 – ground movement caused damage to the roof, and water quality could not be guaranteed. The original reservoir was built in 1826 and a barrel arch roof was added in the 1960s.
Since then, the Barrow Hill Zone has been supplied from an infusion in the network and local pumping stations. Water has been pumped into the area from other zones using the ring main beneath London.
Going forward Thames Water does not expect to make major operational savings with the new reservoir, rather the benefit will be a reduction in spikes in demand for its water treatment plants in Hampton and Ashford, which will pump the water. Thames Water's control philosophy will be more efficient and robust.
The new 25Mld service reservoir will enable Thames Water to meet demand and ensure security of supply, says Neil Franks, senior contract manager at Thames Water.
Serving around 280,000 people in the Barrow Hill area, the reservoir is scheduled to be in service by January 2015. Franks says Thames has recognised the need for local service reservoirs, and that is supported by regulator Ofwat.
A lot of the drinking water is created in west London, at Hampton and Ashford, and pumped round Thames Water's ring main to other areas.
Operating regime
Decommissioning the old reservoir meant a changing regime, says Franks, in how the company supplied water to the area. He says water was then being pumped at the least efficient times in terms of energy for Thames Water and its customers. Pumping water through during the day and at other peak times than relying on a reservoir.
Bringing a reservoir back allows Thames to change back that operating regime so it can pump water through and get the balance correct during the night. "It's a more efficient way of using the ring main and our energy. Energy is becoming important for all organisations, not least for Thames." says Franks.
The new two-cell reservoir is an Ofwat driver for AMP5, so it "must be in a state to be used by March 2015", says Franks. By the end of January, it is expected the water will be in.
What is impressive is that the reservoir is being built on the same small footprint as the old one. Actually, it is taking up less than the old footprint as Thames Water had sold off some of the land – where the block of flats are now being built.
The project has involved "a lot of upfront planning and cooperation", and not just in the pre-design stage. The small footprint means the logistics planning has to be meticulous, and is changing constantly, says the man in charge of the scheme, Allan King, project manager at GMB. But more of that later.
English Heritage was also involved because the site has a lot of history to it and to check whether the structure was protectable. Photographs were taken for posterity. Westminster and Camden councils were both involved as the site sits on the boundary of both areas. Both councils were "very supportive" of the scheme. 
Franks says: "We had a lot of engagement with councillors, and Friends of Primrose Hill. We had to get it right in terms of the visual aspect of site, so we've gone for a green roof. Hopefully, we'll end up with an aesthetically pleasing result and an environmentally-friendly solution."
Ground profile
Once finished the site will look like nothing is there. It will be grassed over, and the plantation will be in keeping with the existing flora.
Significant progress has been made on the project in just seven months. The site has gone from virtually nothing to where it is now in seven months. The first base pour was in February. "It's a really good effort," says Franks.
The old reservoir was built as a bowl shape into a sloping ground, says King. "It wasn't until we demolished it and dug through that you could see the original ground profile."
The new design was built all around the ground conditions based on some 140 CPTs to find out what the ground was like, says King. "Being an engineer it's far easier to get a machine in and dig it up and actually physically see it."
The team looked a full pre-cast concrete design but access was an issue for this solution, and the weight of the wall units would have been too heavy. "Pre-cast only works if you can go fast. We would need four cranes to go as fast as the pre-cast would justify the cost of it," says King.
A metal option was looked at but there were concerns over it being a buried structure. Metal reservoirs are perfectly fine, says King, but its more the long-term maintenance and structural integrity meant the whole life cost numbers did not add up.
King says: "With a 100-year design life on the reservoir concrete always wins over steel because you can guarantee that."
Even when it was decided that build would be done in-situ even that changed at the start of this year. The project has an in-situ base and walls; pre-cast columns; a composite element of pre-cast and screed on the top; waterproofing on the roof; topsoil; and grass.
The process has quickened the programme to a point, but now "we're running out of space". King explains: "Space on this site is so tight. The embankments we cut to get down to the base are as steep as we could physically build them.
"We cut them between August and November last year, so they stayed up through the winter but they wouldn't last another winter. We always knew that. We just had to push on with the build and know that within five weeks we can start backfilling in."
Design-wise, the process has been the most efficient way of doing it in the centre of London, says King.
About 4,500m3 of concrete has been poured so far and "we still can't guarantee the time it will take to pour the concrete because we can't predict what the traffic will be like in the road".
All concrete pours are down to 30-40m3. The pours could have been bigger but there was no guarantee the concrete would get poured in a day. "We're getting slots in and planning, and that changes every week. It's purely where we are. The concrete is batched three miles away."
Health and safety also has to be taken into consideration.
Franks says: "Ultimately, health and safety is what drives our decisions, our designs, all our processes. A zero tolerance approach in construction. That's been a real cultural shift for Thames and GBM over the last AMP."
The reservoir walls are 6.5m high, and you cannot go much further than that without having a joint in the wall. A key and innovative way to reinforce the wall has been the use of girder trusses in the steel in the walls.
The trusses are welded into the starter bars, and so all the walls will be steel-fixed with not a single prop used. King believes the girder truss system "has got the potential to be an industry standard. It's helped us get ahead and know exactly where we're going to be pouring.
King says there has always been systems for holding steel up but it "generally involves a lot of money and a lot of steel". Instead, the girder truss zig-zags in the steel. Often it's the simple things that are most effective, and that's [the truss] is innovation.
"In essence, we're building a concrete box and burying it! It's a nice civil engineering job but when you get something like the truss system that's proven itself that's the best thing I've learnt from here."
Apart from not being big enough, other challenges included not being able to store backfill onsite. About 22,000m3 of soil dug up had to be taken offsite, and 10,000m3 will be brought back.
A standard filter drainage will be implemented at the reservoir, and GMB will have to ensure there is no run-off going into the park. Sustainable urban drainage will also be used.
"We need to know exactly what's happening every single day, but it's changing constantly."
Weather
With the site running out of space as the project finishes, everything has got to be planned out. "About 99% is planned to the nth detail but it still needs chopping and changing."
Loads are now being taken on site on short vehicles because there is less space and some are having to be moved with a crane.
The recent hot weather has presented its problems as measures had to be taken to prevent the concrete from drying out too quickly. But the winter "was kind to us". Franks says: "In January, February we didn't get the ground frost or the snow but we got the two feet of water that we knew we would get."
King says: "We shut down. We knew that was going to happen because we were lower than any of the drainage, which was not connected, and it's London clay. It holds water like a reservoir!
"Although the autumn was horrendous, we were doing the muck shift then, rather than pour concrete. If it had been the year before, we could have been pouring concrete all winter whereas it's worked better as we started in February and all the concrete's going to be in over the next four weeks.
"It's all going the right way at the moment."