Partnership approach to SuDS pays off for Northumbrian Water
An integrated, partnership approach to sustainable drainage, which sees Northumbrian Water work closely with local authorities and the Environment Agency, is getting results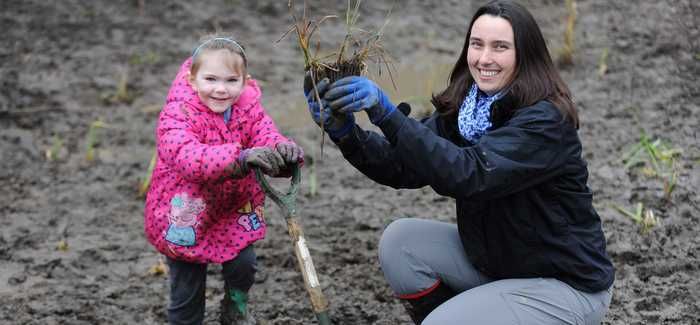 NWG project manager Elaine Smith at Woodhouse Community Primary School
Perspectives
Phil Welton, Area Flood and Coastal Risk Manager, Environment Agency: "Working collaboratively to deliver integrated and sustainable solutions gives better outcomes for our customers and drives efficient delivery of projects, giving greater value for money. Our partnership approach is built on sound relationships where the partners trust each other to deliver shared goals."
Tony Hanson, Environmental Health Manager, South Tyneside Council: "We are very proud to be working in partnership with Northumbrian Water to deliver innovative flood alleviation schemes. Our partnership has demonstrated that a proactive and sustainable approach can be taken to help protect homes at risk of flooding, regardless of whether the flooding is from the sewers or surface water, and is an exemplar to other local authorities, agencies and water companies to follow."
by James Brockett
An integrated approach which sees Northumbrian Water work in close partnership with the Environment Agency and local authorities is helping to reduce flood risk and implement sustainable drainage in the north east of England.
The approach, which was first piloted in the Tyneside catchment and then rolled out in 2014 throughout Northumbrian's region, sees Northumbrian, the EA and the 13 local flood risk management authorities work together to identify the areas most in need of improved drainage, whether the risk they face is sewer flooding or surface water flooding. Projects are prioritised on the basis of need, the stakeholders co-operate on scheme design and costs are then divided according to calculations based on the benefits received.
This partnership principle is underpinning a host of current projects, from large ones such as the £5.5M scheme to divert the Ouseburn River at Brunton Park near Newcastle, to smaller initiatives affecting a handful of properties.
Martin Kennedy, Sustainable Sewerage Manager at Northumbrian Water, says that the utility began exploring a more integrated approach to drainage as early as AMP4, but it was during AMP5 – when Northumbrian funded the Tyneside Sustainable Sewerage Study - that the thinking came together in practice via the resulting partnership formed with the EA and the five flood risk management authorities in Tyneside.
"Our aim was to move away from a reactive, almost silo approach - where we would just fix our problems and the local authorities would fix theirs - and adopt a more proactive, 'do the right thing' philosophy," explains Kennedy. "Working in a silo, you don't always get the most optimal solution. Coming out of that study were a significant number of sustainable drainage opportunities, some of which are now progressing to construction."
Benefits and costs
In the initial stages of an intervention, when the partnership is gathering evidence for a potential project, Northumbrian Water pays 50% of the investigation costs with the EA and the local authorities in combination picking up the bill for the rest, either through their own funds, local levy or grant-in-aid funding. Once a project reaches an advanced planning stage and its benefits are fully understood, then costs are negotiated according to the risks and benefits which fall to each partner. A software package, CIRIA's Benefits to SuDS Tool (BEST) is used to help with this calculation.
As an example, the biggest project in the current programme is the flood alleviation scheme at Killingworth and Longbenton, on the outskirts of Newcastle. This project, which will involve diverting one watercourse (Longbenton Letch) into another (Forest Hall Letch) as well as creating attenuation areas around both these watercourses and nearby Killingworth Lake, is set to cost around £6.5M on current estimates. Northumbrian Water is set to foot the bill for at least £4M of this, with between £1.5M and £2.5M coming from the other partners.
Working together on the designs has meant that wider community benefits and environmental improvements are more likely to be built into such schemes. For example, Killingworth Lake is to be enhanced by walkways to improve angler access and greenery to aid habitat creation. An attenuation basin which needs to be put within the grounds of nearby Longbenton Community College is to be shaped into an amphitheatre which can be used as an open-air teaching facility for the students in the summer.
"One of the things that the communities have welcomed is being able to see all the agencies standing together giving the same message," says Mike Madine, Sewerage and New Development Manager, Northumbrian Water. "We've built up a high degree of trust and mutual co-operation – we are essentially speaking with one voice when we talk to communities and design new schemes, and I think customers and communities appreciate that. We also get a lot of benefit ourselves, as we are able to share resources and knowledge bases and build integrated models which give us a much richer picture of the flood risk to a particular area. In addition to that, instead of engaging different consultants or contractors for the individual agencies we are making a single appointment and having only one procurement route so you save money on the design and delivery of the schemes."
Kennedy admits that the partnership approach, with multiple inputs to the design in particular, can mean that it takes longer to get projects off the ground. But he says that this longer process is worth it for the eventual quality of schemes and that integration allows a pipeline of future projects to be planned many years in advance.
"It definitely takes longer to take a partnership approach, and there are issues such as alignment of resources and funding that are well documented, but this is part of moving from a reactive to a proactive position," says Kennedy. "We started the Tyneside study in 2010 and some of the schemes coming from that are not going to be on site until 2017. That's a different timeframe from a straightforward property-level sewer flooding scheme, which we would hope to get done in an 18-24 month period. But I would emphasise that by engaging with and understanding the issues much earlier, we are taking a proactive approach and so we do have more time to think and plan, which can only be a good thing."
Madine adds: "Working in partnership with the other agencies and local authorities has identified solutions that would not normally have been cost beneficial if a silo approach had been adopted, for example the Killingworth and Longbenton and Brunton Park schemes. This means that customers are having solutions delivered that would not normally be delivered if we worked in isolation."
Schools engagement
Northumbrian is also engaging schools in high-risk flooding areas in a parallel initiative in partnership with the Wildfowl & Wetlands Trust. This combines work to manage surface water at the school sites with an educational programme to teach the children about flooding, climate change and biodiversity. Installations such as ponds, wetlands, swales and rain gardens can be leveraged for educational benefit when visiting staff give talks to children.
The approach has already been used at schools in Bishop Auckland, North Tyneside and Jarrow, and Northumbrian is looking to align these efforts with the Environment Agency's educational initiatives. Twelve such 'Community Action Plans', combining physical installations with awareness initiatives, have been identified for the next AMP with a potential total value of £30M. As well as schools, hospitals, shopping centres and community groups are likely to be involved.
Finally, Northumbrian is also increasingly working in partnership with developers in their region. Through their good relationships with the local authorities, the company ensures it finds out as early as possible about prospective development so that it can influence the first designs. Its understanding of strategic housing land means that Northumbrian is confident of knowing where development will take place over the next 25 years.
"There is a misconception that if you have a SuDS feature you will reduce the productivity or the number of units on a site," says Kennedy. "SuDS can be at a property level or a localised level, it doesn't have to be a huge pond taking up large areas of the development site. By working with developers early enough, we can influence the master planning for developments and come to a mutually beneficial agreement."
While in relation to sewer flooding Northumbrian has adopted a design standard of protecting against a 1 in 40 year storm, the target for the drainage partnership is higher, to protect against a 1 in 100 year storm. With climate change likely to push SuDS up the agenda across the country, it only goes to show what can be achieved using a multi-agency approach.
"It's an approach that prioritises issues across the whole of the region, and advocates mutual trust and co-operation," says Madine. "What it gives us is a pipeline of projects and studies that go beyond AMP6 and also beyond the Environment Agency's six year plan, so we can look towards AMP7 and AMP8, and the next EA plan as well, with confidence."
- Mike Madine is speaking at WWT's Integrated Water Resource Management conference on Sep 16. Details: www.wwt-environment.net