Overhaul for holidaymakers
Poor performance at a Cumbrian caravan park meant updating some 19 pumping stations before the holiday season began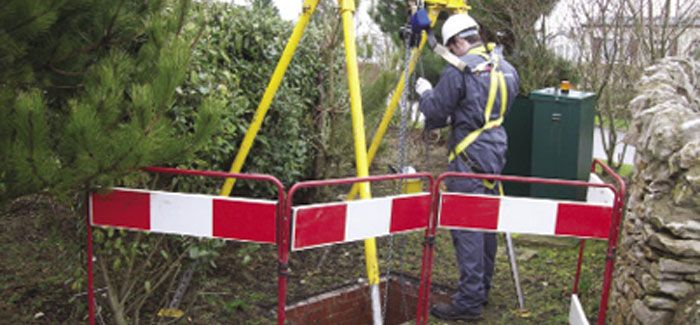 Flygt's EasyLift will help service engineers maintain pumps at the caravan park
The managing company of a large holiday home and caravan park in Cumbria wanted to update all of its 18 onsite sewage pumping stations to bring them up to an acceptable performance level. The aim was to have zero breakdowns during the holiday season.
The existing pumping stations at a site just 20 minutes from Lake Windermere, were suffering from poor performance, with the kiosk for the electrics and the control panels showing signs of age. There was also some concern that, without refurbishment, pipework could potentially begin to leak.
The park's management team said that the pump stations needed a serious overhaul to bring them up to date, but with only limited annual funds dedicated to site refurbishment, it was decided that pump station refurbishment should be prioritised in order to reduce downtime.
The key issue was that any refurbishment would need to be completed during the one month winter shutdown. Pump technology company Flygt, part of the Xylem group, was awarded the contract and a survey was undertaken on the performance of all the pumps.
Level controls
One of the key recommendations was that the level controls should be repositioned or reset, in particular the stop/start and alarm switches on the pumps. 
Flygt's field sales engineer, Neil Siddons, said: "We wanted to move these to the recommended heights and replace any which didn't meet the required standards. This would improve both the reliability and performance of the pumps."
He continued: "One of the major risks identified was in regards to health and safety:  work on the pumps involved having to climb into manholes, which could be in excess of 20 feet deep and were slippery. We also felt it was important that the replacement pumps were removable to allow future work to be completed safely above ground."
To overcome these problems and ensure a safer environment for service engineers, the Flygt Easylift lifting device was employed. The system is designed to comply with Work at Height Regulations when lifting pumps and other equipment from below ground level.
Siddons explained: "We positioned the pumps on longer length guiderails to ensure that, in future, the pumps could be accessed easily and safely."
Engineers completed the work during the January/February shutdown.
Siddons expands: "We were on a very tight timescale, with lots of work to do, but we were able to complete everything on time. It was critical that work on the sewerage systems was finalised before the holiday season began."