Opinion: We need to talk about water
If different sectors of society work in unison to manage our collective water resources, we will find more sustainable solutions to growing water scarcity, writes Dr Sally Watson, Mott MacDonald's global practice lead for water resources management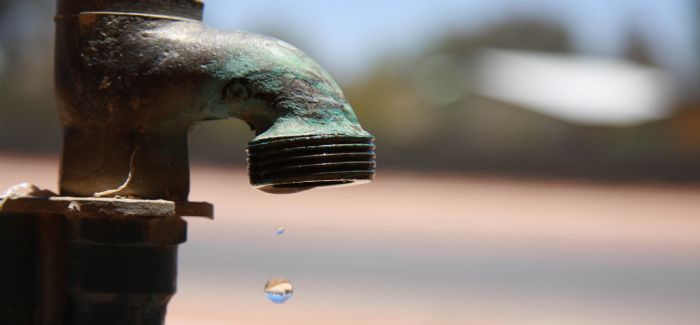 We can all think of various ways to save water. How many would suggest talking?
By this I mean water companies talking – about conservation and supply management – with each other, with stakeholders in other sectors such as energy and agriculture, with organisations charged with safeguarding the environment, and with industrial as well as domestic users.
The recent water crises in Cape Town, Sao Paulo and other cities around the world illustrate the impact that water scarcity can have, not just increasing the risk that the taps in people's homes could run dry – even here in the UK, as the National Infrastructure Commission has starkly warned – but also jeopardising supplies of water for energy generation and food production. The social and economic implications of droughts are enormous.
An inward-looking mindset is untenable at a time of increasing water stresses exacerbated by rising demand, population growth, urbanisation and climate change. No single part of society is going to find sustainable answers to water scarcity on its own. The problems behind it are so complex and intertwined – and the potential consequences will affect so many different areas – that collaboration has to be the way forward.
In practical terms, this means developing more holistic solutions through integrated catchment management.
Greater collaboration
In the UK, both Ofwat and the Environment Agency (EA), recognising that the amount of water being taken out of the environment is unsustainable, are calling for water companies to work more collaboratively with other sectors.
It's already starting to happen.
Anglian Water, Thames Water and Yorkshire Water are among nearly 100 organisations (including my own, Mott MacDonald) who have signed up to the Catchment Management Declaration. This initiative will see business, civil society bodies and the public sector join forces to tackle the collective challenge of water stresses through a multi-sector approach to catchment management as called for in the UK government's 25 Year Environment Plan.
Greater collaboration and transparency also lies at the heart of the pioneering Water Resources East (WRE) project, which will be central to delivering a reliable, sustainable and affordable system of water supply in the East of England to 2045 and beyond.
This is the first large-scale regional assessment of water resources in the UK that has taken the multi-sector approach on board and engaged with it comprehensively.
The WRE's overarching strategy and supporting action plan will be inclusive of the water needs of all stakeholders across the region, not just those of the water company. It is proving how beneficial it is to understand the challenges facing other sectors, giving insights that you don't see if planning in isolation.
Hydrosocial modelling
Collaboration, however, involves more than getting people from different organisations together in the same room.
It requires a structured format and framework through which all parties can engage with each other, along with shared vision planning and a robust decision-making model.
WRE uses a ground-breaking simulator that models the hydrosocial cycle which, unlike the hydrological cycle, looks at water within its social context.
Both hard infrastructure – water supply network, reservoirs, etc – and the dynamics of the natural environment – river flows, rainfall, groundwater levels, etc – are analysed together.
The simulator models different scenarios – droughts of varying severity or future growth predictions, for example – and then identifies optimal solutions to balance supply and demand across the region, and meet the aspirations of different stakeholders.
The results could require a radical shift in operational practices and thinking, altering long-established ways that water resources are allocated. It could mean building new reservoirs and desalination plants while groundwater extraction is reallocated from public supplies and made available for agricultural use.
Longer time horizons
Multi-sector water resources management plans (WRMPs) can make the water sector more progressive in another way: looking further into the future when planning infrastructure.
Water companies are currently in the process of producing their latest WRMPs, which set out their intended approach for at least the next 25 years. But the time horizon should be 50, 60 or more years.
This is because the scale of the effects of climate change are often uncertain, which risks either investment decisions being postponed (in the hope that the picture will become clearer) or an overly ambitious scheme being selected.
If the decision is delayed, it might be too late given the planning and regulatory hurdles that have to be overcome and lengthy construction lead times, and if the scheme turns out to be too large for the water company's needs then money will have been wasted.
Taking a longer-term view of all water users' needs, predicting how climate change will impact supply and demand over several decades, will create a more robust business case for additional shared capacity, storage and/or production and ensure timely investment decisions.
A multi-sector approach will also reduce the risk of developing new resources and building assets because, having worked with your partners to estimate likely future needs, you are reducing the risk of investing in excess water storage and supply capacity or assets that could turn out to be not fit for purpose.
By bringing more stakeholders together, a wider group can have a stake in the investment and incremental development, or adaptive planning, which supports all sectors can occur.
Future investment models will also need to change to support moves towards integrated management of shared resources. One answer could be through green bonds to fund projects that investors and communities can see are environmentally friendly and will bring multiple benefits.
Smart technology
Digital data-collection technologies have a key part to play in supporting integrated water resources management by providing information on water quantity and quality, demand and consumption.
Accurate, up-to-date data will aid understanding of the hydrosocial cycle within a catchment. Smart metering and sensors, providing real-time or near real-time feedback, will enable water companies to analyse consumption patterns in granular detail and manage their operations more effectively.
Water may be scarce in parts of the world but it is still relatively cheap in the UK. Incentives other than financial ones might be needed to manage demand.
Trials of apps, linked to smart meters in the home, which compare your water consumption with that of your neighbours, have shown that the element of competition – keeping up (or down) with the Joneses, you might say – has a positive nudge effect on people's behaviours and reduces water consumption.
Virtual assistants can help us to adjust the heating or lighting in our homes to save energy. In the future, smart speakers could tell us how to conserve water, advising us, for example, not to wash the car or water the lawn this weekend because river levels in the area are too low.
The mega-cities of the future, built using smart infrastructure, will feature sentient catchments which provide dynamic feedback like this direct to the consumer to help moderate demand, as well as automatic systems to detect leaks and prioritise repairs.
Collaboration is a sure way to kickstart innovation and lead to further technological breakthroughs.
Good practice
Integrated water resources management that encompasses collaborative planning and approaches needs to be recognised as, quite simply, good practice. It is a fairer way of allocating water with sustainability at its centre.
The bottom line will be more resilient supplies of water for domestic and industrial users, greater security of food and energy, and a flourishing environment. There is also the potential for lower bills because you are reducing the risks and sharing out the costs associated with developing resources and building new infrastructure.
Integrated water resources management will support the UK government's vision that we become "the first generation to leave our environment better than we found it since the Industrial Revolution".
It will also help meet key UN sustainable development goals (SDGs), specifically providing clean water and sanitation for all (Goal 6), and also Goal 17 and its call for multi-stakeholder partnerships "to support the achievement of the SDGs in all countries, in particular developing countries."