Ofwat's PR19 assessments: How the industry reacted
After Ofwat published its initial assessments of water companies' business plans for 2020-25, we look at the responses from across the sector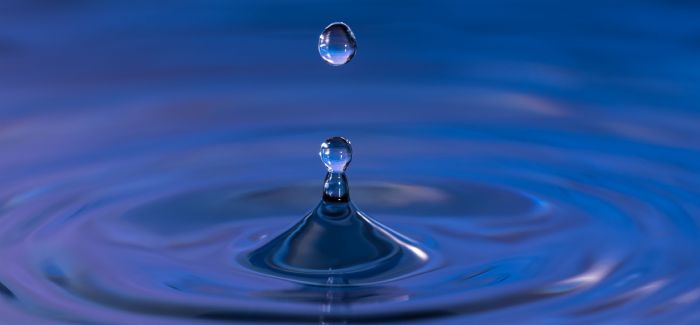 Ofwat awarded Severn Trent, South West Water and United Utilities fast-track status in its initial assessments of the PR19 business plans, while Affinity Water, Hafren Dyfrdwy, Thames Water and Southern Water were marked for significant scrutiny.
Here, we look at how the industry responded.
Ofwat chief executive Rachel Fletcher:
"We have challenged all water companies to deliver more for less for customers over the next five years. They've listened to the customers they serve. We're seeing an increased focus on the things closest to people's hearts such as keeping bills affordable, cutting leakage, protecting the environment and helping those most in need. Three companies have already stepped up to the mark with high quality plans and stretching commitments to customers for the next five years. The rest of the sector now needs to meet this high standard so that customers across the country get better and more efficient services."
Consumer Council for Water chief executive Tony Smith:
"We've not seen one plan that can be considered the finished article and there is still scope for improvement across the board, which we're pleased Ofwat recognises. Many companies have not stretched themselves on issues like reducing leakage and expanding support for customers in financial hardship. As it stands most people will see their bills rise by 2025 once you add inflation and the financial rewards that companies can earn but are paid for by customers. It's important companies and Ofwat are clear with households if their bills are going to rise."
Water UK chief executive Michael Roberts:
"Today's announcement is not just about individual company plans, it is also about the sheer scale of collective ambition to do more for customers, the environment and the country as a whole. The plans were created after seeking the views of 5 million customers to understand what's most important to them. Taken together, those plans would mean a decade of falling bills, the most ambitious leakage programme in 20 years, and an expanded five-year investment programme of more than £50 billion.
There's also a strong focus on helping the poorest and most vulnerable people in our society – we're nearly doubling the help for people who struggle to pay their bills. Wildlife and the wider environment will benefit from the plans too, with 8000km of rivers due to be improved, and the Environment Secretary recently said the plans showed that the water industry was making good progress. Companies in England and Wales will be considering carefully the initial assessments published today by Ofwat and, where relevant, identifying where they can go even further before finalising their plans."
Environment Agency deputy director Anne Dacey:
"Water companies will need to make big improvements if they are to achieve the commitments set out in their business plans. The Environment Agency expects to see a significant reduction in pollution incidents, investment to increase resilience to drought and flooding, and a commitment to enhance the environment. We welcome Ofwat's announcement today which supports these principles."
Environment Secretary Michael Gove:
"I have been clear that the private water model can deliver the best outcomes for customers and environment at the best value price – when it is underpinned by strong regulation and companies working harder in the public interest, not just in the interest of shareholders. While Ofwat's initial assessment indicates that some companies are stepping up to this challenge, this is by no means the case for all. I am disappointed to see that the plans submitted by Thames Water, Southern Water and Affinity Water have been assessed as requiring 'significant scrutiny', not least as these operate in the most water-stressed regions. I fully expect the revised plans to be more ambitious in delivering for customers and the environment, and I continue to offer Ofwat my full support in holding companies to account."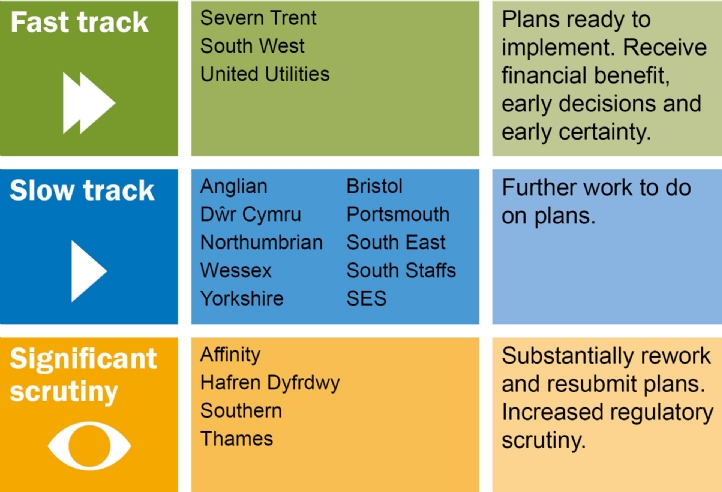 Chris Loughlin, chief executive of Pennon Group Plc, parent company of South West Water:
"We're encouraged that the regulator has a high regard for our business plan, particularly as it was shaped by our biggest ever consultation with customers. We are very grateful for the feedback we received. Our New Deal empowers customers to be part of our business and have more control. It redefines the relationship between a water company and its customers, and recognises our societal responsibilities."
Severn Trent chief executive Liv Garfield:
"I'm pleased that Ofwat has recognised the progress made across the sector, and I'm personally delighted we've been given fast-track status for the first time, showing Ofwat shares our belief that customers will get the best possible outcome from our plans for the next AMP. It's a great testament to everyone who was involved in pulling the plan together, especially to those customers who helped us create the proposals. But we're also very aware this is just the start of a five-year journey for us as a company as our teams now have to deliver everything we've promised, whether that's keeping bills low, improving our services, or having a greater societal impact on our communities. It's going to be a real challenge but it's one we're confident we can meet."
United Utilities chief executive Steve Mogford:
"We are pleased that our plan, which offers improved service and lower bills for customers, has been awarded fast-track status. We look forward to working constructively with Ofwat through to publication of the draft determination which, in line with the price review timetable for fast-track companies, we expect to be published by Ofwat in early April 2019. Ofwat has also published the results today of its annual company monitoring framework assessment, which measures the quality and transparency of company reporting and the level of trust and confidence that customers and other stakeholders can place in it. We are pleased that United Utilities Water has retained 'self-assurance' status in this assessment. This is the highest categorisation available and one which we have now held for three consecutive years."
Anglian Water director of strategy and regulation Alex Plant:
"We are confident we submitted a strong plan, based on engagement with half a million of our customers. Ofwat has commended us on many aspects of our plan, including the quality and depth of our half a million engagements with customers, which has been assessed as sector-leading. We have also been commended on the ambition of our proposals to support those in vulnerable circumstances. However, Ofwat has set us some challenges around cost efficiency in particular. Over the coming weeks we will reflect on this feedback from Ofwat, work with our customers and stakeholders, and ensure we're ready to embark on our ambitious programme of work up to 2025, to deliver the right outcomes for our customers, our region, and our environment."
Dwr Cymru Welsh Water chief executive Chris Jones: 
"Our business plan for 2020-2025 is an ambitious set of proposals which prioritises a combination of record £2.3 billion investment, alongside an average £22 reduction in customers' bills and strong proposals on a range of customer priorities – including leakage reduction, supporting our most vulnerable customers, and protecting the environment around us. As we have now received Ofwat's initial assessment of those plans, we will now consider its feedback carefully – and are committed to working with stakeholders, customers and our Customer Challenge Group to ensure we deliver a plan that meets our customers' needs and expectations."
Wessex Water managing director Andy Pymer:
"We will be reviewing Ofwat's initial assessment of our business plan and respond in due course. We remain confident that our plan, which will see lower bills for customers and our largest ever investment to maintain and further improve services, delivers the very best outcomes for our customers and the environment. It was particularly pleasing to hear that Ofwat liked our customer research and engagement, our approach on affordability and vulnerability and the use of innovation and markets. Average bills for 2019/20 will be going up by less than inflation – and in our business plan we have committed to bills reducing further in real terms up to 2025."
Bristol Water chief executive Mel Karam:
"This is a step forward for us and recognises the ambition we have shown in producing a great plan for our customers. There is still work to do to fully understand the detail of the initial assessment and we will be working with Ofwat to further improve the plan before resubmitting in April. We are very pleased to have improved our Company Monitoring Framework to 'targeted' status from 'prescribed' and that Ofwat have recognised the high quality of our customer engagement."
SES Water managing director Anthony Ferrar:
"We are disappointed that our business plan has been given slow-track status. We believe it is a high-quality plan, developed with our customers to deliver their priorities at a fair price with bills lower in real terms than they are today. We are pleased that Ofwat has recognised our commitment to ensuring our bills are affordable for all, along with their confidence in our ability to deliver our plan, based on our very successful track record. They have also recognised the efforts we have already made to reduce our gearing ahead of the start of the next Business Plan period. Our focus is now on reviewing the assessment in more detail, working with Ofwat to ensure we fully understand and address the areas that need further work while ensuring we can still deliver what matters most to our customers."
Portsmouth Water chief executive Bob Taylor:
"Whilst we are disappointed that our business plan has been given slow-track status by Ofwat we have confidence in the many high-quality aspects of the plan which will see customers' bills reduce to an average of £97 from 2020 and staying at this level in real terms for the next five years – the lowest in the industry. At the same time, we plan to further enhance our services to customers, maintain our key role in our communities and remain trusted custodians of the local environment we live and work in. We believe our plan is robust for the future and will help ensure resilience of water supplies for the South East region. We will of course take on board the comments made by Ofwat to further improve our plan for customers. We are particularly pleased that Ofwat has recognised how efficiently we operate as a company – performing well above the levels set for the industry as a whole."
Southern Water statement:
"Whilst we are disappointed with Ofwat's initial categorisation of our plan as significant scrutiny without financial penalities, we will continue to work proactively with our regulator to understand their concerns and strengthen the actions already taken to address these issues. Encouragingly, we have received positive feedback on our Water for Life plan from many of our customers and other key stakeholders which was developed following an extensive three-year consultation process. While reducing our customers' bill by more than three percent, we have outlined £4 billion of new investments, 25 per cent more than we have ever invested, of which more than £800 million is dedicated to environmental improvements. We acknowledge there is more to do and look forward to continued close collaboration with our customers, regulators and other stakeholders as we continue to build a company which can deliver a resilient water future for our customers in the South East."
Thames Water CEO Steve Robertson:
"Thames Water is disappointed with today's announcement from Ofwat on our £11.7 billion five-year business plan, which is built on the feedback of nearly one million customers. We remain committed to our forward-looking plan, which prioritises investment over everything else – including shareholder dividends. The plan includes significantly increased investment, to tackle issues that really matter to customers such as leakage, pollutions and resilience, while keeping average bills flat. It also supports job creation and regional economic growth and will deliver a four-fold rise in financial assistance to families in vulnerable circumstances. We are seeking Ofwat's permission to invest more in areas where we know it is needed. Instead, it appears that we are being asked to reduce our current levels of spending. We are concerned that this will make it harder to meet the needs and expectations of our customers, amid the challenges of population growth and climate change. We'll now study the feedback in detail and look forward to engaging constructively with Ofwat throughout this process. We are pleased that Ofwat has recognised the improvements in our reporting and transparency of information by promoting Thames to a higher category in the annual Company Monitoring Framework."
Affinity Water CEO Pauline Walsh:
"We are surprised and disappointed by Ofwat's initial assessment of our 2020-2025 Business Plan and look forward to discussing this with Ofwat in the coming weeks as part of this ongoing process. Our plan builds on the vision we committed to in our current 2015-2020 Business Plan to become the UK's leading community-focused water company. So far in this regulatory period, we have reduced the amount of water we take from the environment by 42 million litres a day and we have committed to the largest percentage leakage reduction (14 per cent) of any water company in England and Wales."
Atkins water market director Richard Whale:
"Ofwat have challenged all water companies to acknowledge customer expectations and deliver more for less over the forthcoming AMP7 period. Water companies have responded positively with an increased focus on customer priorities such as keeping bills affordable, cutting leakage, protecting the environment and helping those most in need. Key to this is ensuring that the water companies and their supply chain drive even higher levels of efficiency through AMP7 services. It's highly unlikely such efficiencies will be achieved by taking a business as usual approach to service delivery and we anticipate our clients to be more demanding of AMP7 supply partners. As a consultant to water companies across England and Wales, we've fully recognised the need to promote the adoption of digital and BIM-based asset management tools and systems, AI, machine learning and system-led thinking to delivery more challenging regulatory outcomes for less."