Odour control: Going Undercover
Thames Water is using a combination of covers, air filtering technology and monitoring in order to ensure it meets challenging odour control targets in its upgrade of Deephams Sewage Treatment Works in north London.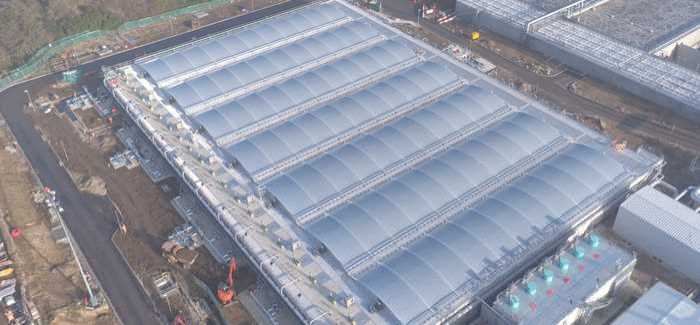 The primary settlement tanks at Deephams STW have been fitted with PVC roof covers
Deephams STW odour control - facts and figures
- Odour from wastewater treatment works is measured in European Odour Units per cubic metre (OUEs/m3). Because odour can vary widely depending on weather conditions or one-off incidents, readings are taken based on an hourly average and work on 98th percentile compliance, i.e. the required standard must be met 98% of the time.
- An odour concentration of 1 OUE/m3 is the lowest that can be detected by the human nose. 3 OUE/m3 is considered a 'moderate' odour while 5 OUE/m3 is usually considered a significant benchmark for planning purposes.
- In order to reduce the number of properties in this most affected category by 99% against its baseline 2010 figure, Thames is putting in place covers on the three main sections of the treatment works (inlet works, main effluent stream and secondary sludge digesters), using biological odour control units, and trialling a new monitoring regime.
- The odour control systems chosen for the different parts of the works are different because of the varying flow rates in the different locations. The biggest inlet works (High Level & Power House) has a flow rate of 5,200 Am3/hr at 20oc; the Tottenham Low Level Inlet works has a flow rate of 2,500 Am3/hr at 20oc; the main effluent stream flow rate is 30,000 Am3/hr at 20oc
- The overall construction project at Deephams started in 2013/4 and is expected to finish in 2018. Three wastewater treatment streams are being combined into two, while keeping the works running 24 hours a day and continuing to meet discharge consents. The project has involved a team of 500 people, pouring 25,000 cubic metres of concrete, excavating 12km of ducting and electrical cabling and replacing electrical and mechanical equipment to the value of over £60M
by James Brockett
Thames Water is using a combination of covers, air filtering technology and monitoring in order to ensure it meets challenging odour control targets in its upgrade of Deephams Sewage Treatment Works in north London.
The utility is spending around £24M on the odour control component of the £250M project, which is expected to be completed next year. As a result of both its agreement with Ofwat and the planning process with the London borough of Enfield, Thames has committed to reducing the number of properties in the area most affected by odour from over 3,850 properties to just 32 – a reduction of more than 99%.
One of Thames Water's biggest projects of recent years, the Deephams upgrade involves the replacement and modernisation of the entire wastewater treatment stream, while the plant remains operational throughout. It is being carried out in order to meet more stringent Water Framework Directive discharge standards, to replace existing assets that are nearing the end of their life, and to build capacity to cope with future population growth and climate change. The upgraded plant will serve a population equivalent (P/E) of 941,000, compared to 885,000 before work started; the project is being delivered by a joint venture made up of AECOM, J Murphy & Sons and Kier.
With Deephams situated in a built-up area, odour impacts are of primary concern for local residents and this was reflected in the conditions imposed by the planning process. The key metric for the odour control work is to reduce the number of properties where residents experience odour higher than 5 European odour units per cubic metre (OEu/m3). This is applied on a 98th percentile, one-hour basis – in other words, odour levels are measured as an average over the course of an hour, and only count if they are experienced for more than 2% of the time in the calendar year.
The first component of the odour control plans for the site is to place a large proportion of the works under cover. This includes the inlet works, the main effluent stream and the secondary digesters, with different types of covers required for each, according to Steve Wilson, Technical Manager for the project at Thames Water.
The two inlet works are receiving GRP covers provided by Corporate Engineering, which fit closely to the current concrete. In the main effluent stream, the 14 primary settlement tanks have been fitted with removable PVC roof covers on aluminium trusses with an integrated gutter system and inspection hatch, provided by Power Plastics. The primary settlement channels, flow splitting chamber and anoxic zones will have GRP covers, while the secondary digesters are to be fitted with domed double-skinned PVC-coated membrane covers supplied by Kirk.
The covered sections are then being fitted with an assortment of odour control units, with each chosen to be an appropriate match to the conditions. In the two inlet works, Thames are using bio-trickling filters with lava rock media, followed by deep bed carbon filters, all supplied by ERG. For the main effluent stream, the project team opted for bio-trickling filters with plastic packing material, again followed by deep bed carbon filters, this time provided by Pure Air Systems. The secondary digesters do not require an odour control unit because the odour is diverted to the gas header pipeline which feeds the CHP engines.
"There was a choice to be made between using biological trickling filters, which we have chosen here, or wet chemical scrubbers, which we use on some other sites," explains Wilson. "There was a whole-life cost analysis carried out and biological filters were chosen. The key factor there is the concentration and flow – if we had had a much higher flow, and a lower load, then that may well have driven us to a wet chemical scrubber solution instead.
"The load also determines the type of packing material you use for bio trickling filters – which is why we've got different filter technology for the inlet works to the main treatment stream. Whichever process we use for filtering, we then use carbon filter technology on the back end of it."
Finally, Thames is trialling a cutting-edge monitoring process in partnership with EnviroSuite, which has seen 15 odour monitors fitted at different parts of the works. The monitors are all connected to a 3G system so that the operations team will be alerted if there are any expected high odours from anywhere in the works; this enables proactive odour management rather than having to respond to customer complaints or rely on casual observation.
"It's a big challenge to ensure that we can meet our obligations on this, both to Ofwat and the London Borough of Enfield," summarises Wilson. "But we've looked at how we can demonstrate a step change in reducing odour, and part of that is following odour management plans, so that if there is an odour from a certain area, we know about it and can take pre-emptive action. That's all part of our odour management strategy, and also helps to demonstrate to Ofwat that we are achieving what we said we were going to achieve.
"The covers will obviously be optimised to catch the odour - we've got a large area of the works now covered - and clearly we've picked the very best technology to suit the type of odour we have, whether that's high concentration and low volume, or low concentration and high volume," Wilson concludes. "That's what really drives the type of odour control treatment we use, together with the advice we receive from specialists at the various companies we work with."