Odour control: Galliford Try puts a lid on it
The Galliford Try water team working for Southern Water is using an innovative cover system for two sludge consolidation tanks that has been used only twice in the UK before. Project manager Rob Cuthbertson explains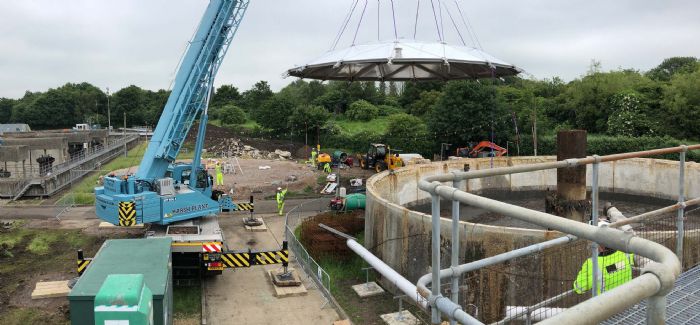 Need to know
Galliford Try has two business units working on Southern Water's capital programme: one upgrades water and wastewater treatment works and the other delivers improvements to the water and waste network. The combined value of the contracts is around £300 million. The businesses are currently halfway through the five-year AMP6 capital programme. Galliford Try is currently in discussions with Southern Water to extend the contract for a further five years from 2020 to 2025.
What's the project about?
We're upgrading the wastewater treatment works at Portswood in Southampton in a £5.5 million scheme. A top priority is odour reduction. From next March, our client will be fined for every complaint received about odour coming from Portswood so there is considerable urgency.
Our scope of work also includes upgrading the existing equipment, including the inlet works and storm and primary settlement tanks and their bridge scraper controls as well as decommissioning redundant process units.
The existing final settlement tank (FST) and return activated sludge bellmouths will be put into action with new sludge blanket detectors fitted on the FST. A new odour control unit and odour ductwork will be placed on all covered assets and a new main control centre established in the switch room. Handover is due by August 2019.
What are the new covers and how do you build them?
The covers are domes that sit on top of two sludge consolidation tanks. They are built on the ground, starting with a perimeter ring of members fixed together in a triangular pattern on base plates. Further rings are built up in a progressive sequence to the same pattern, culminating in the final centre piece.
The domes are closed out by fixing triangular aluminium panels secured by clamp bars, which give the domes their geodesic appearance. Finally, a 100-tonne crane hoists the domes into place on top of the tank walls. The base plates are then bolted to the wall head from an alloy tower. The completed structure is 18m in diameter and 4 metres tall.
What are the benefits of domes?
These structures are prime examples of applying a DfMA (Design for Manufacture and Assembly) approach. Construction risks were assessed and reduced or eliminated all together at the design stage.
It only takes four men one week to build each dome which is much quicker than construction of traditional tank covers. More importantly, though, the process minimises the need to work at height. All the materials are manufactured off site and the covers are 24 per cent cheaper than conventional covers.
The lightweight domes are aluminium, which means they perform well in most environments, particularly wastewater treatment plants where there is an enriched hydrogen sulphide atmosphere.
This gas, which gives off the rotten egg smell, is very corrosive. The domes are also weather resistant and can be easily disposed at the end of their design life since the material is fully recyclable. This benefit was particularly important as the tank lids have an expected life of only five years and are due for demolition in the next AMP.
The covers can be anodised any colour but, in this instance, Southern Water decided not to colour them since aluminium anodises naturally into a dull grey. Finally, the aluminium panels are smaller than conventional GRP equivalents, which reduces the size and number of deliveries to site, which pleases residents.
To what extent could Galliford Try's water business use the domes more widely?
I'm currently looking at the possibility of constructing digester tanks at two other Southern Water schemes in steel with dome roofs similar to what we have at Portswood as opposed to reinforced concrete, which is the original design.  The schemes are located at wastewater treatment plants at Millbrook in Southampton and Budds Farm in Havant.
As a water business we should consider steel construction as an alternative to traditional concrete for tanks as it brings so many benefits. The downside is, of course, that the design life of steel tanks is less than that of concrete.
This article originally appeared in the August issue of WET News