New dimensions: How BIM drove Scottish Water's Tullich WTW project
With ESD making extensive use of BIM including 4D visualisation tools, Scottish Water has successfully completed a £29 million project to replace Tullich Water Treatment Works near Oban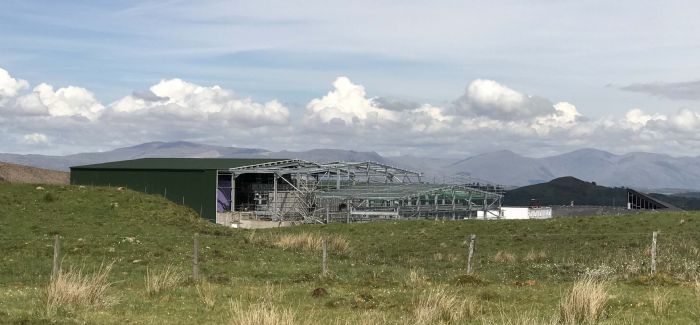 Tackling treatment
The original Tullich Water Treatment Works, which had been in operation since the 1970s, used an ozone system with granular activated carbon (GAC) filters.
In recent years, though, its treatment processes had been struggling to cope with changes in raw water quality, reflected by trihalomethane (THM) failures in the distribution system, while its vulnerability to cryptosporidium was also cause for concern.
"The original plant was ageing and it had become very labour-intensive to maintain, and very expensive," Barclay says. "Generating ozone gas was also a very high-risk activity, although it was under control at all times."
"The technology was fine for its time, but it needed to be replaced," Burns adds.
The new plant, which became operational at the end of last year, has brought marked improvements.
It features dissolved air flotation (DAF) and rapid gravity filters (RGF) as well as a secondary filtration stage for the removal of manganese, in addition to a more user-friendly layout.
"With this new plant, the water quality is fantastic, and it offers great reliability and ease of use – a very simple changeover from the old works to the new one has made it operator-friendly," Barclay says.
By Robin Hackett
When Scottish Water engaged ESD to start work on a new water treatment works in Argyll and Bute in late 2015, it sparked a new approach to collaboration through digital engineering.
ESD, a fully integrated joint venture between Black & Veatch, Galliford Try and MWH Treatment, had been awarded a six-year non-infrastructure framework contract with the utility earlier in the year and was handed responsibility for the £29 million scheme to replace the ageing ozone plant at Tullich near Oban.
"ESD provide design, construction, process, commissioning – all the way through, almost from start to finish – when they work on these projects," Scottish Water project manager Eddie Burns says. "They work on all aspects of delivery."
Strong working relationships had already been established within the project team as the result of previous joint ventures involving the ESD contractors, and many among them were well acquainted with modern BIM tools.
When preparations for Tullich began, they seized the chance to introduce new working methods that would bring about greater levels of collaboration through digital technologies.
"We brought a different way of thinking about project delivery to Scottish Water," ESD project manager Kenny Jones says. "Our digital delivery platform was relatively new technology to Scottish Water, and it meant a new way of working – it brought an open dialogue between all the parties and a joined-up approach to getting the best out of construction activities."
The plant model was built using BIM 360 Glue, a cloud-based solution that can connect the whole project team. BIM 360 Field, an add-on that enables team members to manage field data almost anywhere on the job site, was also used.
"We focused on 3D visualisation using BIM 360 Glue, which allowed our supply chain to interface with the model and add in their specific pieces of equipment," Jones says. "We had a lot of vendors adding in.
"The model was also used for visualisation with Scottish Water and brought a lot of information to the screen – it was really good for design development meetings. Some of our colleagues within Scottish Water probably weren't as used to using construction drawings as our contractor colleagues would be. The beauty of being able to look at a 3D model is you don't necessarily need to be able to read complex 2D drawings."
For Ross Barclay, Argyll Mainland team leader with Scottish Water, the digital approach has brought major benefits.
"In the very beginning, to get buy-in from my operators, ESD could show them how to run it, how to maintain it in the virtual world, which is fantastic," Barclay says. "If we had to remove a piece of pipework for routine maintenance, this would show you how that piece of kit is lifted, moved and operated. For my team, it meant they could visualise things before it was even built."
ESD also used Synchro, a 4D visualisation tool, to aid the project. The software 'automatches' the 3D BIM model to the project schedule – thereby adding time as a fourth dimension – and provides a sequenced visualisation of the build process.
"It allows us to run through a virtual rehearsal of the installation with all the team and vendors and subcontractors and then tweak it to make sure it's right before we do it physically," Jones says. "We can sit down with a client and other stakeholders and run through the video, and it's just like watching TV for them. It means that, come the day the plant goes into operation, everything should run smoothly."
These tools were also useful in helping the Design for Manufacture and Assembly (DfMA) process, which was used for over 80 per cent of the project's MEICA.
"Offsite build was used extensively, and that was one of the benefits from the model," Jones says. "DfMA was a pretty new way of working for the Tullich team – none of us had really worked with offsite manufacture to the scale we did on this job.
"We've found the 3D model very good for working with fundamental things like clash detection, and the benefit of using 4D Synchro as a planning collaboration tool is that, when we come to move some of our quite complex offsite manufacture structures, we know exactly where we need to put equipment, almost on an hourly basis. It makes planning that activity much smoother."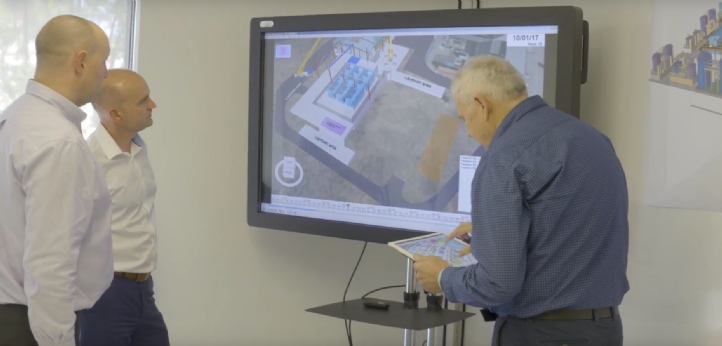 The DfMA strategy meant less plant equipment was required onsite, helping to overcome the challenge of working within a constrained location. They were also able to reuse 90 per cent of the excavated materials from the site.
"That was one of our very early innovations," Jones says. "The treatment works is set 1km to the south of Oban and the nearest batching plant is in the town, and the next batching plant to that is on the other side of the town, and so are the quarries."
Rock excavation was carried out using a Rock Hawg surface miner, which provided 50mm aggregate, cutting the need to transport and dispose of materials.
"One of our efficiency levers is our carbon footprint," Jones says.
Such initiatives helped reduce construction traffic through Oban and, with events having been held to talk through the plans with the local community, there has been little cause for concern among residents.
The new works became operational late last year and Barclay says: "Reaction from the community has been very positive.
"Any customer that we've spoken to has been really delighted about what we're trying to achieve here. They understand we had to build it, and most importantly the water is clearer and fresher. It's all been really positive."
Collaborative digital engineering has undoubtedly played a major part in the project's success, and is set to remain a cornerstone of the team's modus operandi moving forward, with ESD now also making use of technologies such as augmented reality goggles and laser scanners.
"For Tullich, it's helped us coordinate multiple contractors working on a relatively confined site and therefore minimise disruption," Jones says. "Our collaborative approach ensured buy-in from all stakeholders, including our supply chain, and it's without doubt reduced the potential for additional costs and delays."