Technically Speaking: Neutralisation solutions
While caustic soda is widely used in neutralising acidic wastewater streams, advanced liquid lime slurries are now able to offer a compelling alternative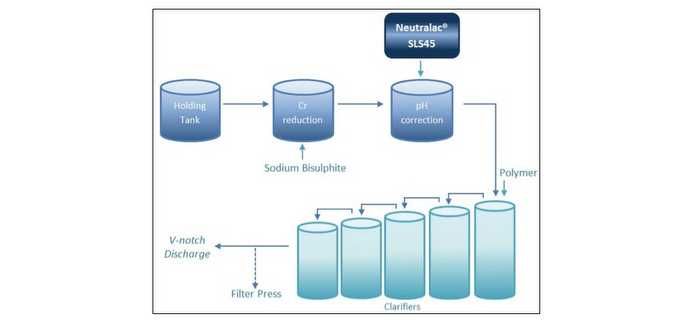 A schematic of liquid lime slurry treatment
by Xavier Mear, Product Manager, Lhoist UK
Restrictions for discharging wastewater into the environment have been tightened all over Europe, and in addition to limiting the release of organic and inorganic substances, pH threshold values are defined within the regulations governing direct and indirect discharge.
The selection of chemicals used for the neutralisation of acidic waste streams is almost as important as the design of the neutralisation system itself. Typically, the considerations span areas of health and safety, storage, specific consumption and ultimately, cost.
But how about performance? Does it do what I need it to do? Can it do it better?
Sodium hydroxide, or caustic soda, is the most widely used alkaline neutralisation reagent, effective for both strong and weak acids. However, it is calcium hydroxide, in the form of liquid lime that offers significant advantages when an effluent stream needs to undergo several process steps before being compliant for site discharge. This is particularly true where the precipitation of metals or fluorides is the aim.
Classic cases of lime separating out from solution, blocking both storage tanks and delivery lines, have meant that some sites have opted for the easier handling of caustic soda, and favouring additional chemicals to complete the treatment.
However, advanced lime products are now available – such as Lhoist's Neutralac SLS45 – that combine the advantages of a fluid reagent such as caustic soda, with the benefits that calcium hydroxide brings.
This liquid lime, multi-functional reagent differs extensively from the common types of lime slurries available and can compete with 50 % caustic soda.
Developed especially for the treatment of wastewater from municipal and industrial processes, Neutralac SLS45 is characterised by a high solid content, but a low viscosity, and can manifest itself as an effective reagent even at those sites that are dosing <15l/hr caustic soda or where previously, consideration of lime would be linked with historic issues of dust and blocked lines.
Neutralisation benefits
The effluent plant represents an important part of the manufacturing process. As a bottle-neck, it can impede manufacturing throughput; operations below par halt it altogether if the treatment is unable to meet the demands of environmental compliance. Indeed, foresight that considers impending tightening of compliance limits, or looking forward to growing manufacturing output but still relying on a treatment plant from yesteryear, can be causes for reconsidering reagents.
Frequently, the wastewater stream is loaded with additional contaminants from the production process that need to be removed prior to discharge.
As a multi-functional reagent, advanced lime slurry precipitates fluorides, sulphates and phosphates from the wastewater. Heavy metal ions in the wastewater are precipitated in the form of very stable hydroxides, whilst the reagent also contributes to the decomplexation of metal compounds. Increases in contaminant removal efficiency translate as moving safely away from upper discharge limits, yielding consistent compliance, as well as offering breathing space on occasions when it is most required.
The use of lime slurry also imparts an enhanced support structure to the generated sludges, facilitating improved separation behaviour from processing equipment when compared to caustic soda.
Economic considerations
Away from the chemistry and the technical benefits, economic advantages need to be considered when assessing a possible switch from caustic soda to an advanced lime slurry.
Due to the complexity of some industrial processes, some of which are proprietary, a rigid cost comparison cannot be implemented. Consider instead a cost/benefit ratio that addresses the most common elements of the plant setup, which then supports the use of lime. The price/performance ratio favours Neutralac SLS45 as it is often cheaper to purchase than standard alkaline agents, and it is not subject to fluctuating, extreme price jumps. This is because it is a specifically produced reagent, and not bound to the manufacture of other products. In addition, as a multi-functional reagent, the utilisation of extra flocculants needs to be taken into account as these tend to decrease in consumption.
Plant Parameters/ Capex
Investment for silos, pipe work and most pumps are near identical for both reagents, facilitating the easy conversion from one reagent to another.
Lime slurries do require agitation, either in the form of a stirrer or a recirculation system, incurring an additional cost. The high solids content of Neutralac SLS45 is however, markedly stabilised, meaning that periodic agitation is sufficient.
Consider the physical properties of caustic soda too. Concentrated caustic soda starts to crystallise once temperatures fall below 5°C and so trace heating and lagging needs to be considered. Lower concentrations of NaOH (<28°C) may alleviate this concern, but part of the NaOH still crystallises, leaving behind a residual solution that is a less concentrated reagent for utilisation.
Fixed costs
Based on working plants elsewhere, it is noted that maintenance and manpower are significantly reduced when moving from NaOH to advanced lime slurry. Sloppy sludge generated from NaOH is replaced by drier filter cakes that are easily removed from filter cloths when using lime. Operators are then able to spend more time on activities that generate revenues, whilst transport costs are minimised as well.
Case study - surface treatment
A Gloucestershire-based surface engineering company specialises in surface finishing operations from plating to blasting. Acid from the manufacturing processes, along with wash water, is transferred to the wastewater treatment plant. Varying in accordance with the production schedule, the average pH is below pH 3.
A Cr reduction step with sodium bisulphite, pH correction with caustic soda to pH 8-8.5, and the addition of a polymer, prepares the waste stream to flow into a series of settling tanks. Solids are left to settle, ultimately destined for a filter press, whilst the liquid waste flows through a V-notch weir where the pH is tested to meet environmental consent levels before final discharge.
The original treatment used caustic soda, and whilst the process was able to treat the waste stream to meet effluent consent limits, a number of areas where identified for improvement.
Fluctuations around the pH set point were to be eradicated giving greater control of pH levels and reagent utilisation. There was also a desire to increase Cr removal efficiencies from the waste stream as a means to future-proof the plant, and to lower the moisture content of the filter cake.
A field trial was set up to validate the Neutralac SLS45 proposal, with Lhoist supplying a stand-alone parallel dosing system for the duration of the trial. A ready-to-go system was selected from Lhoist's range of storage vessels and automatic dosing systems, capable of delivering a wide range of flow rates, from thousands of litres per hour to less than 10l/hr.
The liquid lime reagent showed immediate benefits in the treatment of the acidic waste, with Neutralac SLS45 capable of supplying its high neutralising power to the effluent plant without blocking or settling within the delivery tubing.
The new system reacted quickly and effectively to changing pH levels while improving Cr precipitation and superior solids-liquids separation. This produced a drier filter cake and therefore a more economical solution to its disposal.