Networking skills: MUS helps Leeds to smarten up
Morrison Utility Services has delivered a groundbreaking smart water network project in Leeds on behalf of Yorkshire Water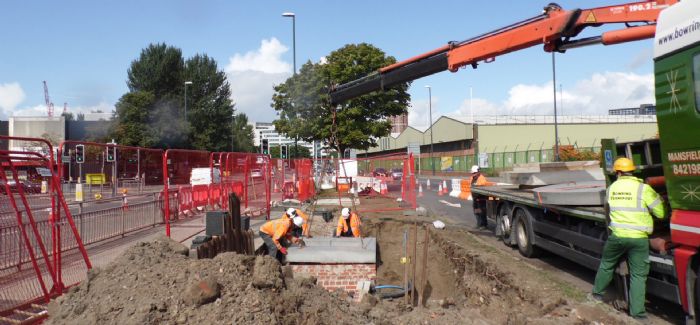 Leeds city centre has witnessed some major changes in recent years, with the opening of major new leisure and retail openings such as Leeds Arena and the Trinity Leeds shopping centre. That has led to an increase in water usage during peak demands, with around 12 million litres of water each day now consumed in the city centre alone, and the result has been an increase in low pressure issues.
Now, a new £1.8 million investment will provide Yorkshire Water with new levels of intelligence and understanding of the city's water pipe network operations and rising water usage.
Completed in September, a project carried out by Morrison Utility Services (MUS) to install new valve technology means Leeds is the first city in Yorkshire to benefit from the development of a smart water network of this type.
The installation of the six smart valves in strategic parts of the city's water network is designed to help control the flow of water and mitigate the risk of unwanted pressure surges that might occasionally lead to burst pipes and unnecessary supply disruptions.
Jayne Blackburn, project manager at Yorkshire Water, says: "One interesting location that these valves are being installed is Woodhouse Lane. The water pipe here provides water to Leeds Arena and, when the arena is being used, the demand for water in this area goes up significantly, and so supply is crucial to ensure events can take place."
MUS design manager Andy Stephenson adds: "Historically, determining which asset had failed in locations with multiple assets in and around the city centre has not always been a straightforward exercise for Yorkshire Water.
"The MUS project team comprised people from our design, operations and commercial teams and this team make-up ensured a value engineering approach to the project, meaning we were always well positioned to take a wider view across the decision-making process, including the selection of construction materials, plant, equipment and processes.
"It also allowed us to identify the most cost-effective solution for each of the six smart valve locations and to support the project's overarching objective to provide Yorkshire Water with vastly improved visibility of water flow and pressure around the city.
"One of the key challenges we faced was the constructability issues at some of the locations initially chosen for the smart valves. Very often, it's only during the construction stage that these constructability issues will emerge. The investigation and design process underlined the importance of a strong collaborative, value-engineering approach to everything from risk analysis through to cost management, design and constructability."
The investigation and design process included extensive analysis of flow patterns and pressures around the city centre and centred on three areas:
1 Schematics analysis: Enabling the design team to assess the existing network and zones set up and review next-stage requirements for site survey and other activities. ArcGIS and AutoCAD software was used to produce maps and displays of geographic information for analysis.
2 Pressure logging the trunk mains: Once analysis of the schematics and GIS data ensured understanding of the existing network layout, graphical data was assessed to identify the discrete pressure logging locations to survey and understand any risk and impact prior to deployment of real-time loggers. The results were used as part of the input of data into the existing hydraulic model to predict calibrated tolerances and to understand the network's daily performance and any issues across the system.
3 Site Investigation: Work was done to establish appropriate pipe sizes, materials and ground conditions for the chosen locations for the new automated valves and chambers. The process informed decision-making around smart network configuration and buildability and provided delivery teams with the information to ensure CDM regulation requirements were met. Ground Penetrating Radar (GPR), a geophysical non-intrusive method that uses radar pulses to image the sub surface of the highway, was also undertaken where appropriate.
MUS construction manager Mike West says: "From a construction viewpoint, one of the most pleasing aspects of the project was the orchestration of the offsite build and subsequent delivery of the pipe and fittings to each smart valve location.
"We were able to propose and review via hazard studies our standard designs of chambers and build the kiosks off-site which resulted in an 'out performance' for Yorkshire Water. The kiosks included all flow control, valve control and telemetry equipment prior to installation, and a 70 tonne crane was used to lift the combined pipe and fittings into some smart valve locations."
A key theme for the project team was the introduction of new ways of using existing solutions for intelligent operation and control. A good example was the deployment of Nephnet Monitors to assess turbidity and to indicate demand increases and potential water quality issues.
Electronically controlled Esmart valve solutions were introduced for the valves' automated opening and closing. The Nephnet technology is to be used differently for these projects as it will be capable of talking with the client's control room and telling the smart valve to open or shut according to demand and risk of discolouration.
As with any large-scale project taking place in a busy city centre, stakeholder engagement was critical, including agreeing access and minimising disruption for local residents and businesses.
Getting the logistics right from day one was essential and the project required detailed engagement and coordination with several high-profile stakeholders, including the major hospitals and universities located in and around Leeds city centre, but a collaborative approach between Yorkshire Water and MUS meant any changes occurred with the full commitment of all parties at an early stage.
"This is an exciting new project for Yorkshire Water and will greatly benefit customers in Leeds and commuters who won't be inconvenienced as much if we have a burst or leak on our network," Yorkshire Water's Blackburn says.
This article originally appeared in the March issue of WET News