National pride of top tappers
Drilling and Tapping teams from America and the Netherlands are gearing up to take part in the World Water Cup in Birmingham next month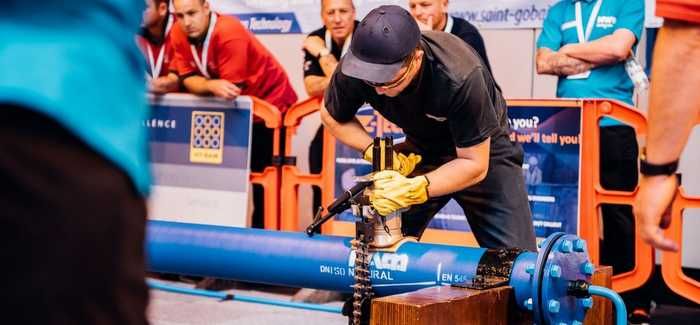 World Water Cup: past winners and times
2016 - Anglian Water 10:10
2015 - Waternet Amsterdam 9:56
2014 - Birmingham, Alabama 10:17
2013 - Birmingham, Alabama 9:46
2012 - Waternet Amsterdam 10:12
2011 - Waternet Amsterdam 9:16
2010 - Waternet Amsterdam 8:35
2009 - Bournemouth & West Hampshire Water 8:45
2008 - Bournemouth & West Hampshire Water 11:09
2007 – Birmingham, Alabama 9:28
2006 - Waterbedrijf Groningen 8:27
2005 - Birmingham, Alabama 8:09
2004 - Northwest Oregon 10:47
2003 - Birmingham, Alabama 9:46
2002 - Birmingham, Alabama 11:45
2001 - Three Valleys Water 14:25
The Drilling and Tapping competition at this year's Utility Week Live exhibition, organised by the Institute of Water, will be extra special as it plays host to visiting international teams taking part in the World Water Cup.
In addition to the UK competition - which sees pairs of competitors drill into a pressurised main and make a successful connection to a service pipe in the quickest time possible – visitors to the exhibition will also get to see champion teams from Europe and North America square off against their counterparts from this country.
SADM Monterrey Mexico – the winners of the American Water Works Association (AWWA) drilling and tapping competition, will be in action along with the Netherlands' Waternet, which won the Dutch equivalent organised by Koninklijk Nederlands Waternetwerk (KNW). Representing the UK will be the team from Anglian Water, who are the reigning world champions after winning the crown in 2016 in Amsterdam.
Founded in 2001 with the intention of showcasing the skills and professionalism of water industry workers in the countries involved, the World Water Cup alternates in venue between the UK, USA and the Netherlands over a three-year period.
Since differing drilling and tapping methods are used in the three regions – including the use of different materials and machines - the competition involves each team performing all three national methods, with the winners being the team that achieves the best aggregate time. The champion teams therefore need to show adaptability and dedication in order to train in all the three methods, and avoid errors (leaks, health and safety breaches or other transgressions being penalised with a 30 second penalty).
Marco Borhem is the leader of the Waternet team from Amsterdam, who will be competing at Utility Week Live with teammates Ben Harmens, Donny Pronk, Hans Vlieger, Dennis Bruin and Jan Kamminga.
He knows what it takes to bring home the cup, having been part of world champion teams in 2010, 2011, 2012 and 2015.
"I first took part in Drilling and Tapping in 1998, and have been in it every year since then, apart from two years when we did not take part," says Borhem. "As well as the challenge of completing the game, it is the friendship between the competitors that makes it really enjoyable."
While the Dutch squad have varying degrees of experience, they all started in the field as water network operatives.
"The most difficult thing with the World Water Cup is that each country has its own system, and you need speed and experience in each of them. Because we have our own jobs, we can't practice as much as we'd like, but we do practice two times a week for two months."
Asked if they were confident of winning, he added: "Of course we are confident – otherwise we would not be here!"
You can watch the Institute of Water's Drilling and Tapping competition (including the World Water Cup) at the Utility Week Live conference and exhibition at the NEC in Birmingham, May 23rd and 24th. Info: www.utilityweeklive.co.uk