Narrowband Internet-of-Things: turning the tide on water leakages
Phil Skipper, head of strategy at Vodafone Business IoT, tells us how narrowband Internet of Things is being used to tackle leaks in water companies' networks.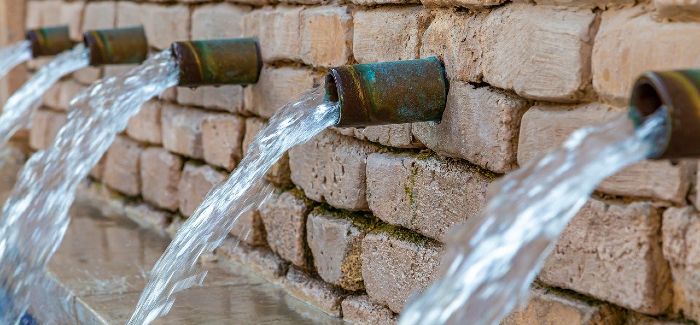 Water is vital for our survival. It is as simple as that. Preserving water, be it clean or in the treatment of waste, is therefore a priority for all water companies and technology is becoming the central aspect of innovation driving this forward.
The leaks that water companies are often susceptible to are costly for the company, their customers, and the environment. Each litre of water has a quantifiable cost to collect, distribute and treat. And any leakage or loss directly impacts the bottom line and the cost to the end customer
That's why it is paramount that potential leaks are identified and acted upon before they become a problem. And this is where narrowband Internet-of-Things (NB-IoT) comes in.
NB-IoT technology is revolutionising how the water industry is able to detect and prevent leaks. And it has the potential to reduce the water taken from the environment, further minimise interruptions to supply and increase the resilience of the service provided to customers.
What's the issue?
With the Environment Agency warning that, within 25 years, England will not have enough water to meet the demand, the topic of water leakage has never been so prevalent. In the UK alone, 3,170 million litres of our water supply is lost to leaks everyday – the equivalent to 1,268 Olympic swimming pools.
In response to this, the Ofwat is now also requiring that all water companies reduce water leakage by 15% by 2025.
Environmentally, water leakages have a significant impact. Not only is there is the manual clean-up to take care of, companies also have to take more water out of the system to supplement any water that is lost.
In addition to all this, water wastage and wastewater pollution incidents come with monetary costs. This does not stop at the large fines that companies receive. Incidents push up prices in response to the increase in water wasted: simply put, the more leakages there are, the more consumers pay.
Clearly, it is vital that companies make more of an effort to reduce water incidents. If consumers are being told to reduce water usage, it is only right that water companies themselves lead by example. Not only will this reduce costs, but it will also lessen the environmental impact that we are having on the world.
The need for change is clear.
How can tech be used to reduce leaks?
NB-IoT is a low power wide area (LPWA) technology developed to enable a wide range of new IoT devices and services.
NB-IoT operates within a very narrow radio frequency band. This means it can provide wider coverage and deeper penetration than traditional wireless networks – even underground or within buildings.
It also operates at low power so that batteries within IoT devices in the field, such as sensors, can last up to ten years. This combination ensures that NB-IoT solutions are more sustainable and less expensive to install and run than current alternatives utilising 4G or fixed line networks. By using existing cellular base stations, new radio access networks are not required. This is what makes NB-IoT much quicker and cheaper to deploy.
These functionalities mean that NB-IoT is an ideal solution for monitoring water pipes for leaks.
With specialist digital water meters, sensors and acoustic loggers on underground mains water pipes, data can be collected and transmitted across the system. Advanced analytics can then be used to monitor readings and alert the company immediately in the event of an accident. Acoustic loggers also 'listen' for escaping water within the network to determine when leaks have occurred and to pinpoint the precise location.
The benefits of NB-IoT for water companies are innumerable. The technology aids in preventative methods, allowing any potential problems to be fixed before they actually go wrong. Advance maintenance reduces any time and energy that is wasted in managing pipes and ensures that the system runs as smoothly as possible.
Vodafone is working with a number of water companies in the UK to include NB-IoT as part of a smart water network. The solution has the potential to completely revolutionise the way the company monitors and responds to leaks, saving the company both time and money.
It is highly likely that this technology will feature heavily in the next round of funding for water companies. Unfortunately, there are still some barriers to adoption. Regulators are putting pressure to reduce water wastage and; by providing water companies with the funding to implement NB-IoT companies will be able to get on right track to preventing leaks.
What next for water leaks?
NB-IoT is relatively new technology and we are already looking to the future of water management and how other solutions can also make an impact in this field.
5G has the potential to transform every industry that it touches, and this will be no different with the water industry.
Greater connectivity will of course improve the accuracy of leak predictions and the surveillance systems will become much more efficient. 5G also has the potential to enable drones to monitor water pipes and connect with technology such as augmented reality is also incredibly exciting.
Engineering safety and lone workers are also set to benefit significantly from the lower latency and speeds that 5G offers. Over the shoulder experts, for example, will become much more of a possibility. This will enable engineers who are no longer able to work out in the field to provide instructions via mobile comms and video, therefore opening up the industry to a much wider talent pool, and greater diversity.
While there is an exciting future for water management, water companies must be focusing on the present to combat the current water leakage problems. By implementing innovative technologies like NB-IoT, companies will not only reduce costs for themselves and their customers, but also ensure a more sustainable future.