MWH Treatment: Building on a legacy
MWH Treatment is celebrating its past as well as looking to the future. WET News caught up with MD Paul Bresnan and engineering director Tom Standring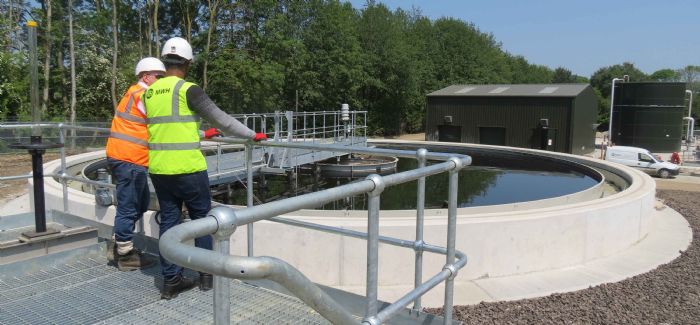 Need to know
• As a result of the acquisition of water construction and engineering firm Biwater in 2010, MWH can trace its origins back to 1820
• Stantec completed the acquisition of MWH Global in May 2016 and signed an agreement to sell its construction division, MWH Constructors, to funds managed by Oaktree Capital Management in October 2018, with the new company using the Slayden and MWH Constructors brands in the US and MWH Treatment in the UK
• MWH Treatment has more than 300 discipline engineers working across civils, process, mechanical, electrical and instrumentation, which are part of the 800 process intelligent professionals and 100 multi-trade, direct workforce and leakage teams
By Robin Hackett
After a recent change of ownership from Stantec, the MWH Treatment brand has returned to the UK water market.
Stantec opted to sell its design-and-build division to maintain focus on its core consulting services business at the end of last year and, for MWH Treatment, resuming its former brand has been a positive process.
"It's been very, very easy to bring the brand back to the market," MWH Treatment managing director Paul Bresnan says. "Returning to MWH has been so well received in the marketplace."
The spell under Stantec lasted a little over two years but, as a design-and-build process contractor dedicated to the water sector, MWH Treatment ends AMP6 as it began.
"Stantec's ownership allowed us to continue to focus on our organisational strategy within core water," Bresnan says. "We were already secured on a number of frameworks so we carried on delivering our work."
Since its re-emergence, MWH Treatment has already enjoyed some success in relation to one of those frameworks: Severn Trent recently announced that the company has secured both a capital delivery design-and-build framework and a capital delivery build-only framework for AMP7, prolonging their 20-year relationship.
MWH Treatment has also been nominated for three 2019 Water Industry Awards in the Contractor of the Year, Design for Manufacture and Assembly Project of the Year and Data Project of the Year categories.
The Contractor of the Year nomination focused on transformation to digital delivery and its 'Digital Delivery Toolbox', which the company is using to re-shape the way it delivers demanding projects.
The toolbox takes four core areas into consideration – digital initiation, digital engineering, digital assembly and digital operation – to see each project from the strategy phase to the asset management phase.
It involves making use of federated 3D models to facilitate effective collaboration and interface management; augmented reality to boost operational engagement and buy-in; and 4D simulations to enable the construction and commissioning works to be rehearsed in the safety of a collaborative meeting room.
At project handover, MWH Treatment can provide the client with an asset-rich, highly detailed model to support operation and maintenance in the context of systems thinking.
"We're really pleased to be shortlisted for the Water Industry Awards," Bresnan says. "We are front and centre of digital delivery at the moment. You hear a lot of talk in the market about digital engineering.
"As an integrated design-and-build contractor, we're about digital delivery – it's not what we could do, it's what we've done, what we've learnt and what we're going to do next.
"It's bringing the digital approach not just to engineering, although that's an important part of it, but also the whole delivery of the project at site through into the operations as well. That's a real area of focus for us at the moment – trying to open up the digital operations. We can't do that on our own but we've got a tremendous amount of coverage across the UK."
The toolbox is playing a valuable role in promoting creative thinking.
"One of the key benefits is the increased level of innovation that just seeing things visually brings," MWH Treatment engineering director Tom Standring says.
"It's like the difference between watching a film and reading a script. Because you're not concentrating on 2D drawings and trying to understand what it looks like, all of a sudden we're seeing levels of innovation from new areas.
"For example, when we're doing digital rehearsals and collaborative planning, we can bring in a crane driver now and listen to and adopt their ideas. Because you see everything visually, you've got more mind space to think about innovation in so many different areas from so many different stakeholders."
Bresnan adds: "We've done some amazing things on our conversion projects where we've used different technology that engages the client operations and lets them see what the assets are going to look like once it's completed. It's a very smart application of technology and it's had some amazing results on some of the projects we've built so far in terms of operator and customer engagement and satisfaction."
The techniques are also being used to drive improvements in health and safety. The 4D simulations provide the basis for the digital rehearsals, which can help to ensure staff, supply chain and clients understand and adhere to plans.
"If you're walking through in the digital world beforehand, you've got a far better chance of picking up the issues that would come up when they get to the physical work," Bresnan says. "That's taken us up to another level on our health and safety performance."
Beyond the benefits the digital approach offers to MWH Treatment and its construction partners, the company has identified the potential to use visualisation technologies with customers.
As part of a recent maintenance project on a major river water supply aqueduct, for example, 3D models were showcased to the local community on a 'BIM Bus' in collaboration with a client.
"That led to additional input on what the walkways needed to look like and for the access to be improved," Standring says. "It was a heavily recreational, trafficked area so allowing the customer the input into the finished product is great.
"Particularly with streetworks, that visualisation is really helping with the customer engagement. Previously the first thing the customer was practically faced with was disruption. Now we can show them the options we reviewed and that what we did was the best way we could do it. Having customers seeing how we've arrived at decisions visually is so powerful."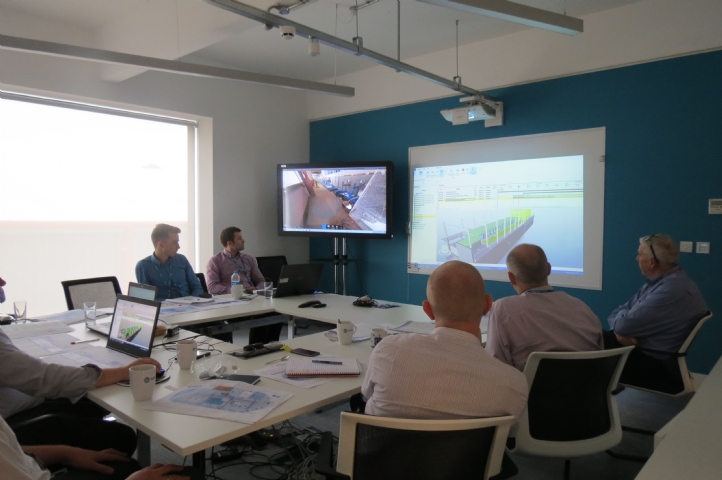 MWH Treatment's Digital Delivery Toolbox has reshaped the way demanding projects are delivered
The digital approach ties in with the growing shift towards greater collaboration across the sector, and Project 13 could take that idea forward significantly.
The Institution of Civil Engineers (ICE) launched Project 13 last year as a blueprint for improving the operating model. An industry-led movement to improve the way high performance infrastructure is delivered, it promotes enterprises characterised by "sophisticated, maturing and typically longer-term relationships between owners, investors, integrators, advisors and suppliers".
MWH Treatment, Mott MacDonald and Stantec are co-hosting an event on Project 13 at ICE on 7 May to raise awareness in the water industry, and Standring says: "We think it could really help the water sector with its constant efficiency challenges.
"It's not one-size-fits-all and that's the point of the conference. There are some real nuggets in there that I think could create some real efficiencies in the sector."
Collaboration is important to MWH Treatment, and the majority of its current framework contracts involve partnerships: the @one Alliance for Anglian Water, Advance for United Utilities, ESD for Scottish Water, CMDP for Southern Water and SMB for Thames Water.
"We worked on the water sector's first ever partnered project in 1999 and the first ever partnered programme in 2003, and it's probably fair to say that we're currently the sector's most partnered company," Bresnan says. "To be able to claim that, you truly do need to be a collaborative organisation at heart.
"We're working with some of the major contractors and having real, mature relationships. Having a real, meaningful collaborative instinct at the centre of your culture is really important."
All five of those partnership contracts contain options to extend through AMP7 and he adds: "At the end of the day, our plan in terms of growth is to retain all our frameworks and to build sustainably through key selective opportunities."
Standring says the company will be looking at opportunities in major capital projects that go to the wider market competitively, such as thermal hydrolysis plants.
"We specialise in higher-end technology and process projects, so that's where we'll grow when competitive opportunities come out, particularly around water treatment, bioresources and technologies involved in reuse schemes," he says.
MWH has history dating back to 1820 and, while the company is making plans to celebrate next year's double centenary with its clients and suppliers, the focus remains on ensuring it is primed for the future.
"We are a truly integrated design-and-build process contractor and there are not many of them around," Bresnan says. "That's something that sees us being at the heart of many of the frameworks in the UK water industry.
"It's worth saying that the reason we've been around 200 years is because, working in one industry, you're continually looking at the sector's challenges and changing the shape of your company offering so that we continue to add value to clients, customers and the industry as a whole."