Multi-faceted scheme defends Banbury
A new flood storage system in Banbury has influenced other schemes outside the town, says Black & Veatch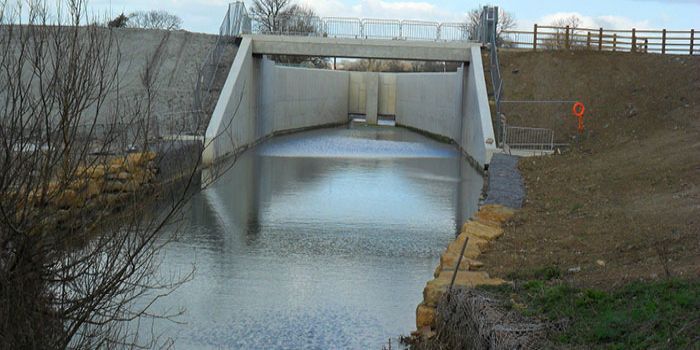 Double-baffle orifices scaled up for reservoir use provide resilient scheme
The people of Banbury in Oxfordshire can appreciate rain without a flood of bad memories now that a new storage reservoir and other flood defences have been built to protect them. The geography and geology of the valley along the river that runs through Banbury made the community particularly susceptible to flooding during heavy rains.
The Environment Agency engaged engineering consultancy Black & Veatch (B&V) as designer and site supervisor to provide study and design services for the Banbury flood alleviation scheme (FAS). The multifaceted scheme comprises five major elements, designed to comprehensively and considerably lower Banbury's chances of flooding in the future:
Flood storage reservoir upstream of Banbury
Road raising
Localised storage defences downstream of the reservoir
Pumping station at Moorfield Brook
Creation of Biodiversity Action Plan habitat
In designing the new flood storage system, B&V developed a unique approach to controlling outflows, taking a solution used on small-scale irrigation channels and radically increasing its size for application to the reservoir. The company says the successful double-baffle orifices require no operational input, are excellent value and provide a high degree of resilience. Although similar devices have been used for flow control in irrigation schemes for many years, their selection and development for the Banbury scheme was a unique approach. Presentation of the concept at a conference in June 2004 led to more rapidly implemented application in other schemes, benefitting flood control efforts both in and outside Banbury.
Construction of the Banbury FAS was completed in the summer 2012. With only a one in 200 chance of flooding in any single year, B&V says Banbury residents can breathe a collective sigh of relief and look forward to a great new beginning