Moorland project delivers multiple benefits
South West Water's Upstream Thinking programme is highlighted in Defra's Water White Paper. The utility€™ future quality obligations manager, Lewis Jones explains why it is such an important scheme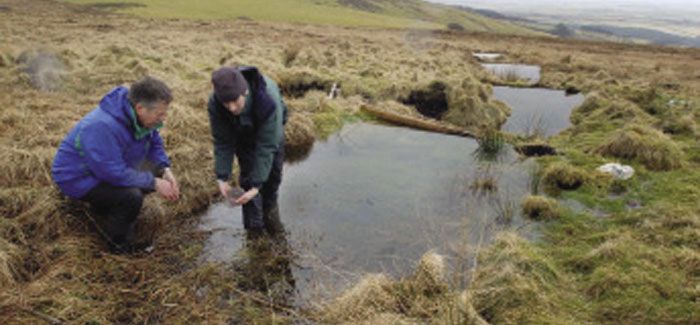 As the water industry prepares for the next price review, all eyes are on catchment management and whether it can provide a sustainable, long-term, intervention option for water companies to address water quality changes. South West Water (SWW) and Westcountry Rivers Trust believe they have the answer – and proof – that catchment management can do just that.
The utility company and environmental charity have been working together since the last price review on SWW's pioneering Upstream Thinking catchment management programme, together with local wildlife trusts and national park authorities.
Martin Ross, SWW's environmental manager, explains: "Upstream Thinking is a new approach to improving raw water resources, which has the potential to transform the way water companies operate. This flagship programme of environmental improvements aims to improve water quality and quantity across entire catchments in order to reduce water treatment costs.
"The aim of Upstream Thinking is to improve water quality and manage the quantity of water at source, long before it reaches water treatment works, by improved land management. At present it is necessary to use water treatment processes which are naturally expensive in terms of energy and chemicals to tackle the water quality challenges that arise from uncontrolled pollution points affecting our rivers and reservoirs.
"Improving land management reduces the loss of nutrients and pesticides in fertilisers and top soil. In turn this reduces the amount of resources needed to produce drinking water. Fewer resources in terms of chemicals, energy and emissions reduce detrimental environmental impact, and have the potential to avoid bill increases in the longer term. This could delay or even avoid expensive upgrading of water treatment works in the future."
Cost-effective
Ross is convinced that Upstream Thinking will provide long-term economic and environmental sustainability and SWW has committed £9.1M to the project between 2010 and 2015. It is very cost-effective with a potential 65:1 payback ratio over 30 years if Upstream Thinking delays or even avoids capital expenditure for building and operating traditional treatment works.
The project is supported by several key partners who are providing expertise and matched funding. This partnership approach is at the heart of the Upstream Thinking ethos. Local environmental charities are delivering the initiative by negotiating voluntary agreements and capital grants with landowners, on third party land, to produce a benefit that takes a huge step towards a sustainable future.
"There are two programmes which make up Upstream Thinking, namely, moorland restoration and improvements to farmed land,"
adds Ross. "The project has huge environmental, social and economic benefits. It is improving the capacity for the charity and voluntary sector and maximising engagement with landowners by working in partnership with other organisations such as the local Wildlife and Rivers Trusts.
"It also has wide reaching, positive impacts on the environment by increasing biodiversity and improving raw water quality, reducing energy use, improving carbon sequestration and reducing the risk of flood and drought. Upstream Thinking brings benefits which extend far beyond regulatory compliance, and we acknowledge the support of Ofwat and quality regulators in approving our plans. It is a cost-effective and environmental approach to tackling long-term problems facing the water industry and for relatively small amounts of expenditure, the scheme has the potential to reduce water treatment costs, reduce energy consumption and support our company vision and values – Pure Water, Pure Service & Pure Environment."
Since privatisation the water industry has responded to all the challenges faced in terms of water quality and our combined record over successive AMPs is evident. Issues such as nitrates, traditional pesticides, cryptosporidium, lead, blue-green algae, trihalomethanes (THMs) – and now endocrine disrupting chemicals (EDCs), metaldehyde and other emerging compounds have all been addressed.
But in meeting these challenges companies have had to apply new technology and add more processes and chemicals, which are consuming more energy and increasing carbon emissions.
"Faced with wider global warming effects and rising energy and resource costs, a more sustainable approach is needed to make absolute compliance more affordable," Ross concludes. "The PR09 Upstream Thinking programme is being developed further in PR14 preparations for wider objectives and customer benefits."
Westcountry Rivers Trust director Dylan Bright is certain that catchment management offers a sustainable way forward.
"The farm infrastructure we are installing and the changes in management to which the farmers are committing have well understood benefits for water quality," he says. "The benefits have been examined scientifically and evaluated.
"Removing stock access from a river can instantaneously reduce faecal indicator organism concentrations by 80% and increase invertebrate diversity and fish abundance and biomass by 500% within a few years. Scientists can also use mathematical models to extrapolate the effects of changes in land management and farm infrastructure to robustly predict changes in annual loads of pollutant exported from entire catchments."
Phosphate control
The graphs in Figure 1 show a calculated (from a range of published data) probability distribution of phosphate export against a colour-coded background, which matches the classification used in the UK implementation of the EU Water Framework Directive (WFD): blue represents 'high ecological status'; green represents 'good ecological status', yellow is 'moderate ecological status' orange is 'poor ecological status' and red is 'fail'.
It is demonstrated that a Tamar River sub-catchment under 'business as usual', (Scenario 1) has a probable phosphorous export volume corresponding to moderate/poor ecological status. In Scenario 2, the same model is used to predict the export of phosphate under a land management regime where the farms in the sub-catchment are managed according to the best-farming-practice measures proposed by Westcountry Rivers Trust advisers. Measures include maintaining five months of slurry storage and not ploughing on risky soils and slopes. Within the project farmers commit to delivering these activities for 25 years by signing a covenant that is linked to the title deed of the farm in return for a grant to support around 50% of the initial investment required. Under Scenario 2 the probable water quality in the sub-catchment will improve to 'good ecological status' for phosphate.
This approach can be used for many other pollutants including nitrate, faecal indicator organisms and sediment. Moreover, the model has a user-friendly interface which allows advisers to work with farmers to optimise the farming changes in the sub-catchment to minimise pollution though scenario testing.