Microplastics: Plastics, plastics everywhere
There is growing evidence that microplastics passed on through our wastewater have become widespread in aquatic environments, and even in the human food chain. How is the water industry seeking to address the issue?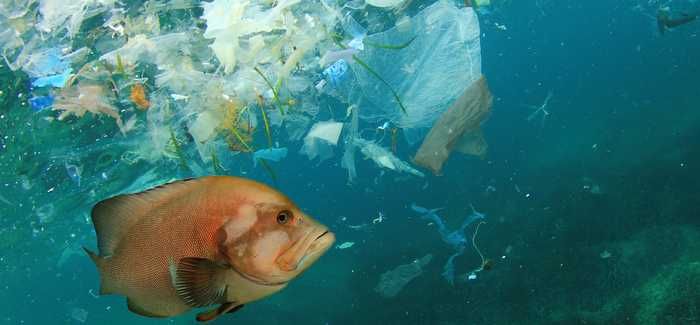 Plastic pollution in oceans has been a high profile topic in recent times
Microplastics in focus
- Every year, between eight and twelve million tonnes of plastic are thought to be entering the world's oceans, and around four million tonnes of it passes along rivers. In some cases, there can be over half a million plastic fragments per square metre of river bed
- Research led by Cardiff University's School of Biosciences (September 2018) found that 50 per cent of freshwater insects tested in South Wales had microplastic inside them
- A University of Manchester study in March 2018 not only found high concentrations of microplastic in UK rivers, but also found that these levels reduced by 70% after a flooding incident, illustrating how the plastic was washed by heavy rain into the sea
- The World Health Organisation (WHO) announced a review into the potential risks of plastic in bottled water in March 2018 after an analysis of popular brands found that more than 90% contained microplastic
- UKWIR's research project into the issue: Sink to River – River to Tap: A review of Potential Risks from Nano-particles and Microplastics, began in April 2018 as part of its 2018/19 research programme. UKWIR has made the removal of harmful plastics from water one of its 12 'big questions' for research in the industry.
by James Brockett
Plastic pollution is very much an issue of the moment. Images of sea life struggling through a floating morass of man-made material, as brought to the UK's TV screens by the BBC's Blue Planet last year, have done much to highlight the damage that plastics can cause in aquatic and marine environments. With synthetic polymers in plastics taking decades or even centuries to degrade, there is a clear concern that permanent damage might be being done to oceans and aquatic life, some of which could rebound on humans via the food chain.
A particular focus for the water and wastewater sector is on microplastics – defined as pieces of plastic with a diameter of less than 5mm. Ranging from microscopic fibres to clearly visible beads and fragments, these smaller pieces of plastic have the potential to pass through wastewater treatment processes, are usually buoyant in water and can easily be ingested by many organisms, including fish and others which might later be eaten by people.
While the jury is out on just how much microplastics harm the invertebrates and vertebrates that swallow them – the extent to which chemicals are absorbed into tissues, as well as the possibility of the plastic physically blocking up their systems – it's clearly desirable that we understand where microplastic pollution is coming from, and can prevent it from entering the environment where possible. So how much do we know about the sources of microplastics, and what can the water and wastewater sector do to help address the issue?
Sources of microplastics
Mention microplastics to the average member of the public and they will tend to think of tiny plastic pellets that have been intentionally added to products – such as microbeads in cosmetics, which were the subject of a UK ban which came into force in January 2018. However, there are other categories that contribute much more significantly to the total load of microplastic - including thin plastic fibres that detach from synthetic clothing during washing, and plastic flakes that are created when larger items of plastic packaging waste break down.
Plastic-based items being flushed down the toilet - such as wet wipes and plastic-stemmed cotton buds and sanitary products - can contribute to the problem, as can industrial discharges to sewers, and even tyre fragments and road paint from roads when there is surface water run-off to combined sewers.
One revealing study from the University of Leeds, published in June 2018, analysed the microplastic concentrations found in 28 river water samples across six field sites in Northern England, upstream and downstream of wastewater treatment plants. It categorised the types of microplastics found into pellets/beads, fibres and fragments/flakes. Fragments and fibres made up nearly 90 per cent of the microplastic found in the river samples. 
"By categorising the types of microplastics, we can identify what aspects of our lifestyle are contributing to river pollution," said Dr Paul Kay of the School of Geography at Leeds, author of the research. "Not that long ago microbeads in toiletries and cosmetics were the microplastics getting all the public attention. Seeing the amount of plastic microfibres from clothing and textiles polluting our rivers, we need to think seriously about the role of our synthetic fabrics in long-term environmental harm."
Domestic and commercial wastewater is certainly a major route for microplastics entering the environment – but by no means the exclusive one. When comparing the samples upstream of the wastewater treatment plants with those downstream, the Leeds study found that all of the plants were linked to an increase in microplastics in the rivers – on average up to three times higher, but in one instance by a factor of 69.  
"Finding key entry points of microplastics, such as wastewater treatment plants, can provide focus points to combating their distribution," said Dr Kay. "However, pervasive microplastics were also found in our upstream water samples. So while strengthening environmental procedures at treatment plants could be a big step in halting their spread, we cannot ignore the other ways microplastics are getting into our rivers."
Microfibres and source control
Environmental charity Hubbub recently launched a campaign to raise awareness of the plastic microfibres that are shed into wastewater when clothes made from materials such as nylon, acrylic or polyester are washed.
According to the charity, half a million tonnes of plastic microfibres a year are now ending up as pollution in the ocean – 16 times more than the plastic microbeads from cosmetics.
It believes that over a third (35 per cent) of primary microplastics entering oceans are released through the washing of textiles, and microfibres are more likely than other types of microplastic to absorb toxic chemicals, which may be injurious to health.
Many people's preference would be to tackle this issue at source, as has happened with the microbeads ban. But it is not realistic to ban synthetic clothing, which accounts for around 60 per cent of clothes produced globally, and measures that manufacturers could take to reduce the shedding of microfibres, such as making clothes with less blended material and tighter yarns, are also seen by many as prohibitively expensive.
Engaging the public to change their washing practices – fewer microfibres are shed when clothes are washed at low temperatures, in a full washing machine and with no tumble drying – is one approach that could help, while it has also been proposed that improving filter technology in washing machines is a solution that should be explored.
Treatment possibilities
So is it possible for the wastewater industry to up its game on treatment to remove microplastics, and microfibres in particular?
It's estimated that wastewater treatment plants remove something between 65 per cent and 95 per cent of microfibres. One reason for this wide range of performance estimation is that there is a lack of consensus on how to measure the amount of microplastic before and after treatment, explains Jennifer Hughes, Chemical Investigation Analyst at Thames Water.
"Research has been undertaken in the UK and further afield to understand the effectiveness of different treatment technologies at removing microplastics, with the results showing varying amounts of removal," says Hughes. "This is partly due to a lack of standardised methodology for sampling, analysis and quantification of the amount of microplastics present. It also reflects the differences in waste water treatment processes at different sewage works and the varying influent concentrations."
To help address this, Thames is one of the water companies participating in UKWIR's 'Sink to River – River to Tap' research. Using a sampling and analysis methodology developed by the centre for Ecology & Hydrology (CEH), this project will help the industry understand better how much microplastic is present in its wastewater treatment works and its sludge. It will work out how best to quantify the amounts (either volume, mass or some other unit) which will enable a direct comparison of sewage works.
The Environment Agency, Defra and the Drinking Water Inspectorate are all involved in the UKWIR project, and Hughes says that if the amounts being discharged to watercourses are shown to be of detriment to the environment, then water companies will work with the regulators to understand the best method for reduction.
"We would favour interventions at source rather than end of pipe solutions, as source control is likely to be less carbon and energy intensive and therefore the more sustainable option," she adds.
Evidence gathering on microplastics is likely to play a part in the yet-to-be-scoped CIP3 (Chemical Investigations Programme 3) over the next five-year regulatory period, and any control measures or investment needs springing from it would not come into force until AMP8 (2025-30).
Research needed on health risks
Last year saw two pieces of research, widely reported in the media, which raised question marks over microplastics and human health. A study released in October from the University of Vienna confirmed for the first time that microplastics have found their way into human bodies, with the eye-catching finding that 20 pieces of microplastic can be found in every 10g of faeces. A March 2018 study by the State University of New York in Fredonia found that of 259 bottled water tested, all but 17 contained microplastics, and one brand contained 10,000 pieces in a litre of water.
These studies not only highlight the need for more research into microplastics and human health, but highlight the wide range of definition of a microplastic. While we can all agree that neither aquatic animals nor humans ought to be swallowing 5mm pieces of plastic, the smallest microplastics detected are a million times smaller in size (0.005µm) and the effects - if any – of ingesting such materials are almost completely unknown.
Matt Hill, Environmental Lead Advisor at Yorkshire Water, says that the evidence is clear that microplastics are "ubiquitous" in the environment, but the evidence that they are causing damage is not compelling yet.
"Generally, we're at a very early stage in understanding the risk microplastics pose to health and the environment," says Hill. "We use the term microplastics to talk about a diverse group of over a hundred different chemical compounds. Each of these may have a different impact, and the impact may vary according to the microplastics' size and shape. Decades ago the general public was alarmed about 'heavy metals', without an understanding of the different toxicities of, for example chromium III and chromium VI.
"I believe we are currently at that stage with microplastics; new technology has allowed identification of them in all parts of the environment, including biota and humans. The research being carried out by water companies and many other organisations will help determine the impact of these ubiquitous particles."
-This article appears in the February 2019 issue of WWT magazine.