Digging Deeper: Meeting the utilities skills gap challenge
How can the water industry make sure it attracts and retains the skilled individuals it needs to replace retirees in a rapidly changing industry? Here, Conrad Ashby, Framework Director at Thames Water contractor Lanes Group, looks at how to step up to the workforce challenge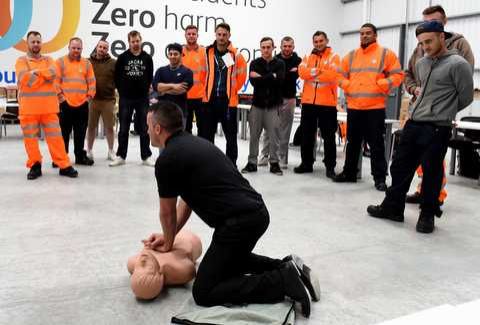 Lanes Group staff receiving first aid training
Case studies
Age no barrier for Casey's career success
Casey May is the youngest ever regional manager appointed by Lanes Group as he proved himself ready for fast-track promotion.
He joined Lanes' Thames Water operation as a driver's assistant in August 2012, aged 22, and has been promoted five times since.
Casey is now in charge of a team of more than 120 full time equivalent colleagues in the Central North operational region, covering North London, Hertfordshire, Buckinghamshire and Essex.
Along the way, he led Lanes' main sewer maintenance team, completing more than 100 major sewer walks to carry out survey and maintenance work, including tackling some of the capital's largest fatbergs.
He now acts as a strong advocate and champion for others who want to build a career in water utilities: "This is a job where attitude counts for a lot. If you're willing to learn, have good judgement and care about the customer you can go far."
No mystery about job satisfaction for Annie
Drainage engineer Annie Trafford says she likes solving hidden puzzles and making customers happy.
The former painter and decorator has worked for Lanes Group's Thames Water team for six months, and is now keen to build a career at the company.
Annie, 23, from Wolvercote, Oxford, is based at the Thames Valley depot in Kidlington, Oxfordshire.
She says: "Everyone is very supportive and welcoming. I get everything I need to work alongside men, and I'm treated as one of the team.
"Drainage is a bit like solving an underground puzzle. You have to work out what's wrong and the best way to fix it.
"The customer often really appreciates what you've achieved for them, which is a great buzz."
Annie has family members who already work for Lanes. At her suggestion, a female friend has now started working for Lanes in the same role.
Lanes has built a 'refer a friend' recruitment pathway by rewarding staff who recommend people to join the company.
by Conrad Ashby, Framework Director, Thames Water WNS Contract, Lanes Group
The water utilities industry is facing major challenges in the recruitment and retention of the skilled and committed personnel it needs to continue to deliver the best services to customers.
As Thames Waters' sole waste water network services maintenance partner, we're feeling the force of that challenge here in the south east.
In my view, it's more about embracing the challenge, than feeling daunted.
We're having to be smarter in the way we recruit, and in terms of retention. It can only be positive that we're doing more to develop the excellent colleagues we already have.
The recruitment challenge comes as we're also working with Thames Water to make our services ever more customer-focussed. So, we want to be imaginative and forward thinking about how we train and engage our workforce to provide more than just a transactional service.
Skills shortages have been a concern in the utility sector for some time. The Energy and Efficiency Partnership, set up in 2014, is a collaboration between Government and utilities, including Thames Water, to promote skills development.
It says half of the current employees will leave the UK utility sector by 2023, resulting in the need for 200,000 new recruits to bolster an already ageing workforce.
We are committed to a resulting Skills Accord that sets annual targets for apprenticeships, employer-sponsored learning and/or graduate programmes.
Our jobs market, the south east of England, is particularly competitive. We have to be honest and think, why should someone choose to work in wastewater, when they can work for a high-profile global company in the centre of London?
At the same time, the recruitment well for key skills is running dry. HGV drivers, in particular, are in short supply. Other employers can offer premium rates for less physical jobs.
Seasonal spikes in demand, for example in the run-up to Christmas, make HGV recruitment and retention even harder. The churn for HGV drivers in this period can be eye-watering.
A positive offering
So, what are we doing to address these challenges? The first thing is to be positive about what we have to offer.
The wastewater industry is changing rapidly. New, safer ways of working, and advanced technology, such as recycler jetting and vacumation tankers, means it's not the wholly dirty, smelly job the jobs market thinks it is. We need to get that point across at every opportunity.
We have impressive, ultra-modern equipment that makes our work more interesting to many, and easier, cleaner, safer and less arduous.
We use the latest digital technology to plan, schedule and report the 1,000 jobs we complete each day for Thames Water. It's the kind of technology younger recruits, especially, pick up easily, and like to use.
Our pay rates might not be the highest, but they are competitive. We can also offer employees a role that is meaningful.
Many of our colleagues get a real kick out of helping customers overcome what can be quite distressing drainage blockages or sewage floods. Our youngest recruits, Generation Z as they're called, are known for wanting to make a difference in society. They can certainly make a big practical difference every day working with us.
Our workforce development strategy is built upon this positive view of what the wastewater utilities sector has to offer.
The first goal is to create a great place to work. It's one reason why our field teams have the best equipment and personal kit. This year, we opened our new operational HQ, our Customer Solutions Centre, in Slough.
One of the primary objectives was to create a first class working environment with high quality office space, rest areas and amenities. We want to challenge preconceptions about what it's like to work for a utilities company.
We have a wellbeing programme – supporting our teams' health and work-life balance. We are also seeking to involve our workforce more, for instance by using the workplace social media platform, Yammer.
Over time, this will contribute to our aim of positioning ourselves as an employer of choice.
Skills training to the fore
We are increasingly growing our own talent, through skills training. This ensures our teams can do their jobs. It also helps attract talented and ambitious recruits.
Having a strong internal training team allows us to widen our recruitment pool. The priority now is often not technical competence, but attitude to customer service. For example, one of our operational leads had been a chef.
We're also looking to recruit more women into what were once seen as male roles. A growing number of our drainage engineers are women, bringing new skills and insights.
Internal career flexibility and development is also vital for retention and succession planning. We're trying to spot talent early, and fast-track promotion where it is appropriate, and wanted by the employee.
It's a reason why one of our female work administrators is now a field manager.
We've also just introduced a scheme to sponsor 60 colleagues to gain their HGV licences – an investment of £2,000 per person – to address the recruitment pressures already described.
Our training and operational manuals are designed to be understood by employees for whom English is not their first language, and we support colleagues as they get their language skills up to speed.
Current priorities for our new HR advisor Jill Bowers include enhancing our approach to staff retention. We're putting in place better monitoring, so we understand why colleagues leave, and can address those issues.
Pay will continue to be a central issue. But we are looking at other incentives, possibly a mix-and-match programme of benefits, including extra holiday, greater work flexibility, retail vouchers and career development opportunities.
We're also looking at creative ways to get ourselves in front of potential recruits, and to actively promote our work in the communities we serve. A staff refer-a-friend programme is one new recruitment route.
We have to take a long-term approach. There are no quick fixes. We need to persuade potential employees from a young age, at schools and colleges, that the water industry is an exciting and rewarding careers choice, in its fullest sense.