Mayflower Treatment Works: Setting Sail for New Waters
South West Water's new £60M Mayflower Water Treatment Works in Plymouth is pioneering a treatment process which will take UK surface water treatment into a new world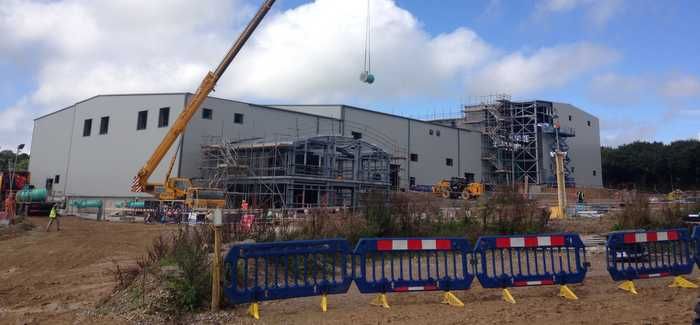 Mayflower WTW near Plymouth is named after the 17th century pioneer ship
Treatment Process: 5 Stages
The treatment process being put in at South West Water's new Mayflower Treatment works is less chemical and energy intensive than traditional surface water treatment methods, requires a smaller physical footprint, and is also around five times faster. Developed by Dutch company PWN Technologies, it consists of five stages:
1. Suspended Ion Exchange. After screening, ion exchange resin is added to the water and mixed with air as the water flows through a number of tanks. Natural organic matter and nutrients like nitrates transfer from the water to the resin. After contacting time the resin is removed, regenerated with a salty solution and put back into the process.
2. Inline Coagulation. Coagulant chemicals are injected into the water, in the same way as in conventional treatment; however, because of the ion exchange and membrane stages either side, much less coagulant is required and this stage of the process takes minutes rather than hours.
3. Ceramic Membrane Filtration. The water is filtered by CeraMac, a system containing 900 ceramic membranes contained in ten vessels. The membranes have tiny pores that are less than 1/10,000th of a millimetre in diameter, and catch almost all particles including bacteria and harmful organisms such as cryptosporidium.
4. Granular Activated Carbon (GAC) Filtration. The water then passes through deep beds of granular activated carbon, a more familiar treatment process to most in the UK. The grains of carbon each have a huge surface area which traps any organic molecules left over from the earlier stages.
5. Ultraviolet (UV) disinfection. The water is subjected to ultraviolet light, a modern form of disinfection. With the powerful early stages of the treatment process, reduced disinfection is required. A small amount of chlorine is then added to protect the water in the pipe network, and lime and CO2 are used to adjust the pH and hardness of the water to make its taste more appealing.
by James Brockett, Editor, WWT
South West Water is progressing well with its £60M project to build a new water treatment works to serve Plymouth, making use of an innovative treatment process which is being used for the first time at scale in the UK.
Mayflower Water Treatment Works, which is under construction at a site near Roborough, north of the city, will replace the existing Crownhill WTW, which dates from the 1950s and has reached the end of its natural life. The biggest project in South West Water's 2015-20 business plan, the 90Ml/day works will supply up to 250,000 people with drinking water when it comes into operation in late 2018.
The works will use an innovative combination of treatment processes supplied by Dutch water company PWN Technologies, consisting of suspended ion exchange, inline coagulation and ceramic membrane filtration, followed by UV disinfection.
The process was tested in a pilot plant using water from the three local sources – Burrator Reservoir, the River Tamar, and the River Tavy - from April 2013 until June 2015, which confirmed that the new technology could successfully treat these raw water sources and produce high quality drinking water while minimising environmental impact. The process is a radical departure from traditional methods of treating surface water, and has already attracted interest from other UK water companies, as well as being set for further deployment by South West Water.
Outside of the treatment process, the construction work involved in the project includes around 7km of water mains pipeline – to connect the new site with the existing distribution network leading from Crownhill - and an additional 2km of on-site pipework.
A hydroelectric turbine on part of the raw water pipeline, together with solar PV panels at the works, will help generate energy to reduce the running costs of the new works.
The project is being delivered by South West Water's H5O engineering delivery alliance, with partners including Arcadis as the main design contractor, Pell Frischmann as consulting engineers, Balfour Beatty as the main construction contractor, and Nomenca and Kier Services as MEICA sub-contractors.
The treatment works has been named Mayflower WTW as a tribute to the forthcoming 400th anniversary of the voyage of the settler ship The Mayflower, which started from Plymouth in 1620.
Water Company View: Bob Taylor, Operations Director, Drinking Water, South West Water
"As a business, we are more than 80% reliant on surface water sources. Waters draining from the moorlands, and upland catchments with agriculture and forestry, tend to be quite highly coloured, and can have high levels of dissolved organics and cryptosporidium risk.
"This site is no exception. It takes its water from three sources, the River Tamar, the River Tavy and the Burrator Reservoir, and the water quality can vary quite widely with weather conditions. In times of high rainfall, there can be significant turbidity and discolouration. So we wanted a treatment process that would be able to cope, in a robust way, with a whole range of circumstances. In particular, we wanted to be more secure and robust in the way we dealt with cryptosporidium. And we also needed the plant to be 'future proof' to some extent, because these are not 10 or 20-year investments, they need to last for 60 years plus. So that's quite a challenging process to design, given the nature and variability of the water sources, and our desire to maintain our position as one of the best companies for water quality in the UK.
"We established a relationship with a Dutch water company called PWN, which has a substantial R&D function, including facilities to test new processes. It was through that relationship, and our involvement in an EU-funded research project which was looking at innovation in drinking water treatment, that we came across this process.
"It is entirely different to the conventional surface water treatment process used around the world, which consists of coagulation, followed by rapid gravity filtration, sometimes GAC filtration, and then disinfection.
"In this case, we start with a process called SIX – suspended ion exchange – and then we have inline coagulation. It is inline coagulation, because rather than being a whole treatment stage, it is literally just an injection of chemicals ahead of the membrane process, so the chemical consumption will be very much lower.
"That leads on to ceramic membrane filtration, which is what people often refer to as the barrier within the treatment process. The membrane pore size is something like one ten thousandth of a millimetre, so it can remove virtually everything including bacteria, cryptosporidium, giardia, many harmful organisms are removed at that stage. So that means that the work that the disinfection stage has to do is significantly reduced.
"At the back end, we have more conventional GAC filtration, and then UV disinfection. Most surface water treatment works in the UK are not using UV - they are using chlorine-based disinfection - but we are using UV as the main disinfectant, with a small dose of chlorine at the end of the process just to present a residual in the distribution network.
"So this is a substantially new process, and I think it will represent a quantum change in terms of innovation in surface water treatment, which hasn't changed all that much in many years."
The Site
With South West Water's Crownhill WTW reaching the end of its life, and operational and maintenance costs increasing year on year, the utility faced the choice between rebuilding or upgrading the existing site, or building an entirely new treatment works on a different site. One of main reasons for opting for the latter was the extent of development that has taken place in the area since Crownhill was built in the early 1950s.
Much of this urban expansion has been on the higher ground to the north and east of the treatment works; this meant that around 14,500 properties (40,000 population) could only be served by pumping water up from Crownhill to Belliver service reservoir, on the hilltop. Siting the new works on the hilltop at Roborough will enable water to gravitate to a wider area, reducing costs and lowering South West Water's carbon footprint.
The land at Roborough was already owned by the utility: part of it was bought by the then Plymouth Corporation in 1898, and was the site of an early treatment works before Crownhill was built. More was bought in 1991 in order to accommodate the service reservoir, which will be decommissioned once Mayflower WTW is operational. It was envisaged even at that stage that the site would be ideal for a future treatment works, and outline planning permission for such a works was granted by the local authority in 1991.
While pumping will be required for raw water to reach the 97,852 square metre (24.18 acre) Roborough site, this is partially offset by the two new renewable energy generating features of the project, a hydro-electric turbine and solar PV panels.
In the longer term, there is potential for the new works to link to South West Water's three other strategic supply areas (Colliford, Roadford and Wimbleball) boosting overall system resilience.
The 800mm-diameter plastic pipeline between Roborough and Crownhill is being fitted inside the sleeve of an existing raw water pipeline which has been taken out of use, making the construction process simpler and reducing disruption.
Before construction could start, great care had to be taken over the environmental profile of the site. An environmental survey was carried out on the site by EADN Ecology. Badgers, bats and snakes had made their home on the land and needed to be carefully relocated to alternative habitats and fences erected to keep them off the project site.
-South West Water's Chris Rockey will be speaking about Mayflower WTW at WWT's Drinking Water Quality conference on Nov 2nd. For details of how to attend see: events.wwtonline.co.uk/drinking
Engineer's View: Graham Murphy, Director of Engineering, South West Water
"This technology is a first for the UK, so there's an awful lot of interest from the supply chain and the water industry across the UK. I think it's a site that we will be proud of for many years. Ceramic membranes have got an almost infinite asset life – they've been operating in Japan without replacement for in excess of 20 years - which is quite unusual relative to other processes. We are building something here that will be very sustainable and should require minimum maintenance in the future.
"We've worked really hard to develop a good collaborative, co-operative relationship between all the project partners. With technology that is new to us, it's been a steep learning curve, and I'm really pleased with the relationship and the effectiveness of the arrangements. Beyond the key partners, there are a number of other smaller suppliers in the region who've all contributed, coming together to make this a success.
"We're delivering this project for around 33% less, in terms of capital cost, than the industry norm. To achieve that, it's required the best people with the right design, getting people to work together closely and sticking closely to the programme."
Contractor View: Ken Nicholl, Contract Director, Balfour Beatty, H5O Alliance
"We are delighted to be delivering the Mayflower WTW Project as principal contractor through the H50 Alliance. Since works started in 2015, we have coordinated the building works with the installation of the process equipment, a challenge given the size of the equipment requiring installation in part-completed buildings. We strive for a lean and safe approach to project delivery, with bulk earthworks undertaken using GPS controlled excavators, removing the need for vehicle marshals and banksmen during this period of high vehicle movements. In addition to using innovative technology, we are also committed to recycling material excavated from site as backfill and landscaping bunds, decreasing the project's environmental impact."
Construction in figures
Since construction began last year, the Mayflower WTW project team have:
• Laid 10,200 cubic metres of concrete – enough to fill 133 shipping containers
• Fixed 1,420 tonnes of steel – the weight of 1,168 Mini Cooper cars
• Moved 110,000 tonnes of earth – the equivalent of 610 blue whales
• Imported 23,000 tonnes of aggregates – more than three Eiffel Towers
• Laid 8,900 metres of new pipeline – as long as 121 A380 airbuses nose to tail
• Laid 7,200m cable ducts – as long as 80 football pitches end to end

• Issued 2,430 drawings and 9,000 documents