Managing the risk in Sydney
An award-winning project in Australia is helping Sydney manage its sewers. David Lynch and Michael Bendeli of Sinclair Knight Merz explain the risk-based approach to asset management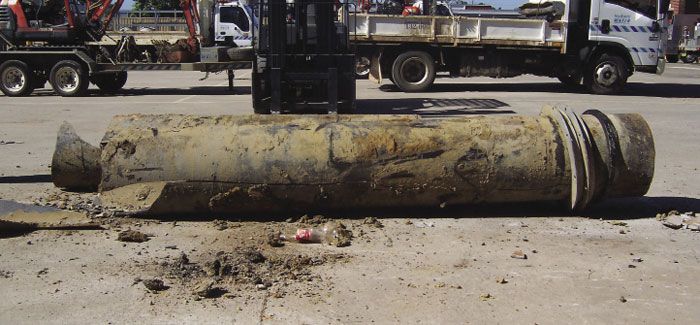 A 375mm break at Quakers Hill in Sydney
In partnership with and implemented by Sydney Water Corporation (SWC) – a major water utility in Australia – Sinclair Knight Merz (SKM) has developed a robust, sustainable, risk-based asset management strategy for defined critical water mains (CWMs). The project picked up an International Water Association Project Innovation Award in May.
Importantly, the strategy and the implementation plan can transparently demonstrate to SWC's board and the economic regulator that the expenditure programmes for the management of specific individual assets within this asset class are prudent, reasonable, justifiable, economically efficient and robust. This is achieved through a clear strategy that uses leading-edge economic management and decision-making tools that link outcomes and expenditure programmes with defined performance objectives.
The key challenge was to develop a proactive system to manage over 21,000km of pipes and over 405,000 valves throughout greater Sydney, where the failure of one pipe can potentially cause significant public health and safety risks, major economic loss and significant inconvenience to the community.
CWMs (up to 2m in diameter) are defined in terms of their impacts when failure occurs and specified criteria, including:
Size (any main greater than 300mm or in key business districts/hubs ≥150mm)
Proximity to railways, major roads and highways
Located in landslip areas
Servicing critical customers such as hospitals and large industrial water users
Areas with a single supply
Impact of failure
CWMs have significant consequences when they fail, impacting the local community and often bringing traffic to a standstill. Assessing their condition is difficult as they are under pressure and have limited access points, and techniques available for condition assessment are limited and relatively expensive.
The strategy developed by SKM and SWC is based on an asset management decision tool that can quantitatively assess pipeline failure risk for individual CWMs – at main, shutdown block or asset element level. The economic consequence cost of failure assesses all relevant environmental, social and financial factors.
This strategy and the asset management tool have been developed to enable timely and targeted intervention to prevent failure.
The key sub-project involved developing an asset management decision-making tool. This tool enables both timely intervention and appropriate action by SWC to prevent failure, and specification of an appropriate mix of works programmes that will satisfactorily mitigate SWC's risk for the least life-cycle cost.
Critical assets
This affects owners of critical assets, in particular, pressurised water pipeline assets, that have the potential to significantly impact on communities in the event of failure.
They need to understand the benefits associated with implementing an asset management tool that transparently provides a robust and economically efficient process to justify expenditure programmes.
This tool can also be used by SWC to prioritise capital expenditure on CWMs and help develop business cases for individual CWM assets or projects. Other important supporting sub-projects to determine the cost-effectiveness and effective mix of response initiatives and expenditure programmes within this project included:
High consequence assets definition (asset segmentation of CWM assets along or across rail, roads and waterways)
Condition assessments
Rehabilitation and renewals
Shutdown operation manuals in modifying risk profile
Valve identification and management
Mechanical failure minimisation initiatives
Information management improvements
Delivered on time and budget, the project's key achievements included:
A targeted asset management strategy for SWC's CWMs that integrates all relevant works programmes
Establishing an understanding of SWC's economic business risk presented by CWMs
Developing several tools and decision-making frameworks that SWC can use to implement these strategies. In particular, a decision-making tool that identifies individual CWM assets at risk and identifying appropriate remedial treatments
Developing a process for the asset management decision-making tool to transparently demonstrate to regulators that there is a robust and economically efficient process for developing prudent, reasonable and justifiable CWM expenditure programmes that are linked with a clear strategy and defined performance objectives
A clear direction for further long-term improvements in their strategic asset management
This project is valuable as it drives spending which is subject to significant scrutiny by the economic regulator when seeking to justify SWC's expenditure programmes and pricing submissions.
Bottom-up tool
Commercially available economic tools for water mains take a top-down approach based on broad conditions and statistical modelling of pipes at a cohort level. While this approach does provide an estimation of renewal expenditure, it does not provide any details of which CWMs are to be targeted for replacement or renewal.
This project developed a sophisticated, bottom-up economic tool using specific asset, condition and location data to quantitatively determine the probability of failure and economic consequence cost of failure of each individual asset.
SKM and SWC adopted a comprehensive approach to risk management for the defined set of CWMs – from hydraulic modelling of breaks, to improvements in the processes of managing mechanical failures, and full-economic and risk management of the potable water network at an individual asset level.
This project not only performed risk assessment of the potable water network, but considered cost benefit considerations for the selection of risk mitigation measures to establish the most appropriate and cost-effective response as a function of the CWM asset risk. This is identified as best practice and yet is missing for much of asset management in the Australian urban water management sector.
The asset management decision-making tool:
Identifies the risk of individual asset elements (GIS level) which can be aggregated to shutdown block and main level
Considers a range of social, community and environmental factors in quantitatively assessing the consequence cost of failure, and of asset risk, on a triple bottom line basis and within a least life-cycle cost framework
Uses its outputs to develop a cost-effective and efficient mix of operating, capital and policy responses and works programs to mitigate failure risk
Compared with other asset management tools, this tool allows for the prioritisation of individual assets for inspection or treatment, based on a quantitative assessment of risk. No such decision tools are commercially available – all focus on cohorts of assets rather than individual assets.
This has provided an impetus for continuing practical research into improving quantitative assessment of probability and consequence of failure and risk.
The tool also defines the relevant and targeted information that needs to be collected for economically efficient and effective decision-making, for example, from contractors undertaking pipe condition assessment of CWM assets.
There is also opportunity using an adaptive management approach to improve and enhance the framework and tools provided as they are applied and more information becomes available.
The overall project benefits are improved failure performance of CWMs and lower costs with cost-effective and effective works programs directly linked with SWC's acceptable risk profile.