Managed service web portal pays off for Anglian Water
A map-based web portal using GPS positioning has enabled Anglian Water's mobile workforce to better handle its planning and execution of street works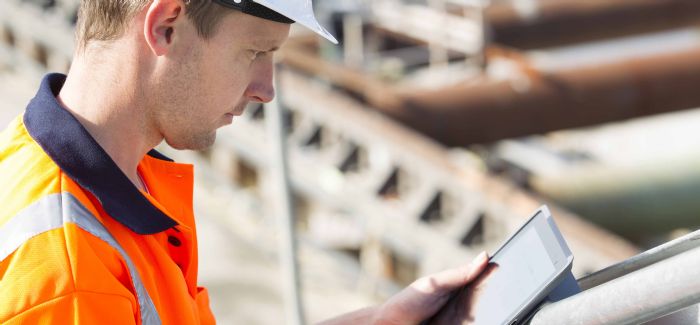 Key points
• Map-based portal uses GPS positioning of workers' smart phones or tablets to check the status of permits and works.
• The ability for contractors to check permits quickly minimises delays and fines that might follow from delayed streetworks.
• Portal can be integrated into the water company's own website, providing members of the public with localised details of work taking place
As one of the UK's largest companies, supplying potable water to more than 2.6 million properties, Anglian Water operates the reservoirs Rutland Water, Grafham Water, Alton Water, Pitsford Water, Ravensthorpe and Taverham Mill and is also responsible for taking away all the waste associated with this water usage across an area of 27,500 square kilometres.
Connecting all these supply and disposal facilities to its customers is a huge network of buried pipes, many of them concealed beneath the country's highways.
Like all water companies, Anglian Water is under increasing pressure to eliminate leaks in the supply network wherever possible and reduce sewer blockages caused by fats, oils, grease and unflushable items like baby wipes. And, like all utility companies with buried assets, this requires total compliance with the latest Traffic Management Act legislation and associated Street Works Code of Practice to avoid penalties or other setbacks to any ongoing operations.
As part of the continual battle to streamline efficiency throughout all their operations, Anglian Water has been a customer of Symology Street Works since 2006. In 2016, bidding to improve its operational efficiency further, the company successfully implemented the Insight Managed Service solution of street works in partnership with Cap Gemini.
Boosted by the success of the managed Insight implementation, and looking for further improvements in the efficiency and the reliability of its operations by integrating its contractors into the street works implementation, Anglian Water commissioned the 'ViewIt' project: a map-based web portal solution that uses GPS positioning of the workforce's smart phones or tablets to check the status of a permit application and get an immediate 'dig/no dig' decision.
Implementing the Insight Managed Service Solution
Anglian Water chose to implement Symology's Insight solution in 2006 across several of their larger applications to eliminate as far as possible street works penalties and to process other regular tasks, such as the transfer of grant permit details for the many regions in which it operates.
Although this improved operational efficiency markedly and gave the internal team an instant view into their multiple live sites, it still left people like Kathy Mahfouz, streetworks hub manager at Anglian Water, dealing day-to-day with their ten contracting partners across the regions.
Mahfouz says: "Our successful upgrade to a full Street Works Managed Service solution in 2016 was driven by two factors: costs and efficiency.
"When we looked closely at all the costs associated with running our own Insight system, the managed service allowed us to concentrate on our primary business focus – water – without a financial penalty. The second factor also seems simple, in that Cap Gemini were always ahead of the curve in testing updates to the software. So, we could take advantage of the new features as soon as the new version was made available and, naturally, this flowed through to fewer operational issues and increased efficiency.
"However, our contractors were still reliant on the team inside Anglian Water to relay accurate information. What we needed was a way to bring them into our Street Works environment while they were out in the field."
'ViewIt'
The close working relationship enjoyed with Symology led to the 'ViewIt' project, designed to give all contractor teams, no matter how small, immediate access to all relevant information related to a permit application.
"When we first talked with Symology in January 2017, two options for a solution were discussed," Mahfouz says. "The first was to roll out Symology's Insight Mobile solution, which would allow the contractors access to the information by means of a tablet device. This would show all the permit conditions in addition to the full works details, including the exact location and any associated photographs.
"The second involved taking advantage of Symology's considerable experience developing and implementing web portal solutions across their customer base, including the popular 'ReportIt' web portal. We opted to go for the second solution, commissioning a web portal solution that is now called 'ViewIt for Promoters', which would provide all the necessary street works information via a map-based interface accessed via an internet browser on any smartphone."
The project commenced on 30 January 2017 with a completion date of 3 April, just nine weeks later.
"We knew the project turnaround time was incredibly tight and, naturally, we pulled out all the stops within Anglian Water," adds Mahfouz. "However, going live on time despite unique challenges involved is largely due to Symology utilising resources from around the UK to ensure the 'go-live' date was met."
ViewIt boasts a modern, state-of-the-art user interface whether accessed on a smartphone, tablet or desktop computer. Using the latest OS Open Data mapping data, ViewIt uses the GPS location of the users' smart device to zoom to their current location before quickly and simply presenting them with relevant information about the works.
It means that contractors have no excuse for breaching permits and facilitates a rapid 'dig' or 'no dig' decision. In addition to using GPS, users also have the option to search by street or postcode to check the status of a permit application, potentially eliminating needless site visits.
Mahfouz has organised workshops and sent out guidance documents to the contracting teams to encourage them to take advantage of the portal and plans to continue this approach. "We get more users, and more portal use, where training has been delivered. Since the reduction in penalties is a benefit for everyone, it's a no-brainer," she says.
Delivery
ViewIt arose from Anglian Water's desire to streamline their operations across its contracting base and ensure that inefficiencies caused by manual operational processes are minimised, if not eliminated.
As Mahfouz explains: "Prior to the 2017 upgrade, Anglian Water's ten contractors would receive grant permit details and reports via email, allowing them to see the latest permit conditions on site. On receipt of this email, the contractor could then decide to 'dig' or 'not to dig'. Sending this email was a manual process and often resulted in considerable delays in getting the information to the contractor, if they received the information at all.
"The ViewIt project has smoothed out this issue and has enabled Anglian Water to consider longer-term enhancements to the latest solution. Now, not every single contracting team is using the portal but, as more are trained and begin to use the system, the efficiency savings for us and the contractors and the reduction in fines for both parties will be significant.
"Due to the design and nature of the solution, Anglian Water has the option to integrate the portal into our own website, providing members of the public with localised details of work taking place. Implementing such a solution would allow us to further demonstrate our commitment to constant business improvement and delivering for our customers. For their part, Symology is also continuing to develop the 'ViewIt for Promoters' solution, including a facility to enable a user to send start and stop notices to the appropriate Highway Authority. This offers additional efficiency savings by reducing the need for back-office intervention."
Working with Symology
Anglian Water and Symology have worked closely together since 2006 to improve and enhance the Insight product for mutual benefit, and the new ViewIt web portal combined with the Managed Service Solution has further strengthened this relationship.
Mahfouz says: "We view Symology as industry experts and rely on their advice in implementing solutions to marry process-driven workflows. There is a high level of trust and confidence that has led to us continually returning to Symology for solutions. We also value the company's excellent customer service, proven success rates, and the stability of their managed service environment.
After-sales and technical support is exceptional, and the technical team is always available to provide support and assistance to ensure that we can resolve any problems as soon as possible.
"Based on more than a year's use, the success of the new ViewIt web portal is just the latest in a long line of benefits that Anglian Water has gained through working with Symology."