Making pipeline construction projects effective and sustainable
The use of recycled pipe bedding and connections to development on brownfield sites are two ways in which plastic pipes can be brought to bear in a sustainable way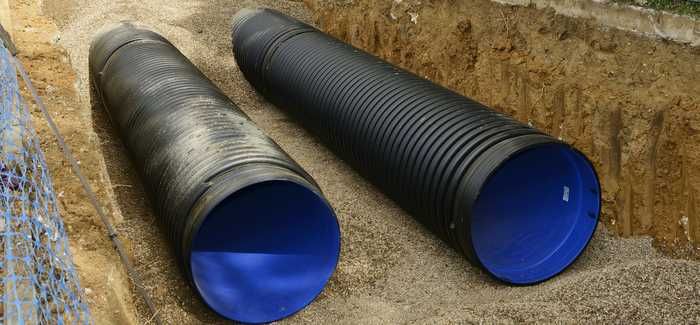 By Richard Eddy, Civils and Utilities Chair, BPF Pipes Group
As part of its commitment to finding sustainable and practical solutions for the construction sector, the BPF Pipes Group develops guidance on pipes and fittings for drains and sewers and water supply applications, including installation in brownfield sites and, most recently, for the correct choice of recycled aggregates.
The latest guidance provides clear information on using responsibly recycled aggregates for sustainable construction projects, including drains and sewers in small to medium-sized development sites. The BPF Pipes Group is pleased to support the house building industry in offering sustainable solutions to managing the risk of using aggregates from waste. The new guidance recommends that recycled aggregates are always sourced from producers who are able to demonstrate that their products comply with both BS EN 13242 and the WRAP/Environment Agency Quality Protocol for the production of aggregates from inert waste.
By selecting processed recycled aggregates, developers can further promote the circular construction economy, without compromising the performance of below ground pipes.
Below-ground flexible drain and sewer pipes are typically installed with a granular bed and surround material. Granular material is often referred to as 'aggregate' in the wider construction industry. When installed following industry best practice, it can provide long-term continuous structural support along the entire pipe length without causing any damage to the pipe. Coarse aggregate should always be selected in a size or grade appropriate for the pipe diameter being laid.
There have been two key considerations to clarify when selecting recycled aggregates: the environmental suitability of the material when used below ground, and its engineering suitability in providing continuous structural support to a pipe. The UK highways and water industries have different requirements, and the BPF Pipes Group guidance helps explain it, along with a useful check list. There is also a technical annex on using BS EN 13642 to help developers select the correct aggregates.
The Mineral Products Association estimates that, of a total of 120 million tonnes of demolition and excavation waste typically produced annually by UK construction activities, 51 million tonnes of non-hazardous waste is recycled as aggregate, a figure that is steadily rising. Recycled and secondary materials accounted for 29 per cent of total aggregate supply in the UK in 2016. So, for the smaller housebuilders and developers, correctly sourced recycled aggregates conforming to European aggregate standards and national specifications can make a key contribution to total aggregates demand and use.
Designing drains and sewers for brownfield sites
Plastic drain and sewer pipes and inspection chambers have been widely used in construction for many years in the UK and are suitable for all greenfield, as well as most brownfield, sites.
Currently it is estimated that over 70 per cent of new housing is built on brownfield sites and this is set to increase. The BPF Pipes Group has therefore issued guidance on the use of plastic pipes in brownfield sites to support drainage designers and housing developers.
The guidance includes a flow diagram, setting out the steps needed to consider the effect of contaminants on ingress to drains and sewers. Plastic pipes can be used for previously developed sites where the appropriate remediation measures have been taken to protect human health from direct contact with the soil and to protect the quality of wastewater entering the drainage system.
A second flow diagram guides the reader in the selection of pipe material. Plastic pipes for drains and sewers are manufactured from unplasticised polyvinylchloride (PVC-U), polypropylene (PP) and polyethylene (PE). These materials are naturally resistant to inorganic compounds such as acids, alkalis, sulphides, chlorides, sulphates and cyanide. Their properties are not affected by the presence of metals in the soil.
Where organic compounds are present in the soil, guidance is given on the type and level of contaminants that could affect the use of plastic pipes for drains and sewers.
Even where high levels of organic contamination are a legacy of the former site use, amendment of the remediation plan before work commences to remove the source of the contaminant or the pathway to the pipework may often allow plastics pipes to continue as the material of choice.
The provision of clear guidance to help those developing brownfield sites means asset owners can be reassured that wastewater systems on such sites can be correctly installed first time.
Security of water supply for brownfield sites
The BPF Pipes Group was pleased to support Water UK in the updating of its specification (WIS 4-32-11) for fittings for small diameter polyethylene (PE) pipes.
This 3rd edition creates one specification, covering the assessment of fittings from 20mm through to 63mm for PE pressure pipes manufactured to BS EN 12201-2 and for PE pressure pipes with an aluminium barrier layer manufactured to BS 8588.
Since its inception in 1990, WIS 4-32-11 has guaranteed, through a combination of short and long-term testing, that fittings for PE pipes can be shown to be fully resistant to the operating conditions in the pipeline. Short- and long-term pressure testing is now consistent with BS EN 12201-2 for PE pipes.
Testing for other properties, such as pipe performance during bending, resistance to low-pressure vacuums caused by sudden shutdowns of the pipeline, resistance of pull-out of the pipe from the fitting due to temperature changes in the pipe wall or creep over the lifetime of the pipe have all been aligned to current international standards (ISO).
Since it replaced WIS 4-32-19 in February 2017, BS 8588 has become the industry standard for polyethylene piping systems with an aluminium layer. It confirms through testing that a pipe and fitting in combination successfully act as a barrier to organic contaminants, ensuring concentrations remain below a threshold to protect drinking water quality.
To safeguard the longevity of the system and the ongoing protection of the water supply, both pipe and fitting need to be mechanically sound and together capable of delivering a leak-tight system over the product lifetime. BS 8588 calls upon fittings for use with barrier pipe to be tested to WIS 4-32-11, but until this 3rd edition of the specification, the testing had not corresponded with this pipe.
The collaboration between the BPF Pipes Group and water companies, together with the wider consultation accompanying the release of all water industry specifications, means that this third edition of WIS 4-32-11 provides specifiers with confidence in the lifetime reliability of fittings for use with small diameter polyethylene pipes.
The BPF Pipes Group strongly encourages those specifying these types of pipes and fittings to check that permeation testing under BS 8588 has been carried out to the actual pipe and fitting combination being offered, and to check that mechanical performance has been fully assessed to WIS 4-32-11 using the fittings and barrier pipe for which they are being offered. Purchasing from a member of the BPF Pipes Group will ensure confidence in the whole system.
The guidance documents described in this article are available at www.bpfpipesgroup.com.
-This article appeared in the June 2019 issue of WWT magazine.