Make wasting water taboo
Water wastage needs to be made socially unacceptable. Raising awareness among individuals about how much they waste is the first step, says Rodger Smith, senior vice president and general manager at Oracle Utilities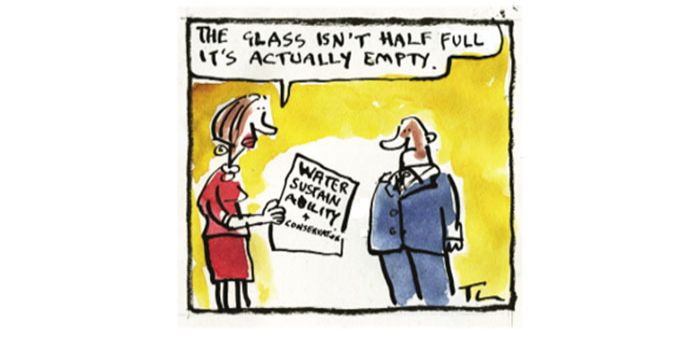 Our relationship with water in developed economies is unambiguous. Free and constant access to clean water is seen as nothing less than a human right; it is almost unthinkable that
any constraints whatsoever should be put on the frequency or volume at which we consume it. Due to this, the majority of consumers view water as overabundant. In the UK this is clearly evidenced in the bemusement that greets the now annual hosepipe bans imposed during the summer months. This is a dangerous attitude. With the world's population continuing to grow at a rapid pace, this finite yet most precious of resources must be conserved.
The water industry is beginning to take this problem very seriously. A recent report conducted by the Economist Intelligence Unit (EIU) on behalf of Oracle Utilities reflects this, demonstrating that four in ten senior executives from water utilities believe the risk of national water demand outstripping supply to be highly likely. It is clear that steps need to be taken now to ensure that we are prepared for the days when water can no longer be taken for granted. Critically, these changes need to address the way in which we think about water, creating a perception shift from viewing it as an over-abundant commodity, to a valuable and scarce resource. In much the same way that the anti-smoking lobby has made it unacceptable to smoke in public buildings, we need to make it anathema to waste even the smallest drop of water.
The first step in making this happen is to raise awareness among individuals about how much water they waste on a daily basis. Once consumers start to realise the extent to which water wastage adds up, they will be far more likely to moderate their behaviour. Technology will have a key role to play in making this happen. The wide adoption of water meters in particular will help consumers better understand their consumption habits. Metering is the most effective means of changing consumer behaviour, with research suggesting a 10-15% drop in usage once a meter is installed .
Smart meters
The 'smarter' the meter the better – the more information that can be provided to the consumer on exactly where they are wasting water, the more effectively they will be able to address their behaviour. Perhaps the best way of doing this is to present water wastage to the public not in terms of volumes lost, but in how this equates to cash.
Clearly setting out the monetary loss to the customer will go a long way in persuading them to use less. However, the implementation of meters will only happen if it is given widespread support from governments and from the industry itself. For the latter, this is going to require a counterintuitive will to provide customers with the means to consume less water. It is a major change for utilities, but one that will benefit them in the long term by protecting supplies of their product.
For the time being, regulators are going to focus on promoting metering, with widespread deployments planned across a range of markets. Where regulation appears to be falling short is in the setting of appropriate tariffs. In fact, one in three respondents in the Oracle study stated that they thought tariff levels are currently set too low to encourage investment. While it is understandable that regulators want to ensure consumers are not charged too much for their water, it does add to the overall perception that water is over-abundant. There is a case to be
made here for regulators to change their approach to tariffs. Higher water tariffs would not only change how the public thinks about their supplies, but would also generate more money for utilities to invest back into their networks. This investment should be earmarked for improving the efficiency and effectiveness of water storage, management and transport in order to further protect supplies. Any such regulation in this matter would need to include a mechanism for subsidising the water of those who are unable to pay, but in general it seems appropriate that as water supplies come under pressure, we should pay more for what we use .
"Tariffs could be set higher during summer months to encourage consumers to use less during times of reduced rainfall. We must adopt a range of tactics"
Once an appropriate tariff regime is set, the onus will once again fall on the utility to promote sustainable water consumption.
One simple way to do this would be to tie tariffing together with metering. Data from the meters can provide utilities information on peak and trough times for water consumption, allowing them to build tariffs around them. For example, tariffs could be set higher during summer months to encourage consumers to use less during times of reduced rainfall. If we are to really address the challenges that lie ahead we must adopt a range of tactics. Key will be changing the way in which we perceive water. Through technology, education and regulation, we need to change the public mind-set to a point where our first response is to conserve water.