Lead Pipe Removal: Taking the Lead
Lead pipes represent a proven risk to water quality and people's health - but 50 years after they were banned for new use, hundreds of thousands of pipes are still in place. What will it take to finally get all of them removed?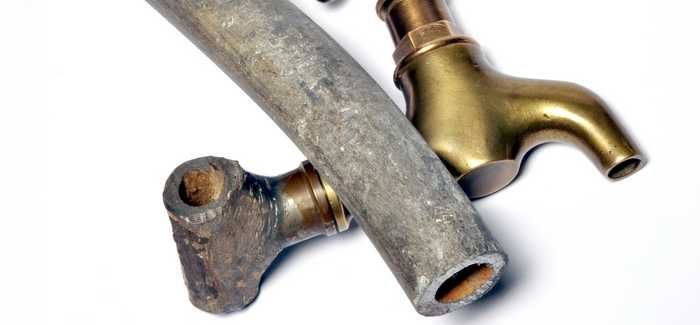 Lead facts
• The harmful health effects of ingesting lead include damage to kidneys, the circulatory system and the brain. Children and pregnant women are particularly vulnerable. In the UK, the overwhelming route that lead reaches drinking water is from pipework which was installed before 1969, the year when lead pipes were banned
• The health risks of lead were demonstrated in an extreme form by the crisis in Flint, Michigan in the USA, when a decision to change the source water for the city in 2014 resulted in rapid corrosion of ageing lead pipes and at least 6,000 children developed health problems.
• The World Health Organisation advises that there is no safe level of lead for drinking water. However, the EU Drinking Water Directive currently sets the limit at 10µg/l; a potential revision may soon bring this down to 5µg/l.
• Of 11,488 water quality tests conducted in England by the DWI in 2017, there were 70 failures in total against the lead standard (compliance of 99.4%) in public water supplies. Lead was the fourth most frequent cause of quality failures, after taste & odour, coliforms and iron.
• Orthophosphate dosing has long been used by water companies at the treatment stage to stop lead dissolving into the water (reducing plumbosolvency) but this has is not a sustainable solution because of the declining availability of phosphorus-based chemicals and the problems caused by phosphates in wastewater.
By James Brockett
The dangers that lead pipes can pose to human health have been known about for decades – they have been banned for use in new homes since 1969 – so it is a curious reflection that on the 50th anniversary of this ban coming into force, they are still posing a problem for our drinking water.
Lead communication pipes, which connect to the mains in the street and are the water company's responsibility, and supply pipes, which run within the boundary of a property and are the householder's responsibility, are both still present in significant quantities, while lead plumbing and fittings within houses also remain in many buildings. Each of these categories of pipe can cause water quality failures and health problems; while water companies are using techniques such as orthophosphate dosing or pH correction at the treatment stage to reduce the risk, it is acknowledged that replacement is the only long-term solution for ensuring a lead-free network and eliminating the problem.
So how long will it take to remove all the lead pipes, and could we still be talking about the issue in another 50 years' time?
Identification
One of the primary problems faced by water companies addressing the issue is knowing how many lead pipes are out there in the network, and where they are. Of 28 million homes in the UK, 18.5 million of these were built before 1970. It is estimated that around a third of these (6.1 million) may still have some element of lead pipework, either in their supply or communication pipes or as plumbing in the houses.
The age of housing in an area, and water quality testing data, gives a picture of which zones in a supply area are high, medium or low risk; this information is then typically used to inform where orthophosphate dosing is required to meet quality standards, and where to focus pipe replacement programmes. But while this approach works at an area level and minimises water quality failures, companies will require a comprehensive knowledge at a property level before they can have the confidence to turn off the orthophosphate dose – a knowledge that is currently lacking.
For example, Scottish Water uses dosing at 85 of its 233 water treatment works – although this dosing covers most highly populated urban areas, to the extent that 95% of the Scottish population receives water that has been dosed with orthophosphate. The utility has made good progress over the years in replacing communication pipes that are its responsibility – it estimates that there are only 72,000 lead communication pipes left among its 1.8 million connections – yet uncertainty over customer-side lead pipes needs to be resolved before dosing can be switched off.
"Because supply pipes are the responsibility of the customer and the quantity of lead supply pipes and plumbing are not recorded, there is concern about switching off phosphate before knowing whether or not customers have removed their lead pipework," says Rachel Philp, Water Service Strategy Team Leader with Scottish Water.
"The position has been that our regulator, DWQR, will only allow us to stop phosphate dosing if all lead supply pipes have been replaced. We are working with the regulator to understand what criteria could be used to confirm when phosphate dosing can be switched off, and a project is to be carried out in the coming year which aims to clarify these issues."
The cost of pipe replacement ought not to be considered a barrier, since the whole-life-cost saving from stopping phosphate dosing for any particular geographical area outweighs the cost of replacing communication and supply pipes, adds Philp.
GIS mapping
Water companies south of the border have the same challenges. Severn Trent will be installing boundary boxes and meters at all properties in its area over the next three AMP periods as part of its water resources management plan, and it intends to take the opportunity to record and map exactly which buildings are served by lead pipes. The approach will eventually give the utility a comprehensive picture of the remaining lead that is present, but the company's 2020-25 business plan makes it clear that this will take many years.
"In 25 years' time we will know where all lead pipes are, both ours and those that are privately owned," reads the plan. "To get there, we will need to improve asset data records on communication and supply pipe material and location. We have started to do this and have created GIS based risk mapping which uses data gathered when we have replaced/separated common supply pipes, also using housing age, postcodes and water quality failures. This provides broad areas where lead is most likely to be so we can target investment and communications."
Awareness and ownership
But with supply pipes and plumbing being the householder's responsibility, customer awareness and willingness to pay for replacement is a major barrier to creating a lead-free network.
In a survey of 2,000 people by WRAS WaterSafe in 2018, 68% were unable to say whether they had lead pipes in their home, and only 7% said they would check whether a home was supplied by lead pipes when moving into a new property.
"Our customer research shows that there is a generally low awareness of lead, with most customers assuming lead pipes were eradicated some time ago," adds Scottish Water's Rachel Philp. "Younger people do not recall the move from leaded to unleaded petrol and, as a result, are less aware of lead issues."
Most water companies have a policy of replacing lead communication pipes if requested by a householder who is having their part of the pipework replaced, but only a relatively small number of people do this each year. For example, Thames Water plans to replace 53,840 lead communication pipes in the five years of AMP7, but only expects 5,500 of these to be as a result of a request by the householder.
Unsurprisingly, water companies are focusing their proactive replacement programmes on high-risk areas and places where children and vulnerable people are drinking the water. Thames, for example, has undertaken that there will be no lead communication pipes at schools or nurseries in its region by the end of AMP7. Where there is a proactive replacement of communication pipes, efforts can then be made to persuade customers to also replace their own pipes.
Renovating lead supply pipes by trenchless means, using techniques such as slip lining, avoids the cost and disruption associated with full replacement and can be an option in inaccessible locations or for cash-strapped householders.
However, some in the industry are cautious. "Removal and replacement is the only certain way to eliminate the risk of lead in drinking water," says Philp. "Lining has a role to play, but one factor is that lining is not very efficient for reactive, single pipe interventions. The life and efficacy of the lining over the complete length of supply pipe is also not fully understood."
Tightening standards
One development which might provide a burning platform for further action is the revision of the EU Drinking Water Directive, which is expected to tighten the level of lead from 10µg/l to 5µg/l. On the assumption that this would be reflected in domestic legislation (a likelihood, despite Brexit), this would cause the number of water quality failures to shoot up.
"Current iterations for the recast of the Drinking Water Directive are considering a 5μg/l limit on lead with a ten-year transition period," wrote DWI Chief Inspector Marcus Rink in the regulator's annual report in July 2018. "If this were to be included in domestic secondary legislation the only permanent long-term solution to the issue of lead in tap water is the removal of lead pipes and fittings, including the communication and supply pipes as well as homeowners replacing lead pipes or fittings. Many or indeed most of the current company strategies are not ambitious enough to consider this forthcoming challenge and may fall short of achieving the future standard."
Some commentators believe that to solve the problem of customer-owned supply pipes impacting water quality, a legislative change might be needed under which water companies would adopt supply pipes – as happened in the case of private drains and sewers. However, this would be a massive and costly exercise, requiring water companies to gain access to customer homes. Another legislative option would be to require lead pipes to be replaced when a house is sold, but politicians might think twice before passing such a law because of its likely effect on house sales.
In the meantime, Ofwat has upped the pressure on water companies as part of PR19 by setting a common performance commitment of 100% drinking water quality compliance, meaning that any water quality failures could quickly result in financial penalties. The move is unlikely to encourage water companies to turn off the orthophosphate any time soon.
"The use of orthophosphate does appear to have been successful, but it doesn't prevent all lead failures," says Paul Millard, Technical Manager at WRAS. "In addition, the benefit of the treatment stops as soon as the dosing stops, so it must be continued indefinitely unless the lead pipes are replaced. Ultimately, it isn't the most sustainable approach, but can be useful as a protection method until a more permanent solution can be achieved."
-This article appears in the April 2019 issue of WWT magazine.