Knowledge is a good thing
While the industry bemoans a lack of innovation, who is fully aware of what is already out there? Neil Runnalls, business development manager of the Centre for Ecology & Hydrology shows the way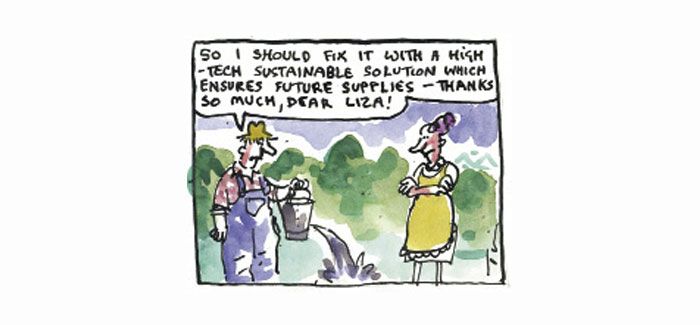 In last month's Editor's Column, "Technology must make a splash", Natasha Wiseman highlighted how the Government is looking to innovation to ensure water security in the future, with Richard Benyon insisting that "the industry is on the edge of a huge technological advance." The piece concluded with "the UK needs to redouble its efforts in garnering water efficiency at every point in the cycle. Innovative technologies and approaches are being developed, but the Government needs to make a much bigger splash to speed up their creation, adoption and uptake."
These innovative technologies could emerge from existing research outputs, but how many of us are truly up to date with what is already in the public domain? And, whilst future research will lead to new technologies, who is influencing what that future research will be?
Is it the research community themselves, or those who need the tools to deliver water security? This question can be made redundant if you bring all the groups together to exchange knowledge of what is available, and to map the research requirements – and possibilities – for the future.
The Water Security Knowledge Exchange Programme (WSKEP) is a long-term initiative funded by the Natural Environment Research Council (NERC) that has just this objective. It aims to accelerate the uptake of research and help inform the direction of future funding to ensure sustainable use of water in the future.
Expertise
The programme has been welcomed by Huw Irranca-Davies MP, Shadow Minister for Energy and Climate Change, who said: "It's vitally important because this Government doesn't know all the answers itself. It needs to call on the best expertise that is out there.
"The idea of knowledge exchange to influence policy makers is going to be critical in tackling climate change, scarcity of energy and water as we go forward with a rising population. We cannot do this on our own, we need expert, evidence driven basis for our policies."
Whilst the focus of WSKEP is NERC-funded research, the programme reaches wider and is embracing all UK water research outputs; outputs that have already produced knowledge, expertise and skills and have provided significant benefits for the environment, for the economy and for the general well-being of society. But, their usefulness has not yet been exhausted and they have the potential to deliver still more, and to increase their impact and value for money.
In its first full year, WSKEP has hosted ten workshops across three subject areas; Integrated Water Management, Increased Resilience to Extreme Events, and Ensuring Water Resource Security.
These events attracted researchers from centres and HEIs, water industry managers, regulators, policy makers, and NGOs.
Presentations by researchers showcased what is currently available, and users had a platform to identify what they need, both now and in the future. Jim Wharfe, the Environment Agency's head of sciences programmes, said: "We've often failed to get the full benefits from the investments we make in research. As an end-user it is a real challenge for us to translate those benefits that we are looking for into societal values.
"The workshops bring together a community that doesn't have the opportunity to meet regularly. If we are going to bring about these benefits, we need to work more effectively in partnership arrangements and this is a good opportunity to connect with people who can make that happen."
Outputs
The outputs of these workshops are available online and they will be distilled at future events so that they can feed into the strategic discussions that will shape future NERC-funded research.
The workshop approach is one way of bridging the divide between research providers and users, but what if you have already identified your research needs?
How do you then identify the experts in that area? The first major tool to emerge from WSKEP is the UK Water Research Directory.
It was released in April and contains nearly 300 profiles of individuals, including research expertise and full contact details. The directory is easy to search, and within seconds it can provide listings of people active in specific areas, for example "water treatment" or "urban drainage".
It should facilitate knowledge exchange and networking between providers and users. Contact can be made in a single click.
The current database is representative of UK activity, and the aim is for it to grow so that it covers the full breadth of water research. The response to date has been very positive, and new entries are being added regularly.
If you lead a research team, or you have been the Principle Investigator on a research project, you can submit your details online. Users of research can access the directory at www.ukwaterresearch.net.
WSKEP provides a platform for users to challenge and to influence the water research community. This can only be a good thing and should lead to improved returns on investment that will ensure that the new technology that the Government seeks should make an even bigger splash in the future.
Full details of WSKEP, along with a schedule of forthcoming events are available at www.wskep.net.