Knowing the flow is key
Real-time monitoring of Thames Water's critical trunk mains is helping minimize leaks and stop bursts, says James Dunning, chief executive of Syrinix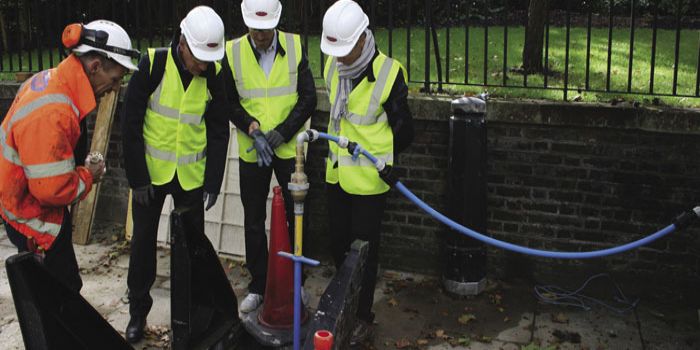 Visitors from Italy view a live TrunkMinder site in London
Pipeline monitoring company Syrinix has worked closely with Thames Water (TW) over the past two years and their partnership has led the way in the adoption of innovative technologies for managing critical trunk mains. This innovation has focused around TW's use of Syrinix's TrunkMinder system, a combination of on-pipe monitoring and data analytics using readings and alerts streamed in real-time.
Thames has deployed TrunkMinder to monitor critical parts of its large diameter water networks in London and the South-east of England to improve visibility and intelligence, minimise leaks and stop bursts. Syrinix began installing its TrunkMinder devices onto TW's major strategic water mains in early 2012, as part of a deployment plan which will see many of Thames' critical pipelines monitored in this way over the next few years.
The year 2012 has been an especially sensitive time for major leaks in London, with the Olympics and Paralympics, the Queen's Diamond Jubilee and the worst drought in decades converging on the city. The accuracy of the TrunkMinder system, which can pinpoint small leaks within a metre of their location, means that repairs can be made to London's ageing network before bursts happen.
The installations, which started in March, are ongoing, and TrunkMinder devices are currently being fitted on major trunk mains in crucial locations in central London and the South-east.
Commenting on the installations, Piers Clark, commercial director for Thames Water, said: "With responsibility for many hundreds of miles of trunk mains, many of which are over 100 years old and are under one of the busiest cities in the world, a system that enables us to pin-point where they might break before they break is invaluable. TrunkMinders will help us save water lost by major bursts, reduce disruption for customers and save money on repairs."
Sensors
TrunkMinder uses a number of sensors with detection units placed in pairs approximately every 750m along a trunk main. The sensors monitor the integrity and performance of the pipe using a custom-configured sensor array to detect vibro-acoustic patterns as well as flow and pressure within the pipes.
"The implementation process is under way for the first devices, with more to follow as construction of the rail link progresses"
The sensors are physically attached to the pipe, and constantly feed back information to Syrinix's central servers via broadband or mobile data links. The data is analysed in a cloud-based system, many times each second, using Syrinix's algorithms, 24 hours a day, every day.
This allows even minor changes in activity to be noted and monitored, and any leaks to be detected and tracked within 1m, providing an automated and precise early warning system – and all without the health and safety risks of deploying teams to carry out inspections that are often along major roads.
TrunkMinder has a sub-three-year payback period, and, looking ahead to AMP6, the system looks to have a key role to play in trunk main management programmes and using technology in place of capital programmes. Ofwat is expected to push for leakage reduction, but to reject reductions based around large capital replacement programmes given the likely impact on customer bills.
As such, technology-based monitoring solutions like TrunkMinder are expected to have a far greater role as a cost effective and less disruptive alternative route to those required reductions and greater network resilience generally. TrunkMinder has also been chosen by Crossrail, the company in charge of building London's major new east-to-west rail link to monitor the TW assets that will be affected during construction.
In terms of the water network, asset owner and operator Thames Water has specified a number of accommodation works that will need to take place, including full replacement of pipes, diversion, rehabilitation and monitoring of critical pipelines, which is where TrunkMinder comes in. The implementation process is already under way for the first devices, which were deployed in September. Further devices are planned to be deployed as construction of the rail link progresses.
The TrunkMinder units will capture the condition of the water mains prior to construction work, document any effects on the water mains of the construction process as it takes place, and then continue to monitor the long-term effects of the new rail line through mechanisms such as consolidation settlement. Alongside interest elsewhere in the UK, Syrinix's partnership with Thames Water has been attracting significant international interest
(see box out).