Is it time for trenchless?
Could the regulator's leakage and customer experience challenges lead water companies to fully embrace trenchless technologies in AMP7?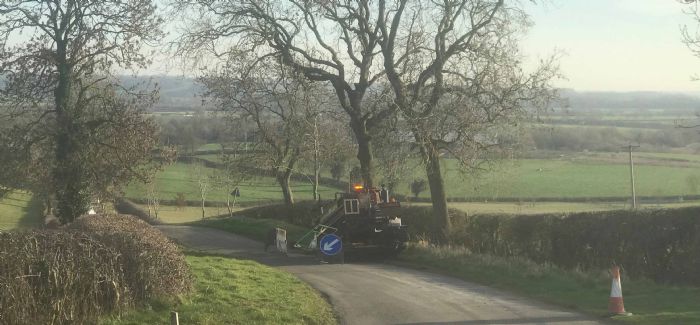 K M Plant regularly uses techniques such as directional drilling
TRENCHLESS TECHNIQUES
There is a vast range of trenchless technologies currently available, including the following:
Slip lining Inserting one or more pipes inside the existing pipeline. While low-cost, the technique results in a reduction of bore.
Pipe pulling Used to remove lead, galvanised iron, copper and plastic service pipes, the technique uses a steel pulling cable to remove the old pipe and pull its replacement into the original pathway.
Pipe bursting A 'bursting head' is passed through the existing pipe, forcing it into the surrounding ground to create space for a replacement. The technique can be used to install higher bore pipes but is only suitable for use if the surrounding ground is sufficiently soft and there has to be awareness of any nearby utilities.
Impact moling Soil displacement hammers create a void into which small diameter pipes can be pulled. The technique can be used to install new pipelines but can only cover short distances.
Horizontal directional drilling (HDD) Also known as horizontal boring, the technique involves drilling at an angle using a back reamer to create the void for a new pipeline. The technique can be used to go long distances – and under potential problem areas including motorways, watercourses and airports – through the use of intersectional drilling, which involves drilling from either side and meeting in the middle. HDD allows for the installation of large bore pipelines and is generally extremely cost effective, but there may be challenges with avoiding buried utilities and drilling through rock.
Cured-in-place-pipe (CIPP) A resin-saturated lining tube is forced against the inside of the pipeline until it cures to repair problematic sections. Although more commonly used in sewers and drainage, there are materials suitable for use with potable water. CIPP offers a low-cost means of repair, although replacement may be preferable in the case of pipelines that are approaching end of life.
By Robin Hackett
Water companies face a daunting task in AMP7: Ofwat has challenged the industry to reduce leakage by 15 per cent at the same time as raising levels of customer satisfaction and improving cost efficiency.
To achieve their targets, companies may have to pay greater attention to trenchless technologies, which promise to address problem pipes far more efficiently.
While no-dig approaches have been in common use in the water industry since the 1990s, the pace of adoption lags significantly behind oil and gas, and many believe there is scope for more widespread implementation. With the new regulatory targets requiring a step change in performance, will the industry now start to seize the full benefits of trenchless technology?
Trenchless technologies
A number of companies are looking towards smart networks to better monitor and predict leakage problems and optimise their decision-making but, however effective they may prove to be, there will still be a need to fix a significant number of pipes. That presents a sizeable problem, since digging up roads invariably upsets customers and results in substantial costs, particularly if works drag on.
In many cases, trenchless technologies could offer a solution. Without the need to open-cut large trenches, jobs can generally be completed far more quickly, far more cheaply and with far less disruption and environmental waste.
No-dig techniques vary widely, covering repair and replacement, and many are extremely well established. There are records of 'keyholing' – the process of making small, precisely controlled excavations for location, inspection, repair, maintenance and installation of utilities – taking place in the 1960s, while more specific concepts such as slip lining, cured-in-place-pipe and directional drilling also date back several decades.
"Trenchless technology has come a long way since it was first widely introduced nearly 50 years ago," says Matthew Izzard, chair of the UKSTT (United Kingdom Society for Trenchless Technology), a registered charity involved in the development and promotion of trenchless techniques.
"The reliability of equipment, range and quality of manufacturers, together with strong supply chains and quality training and support, has seen a huge growth in the market – and still the demand grows."
The range of options also continues to grow, with technological developments creating exciting possibilities.
For example, the UK Government announced at the turn of the year that it is investing £7 million in research to develop 1cm long robotic devices that use sensors and navigation systems to find and repair cracks in pipes. There have also been efforts to make use of 3D printing, with the University of Glasgow's BADGER project exploring the idea of 'printing' the pipe behind a drill head as it bores.
"This is an incredibly exciting time for developments in the industry," Izzard says. "The advancements so far using in-pipe robotics and smart technology have provided more cost-effective, safer and less disruptive solutions than ever before.
"As both hard and soft technology develops, the possibilities of what can be achieved increases expeditiously. The possibility of a micro repair robot going up a service pipe, identifying a leak and repairing it in situ might not be too far away."
Yet while the quality and range of technologies grows, there can be a tendency to persist with traditional techniques unnecessarily, which may come down to a lack of awareness.
"Trenchless technology is not often covered in civil engineering courses and so when designers look at projects, under time and budget constraints, they will often sign off on a technique they're familiar with rather than spend time evaluating alternatives unless it's required because of a particular challenge," Izzard says. "Even then, it's all too often thought of as a one-off."
The UKSTT has a university outreach programme to give undergraduates and lecturers access to trenchless technology modules, specifically focused on methods, application, design parameters and operation. It can also arrange for free technical sessions on the latest developments for companies wishing to expand their understanding of the potential savings.
However, Murray Ambler-Shattock, strategic operations manager at award-winning trenchless specialists K M Plant Hire & Groundworks Ltd, says not everyone in the industry is committed to exploring new solutions.
"You deal with a lot of dyed-in-the-wool mindsets," Ambler-Shattock says. "Some of the personnel who've come up through the works side of the industry have done the same thing the same way for 30-plus years and aren't changing for anyone.
"We've spoken to company seniors who weren't aware of the available technologies as, although some personnel were aware of the benefits, the suggestion to use them wasn't passed upwards, or the value and benefits weren't adequately conveyed, so the opportunity to deliver cost and time savings was missed.
"The world is changing fast, and they're beginning to catch up, but a lot of the industry is still probably 15 years behind where it should be, and I think they might even acknowledge that."
Barriers
Although the lack of knowledge, experience and motivation represent some of the biggest hurdles to widespread adoption, there are circumstances in which trenchless solutions are not viable.
In much of London, for example, the underground utilities are hugely congested and, like anywhere else, the records of what lies beneath the surface are not always accurate or complete. As a result, certain trenchless techniques can pose too high a risk of service strikes to be worthwhile.
"The risk of damaging surrounding utilities in our congested underground infrastructure is becoming an increasingly sensitive issue," Kobus Services Ltd managing director Simon Drain says. "Because of this, contractors are often reverting to traditional, non-trenchless techniques for safety."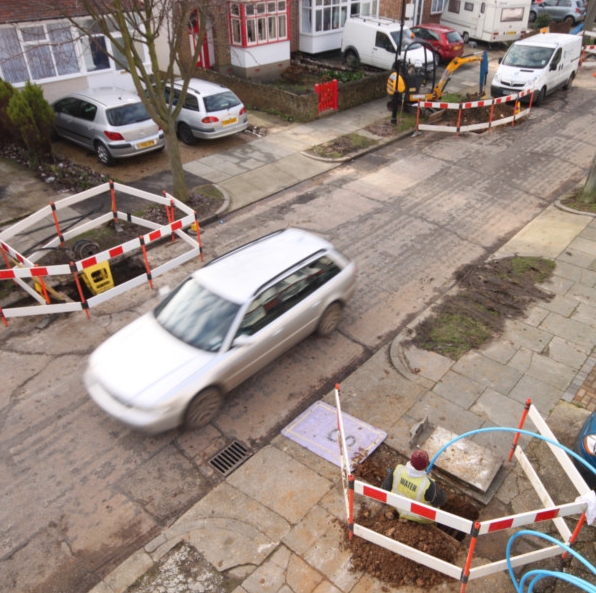 Technologies such as the Kobus Pipe Puller can reduce road closures
Open-cut techniques carry their own risk of strikes, of course, and some no-dig techniques almost eliminate the possibility. That is the case with trenchless repair, which might involve a cured-in-place-pipe technique using water-safe patching materials to reline it, or spraying the inside of the pipe with epoxy or cement mortar.
Repair techniques are better established for use in sewers and drainage, though, and pipe replacement might also prove more cost-effective in the long run.
"There are always going to be situations where a repair is cost-effective, minimally disruptive and a practical solution," Drain says. "However, on older infrastructure, such as black poly, copper and lead service pipes, it seems short-sighted and impractical to repair the pipe, whether trenchlessly or otherwise.
"Usually, a leaking pipe is a sign that the pipe is reaching end of life, so why make a quick, cheap repair that in all likelihood will leak again in the not too distant future and require further repairs or replacement?"
There are a number of trenchless replacement options that only require small excavations for access and pose minimal risk of utility strikes.
Slip lining involves placing a smaller pipe inside the existing pipe. The Kobus Pipe Puller, which involves pulling out the old pipe and towing in a replacement, has also become a well-established option and recently won an innovation award at the NASTT No Dig Show in Chicago. If the replacement pipe needs to be slightly larger, pipe bursting – where the old pipe is forced into the surrounding ground – might be used.
If a new pipeline route is required, though, there may be a need for impact moling or directional drilling, but those approaches carry greater risk of utility strikes.
"If you're doing something like slip lining, that's relatively straightforward," Ambler-Shattock says. "Laying the new services is where it gets more complicated.
"We're working with various underground detection mechanisms and we've done a few jobs in this respect where we've been able to successfully utilise horizontal directional drilling techniques when people said it couldn't be done. It's not a question of whether it can't be done – it's a question of whether it might be too difficult for most contractors, or potentially carry too much risk due to extraneous factors. If you hit unexploded World War II ordnance and cause an explosion in the middle of London, you've got a very big problem..."
In the right conditions, techniques such as directional drilling are generally highly cost-effective and time-efficient when laying new mains pipes or cables, and work is taking place that could open the door to more widespread use.
The Government has announced that its Geospatial Commission is working to bring together the existing data on underground pipes and cables to create a UK-wide digital map, building on recent work by Northumbrian Water and Ordnance Survey in Sunderland.
Detection technologies also continue to improve, with various solutions being explored.
"We invest a lot in R&D and we're looking at how you can apply lidar, radar and ultrasonic techniques," Ambler-Shattock says. "We're at the early stages – it's still a little bit Heath Robinson, developing and putting together things that we find work in certain environments.
"The big struggle has always been if you have a plastic pipe with something nasty running through it and it doesn't get picked up on any sort of radar. Unless there's a trace wire to identify it, you might find it the hard way."
He adds: "You haven't yet got the shiny box that solves it all. We're probably about 10 years away from a situation where a worker pulls up in a van, fully detects what's in the area, the drilling commences and there are no nasty surprises."
Exploring options
While installing new pipelines into the most congested areas remains problematic, it is invariably worth considering how trenchless might play a role in any major pipeline installation or replacement programme.
Engaging with experts at the earliest possible stage is key. While the terrain might demand that some sections are best carried out using traditional trenching, that doesn't mean trenchless can't be used for other sections.
Mark Walters, director and water design engineer at UDS Utility Design Solutions, says using trenchless technologies over open-cut tends to save around £100 a metre, with slip lining representing the cheapest option, followed by pipe bursting and horizontal directional drilling.
"You've got a hierarchy," he says. "First, does that water main need to be structurally renovated, i.e. replaced? Next, can it be downsized, so can you insert a smaller diameter pipe inside it? If not, you look at pipe-bursting.
"In relatively urbanised areas where you have a lot of utilities crossing, that would hinder pipe-bursting because you have the potential to damage the adjacent utilities and you'd have to expose those utilities to be absolutely sure you're not going to impact on them, which increases the cost.
"If not pipe-bursting, we'd look at directional drilling. We're doing some projects in Bristol where there are residential areas but a limited amount of service connections. We've taken trial holes and proved that horizontal directional drilling is practicable.
"We're basically trying to disprove trenchless technologies, working our way through that process, and as a last resort we'll open-cut. You always have to look at the most economical solution."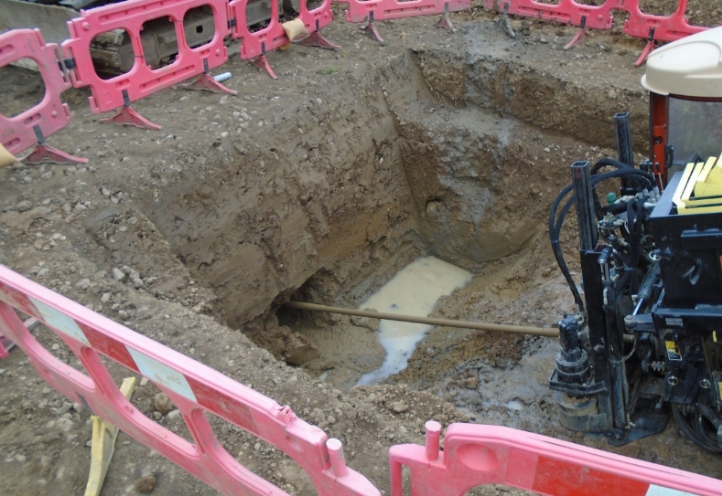 United Utilities is among the companies making use of directional drilling
Many in the water industry have recognised the potential for some time.
Walters has worked as a water design engineer since 1991 and says trenchless has been used as the first consideration for most of that time.
Drain also points out that numerous water companies have successfully adopted a range of no-dig technologies over the last couple of decades, and that in many cases these technologies have become the default options.
However, the sector does still find itself significantly behind gas in its utilisation of trenchless.
"Unfortunately, while the water industry does have genuine ambitions to innovate, the pace of adoption is painstakingly slow, resulting often in new technologies being consigned to the corner of a warehouse rather than being utilised and hurdles overcome along the development path," Drain says.
Izzard estimates that the gas industry makes use of trenchless around 80 per cent of the time, compared to around 60 per cent in the water sector, and even that figure is inflated by the more widespread use of trenchless in sewer rehabilitation.
There is some justification. For one thing, gas companies are able to make greater use of insertion techniques like slip lining as gas can be delivered at higher pressure for greater volume, while liquids depend on the diameter of the pipeline. Project costs in the gas sector are often higher too, which increases the need to maximise cost efficiency. The fact that the water industry in the UK is made up of localised companies also makes widespread adoption as a policy and process much harder.
Nonetheless, with Ofwat demanding water companies hit new heights in AMP7, Izzard is optimistic that we may soon see much wider take-up.
"The great news for asset owners is that many of the solutions to the challenges they face in meeting targets are already in existence," he says.
"The developments in asset management, leak monitoring and detection, keyhole service replacement systems and larger diameter lining techniques can all provide a significant solution to the challenges faced.
"Contractors are willing to invest in equipment if they have the security of work and the program planning allows for the effective utilisation for that technique. That requires a closer collaboration from all parties when scheduling work, and the start of a new AMP period is a great opportunity for this."
Ambler-Shattock believes the water companies will have little choice but to embrace trenchless solutions if they are to meet their targets.
"The world has changed," he says. "It's now a service-driven environment, and the route that delivers minimal disruption for the customer usually delivers cost savings. With open-cut, not only are you paying more because of things like traffic management and diversion routes, but you're often incurring the wrath of the locals, no matter how hard you've tried to minimise the impact on them.
"With trenchless, you can be installing mains services underground, even under a street, and people barely know it's happening. You can often conduct a mains lay in days rather than weeks, and main renewals in weeks rather than months.
"The councils love it because it minimises disruption and complaints. Purely on that basis alone, you would struggle to find reasons not to do this. The benefits are multiple."
WATER COMPANY VIEW: Jeremy Knox, engineering manager (water networks), United Utilities
"On 1 April 2019, our new network maintenance services contract partners came on board to assist us with our investment programme to further upgrade and replace our network assets.
"We now have four companies providing design and build capability in non-core (small water projects) and three companies in water specialist services. Typically the work is minor mains improvements, poor condition mains, water quality and pressure management valves. Water specialist services includes larger/complex mains replacement, trunk main and aqueduct repairs/rehabilitation and major crossings.
"As network engineering manager, I have been providing engineering support and advice to our project delivery teams, ensuring that we use cost-efficient and buildable techniques to install a robust and operable system that will reduce our leakage and continue to improve our exemplary customer service.
"Trenchless technology, and the use of it, is at the forefront of our plans in water networks going forward into the next five-year investment period.
"Our new supply chain partners were chosen for their design-and-build capability and proven track record of applying innovative technology and no-dig techniques for replacing mains efficiently and with a reduced footprint and minimal customer impact.
"We are reviewing our historical capital intervention techniques from previous investment periods and selecting the best methodologies. We're then seeking to blend these with new technological approaches through effective site investigation and scoping of need that will allow our partners to develop cost-effective solutions with a wide range of techniques.
"Many of these techniques are already available in the market including directional drilling, pipe bursting and lining with structural and semi-structural pipes. The critical factor to be considered is minimising the effect on our customers and maintaining a reduced level of interruptions to avoid 'minutes lost'. The use of under-pressure connections, under-pressure valve installations and line stops, along with temporary overland connections where appropriate, is essential.  
"In water specialist services, our supply chain has access to some of the most advanced directional drilling equipment in the world market and is currently looking to apply this technique on some major pipeline replacement schemes. One potential candidate is the Barrow Link Main, replacing around 5km of 600mm ductile iron main that crosses an estuary and within a sensitive environmental area.
"We are currently running a programme of network review workshops, along the lines of the hazard review methodology, which we have previously used in the water process section of the business, to forensically assess the efficiency and areas of risk within our water network areas, dividing our DMZs into nodes.
"This allows us to engage all internal stakeholders and operators, including process and leakage teams, to work through DMZ schematic plans and raise issues that can be prioritised as business risks.
"The information gathered at these sessions is uploaded into our newly developed 'My Risk' system, which is the global business risk prioritising tool and facilitates an informed investment plan based on ranked business risks across a full spectrum of asset types and business drivers."
This article originally appeared in the June issue of WWT